Ever since seeing Emilie in our Spanish classes last year, I've always noticed her elegant and sophisticated style, and of course, coveted her seemingly endless wardrobe. Now, being here in Cadiz, a small and relaxing town in Spain, Emilie stands out in the crowd even more – so I had to finally ask her about her sense of style for CF! Read on to meet her.
Emilie 101
Name: Emilie
College: University of Washington, studying abroad at the University of Cadiz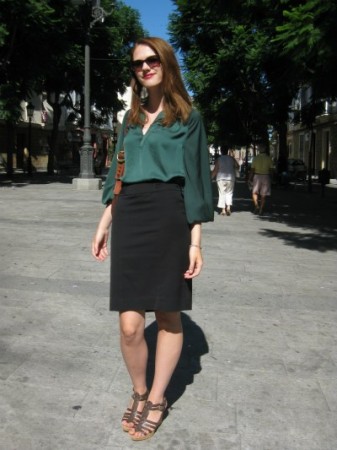 Class Standing: Junior
Major: English Literature and Spanish
Job: Hostess
Hobbies/Interests: "Painting, baking, yoga, reading fantastic novels."
Let's Talk Fashion
What is "fashion" according to you? "I would rather not attempt to define fashion as a whole, but I can speak to what it is for me; namely, using my clothing to feel more confident and competent than before. I really appreciate bohemian and fun fashion, gorgeous girls with tattoos and all of that, but I usually prefer a more buttoned-up, classy look when I'm dressing myself. I think that's because [dressing this way] makes me feel the most like the intelligent, strong and capable person that I would like to be, and to be seen as."
Who or what inspires you in terms of fashion? "Store catalogs, magazines, TV shows like Mad Men (I'm really coveting the Mad Men Banana Republic line, but there's no trying any of it on in Spain), and browsing through tumblr."
Where do you like to shop? "I wish I could say that I am one of those girls who can find awesome cheap clothing in thrift stores, but I'm just not. I've built up my wardrobe over many Christmases, birthdays, and with an unhealthy percentage of my restaurant tips. I love Nordstrom, J Crew, Ann Taylor Loft, Banana Republic, Anthropologie, Free People, White House Black Market and Betsey Johnson."
What are the staple pieces in your wardrobe? "My pencil skirt, black tights, black pumps and the color pink. Also leather gloves and long wool winter coats are my second skin for most of the year in Seattle."
Where did you get this outfit (including accessories, shoes, etc.)? "Top: Zara, Skirt: White House Black Market, Wedges: Steve Madden, Necklace: Betsey Johnson, Earrings: Swarovski, Bracelet: Tiffany & Co., Purse: Lucky. "
Any fashion tips? Or fashion dos and don'ts? "I feel pretentious advising anyone on what to wear as I am constantly surprised by someone rocking some trend or style of clothing that I thought I hated indiscriminately, but do feel pretty comfortable begging the general public in Spain to stop wearing pants with such low crotches that they look like they're wearing diapers."
What is the next item you want to buy? "I desperately want some black, cropped, mid-waisted pants that are form-fitting and flattering without looking painted on."
What are some trends you love/hate now? "This is probably more of a trend from last year, but I'm still really thrilled by cropped pants. Being 5'10" makes it really frustrating to find pants that are long enough anyway, and they just make me feel really classy."
Elements of Emilie's Outfit: The Elegant Style
Personally, I'm not the type of girl who can be so dressed up on a school day, but I do love Emilie's elegance, because it seems effortless yet super polished. And for all of you business school students out there, I think this would be a perfect outfit for a career fair! Here are two more elements of Emilie's outfit that I absolutely love:
1. Pencil Skirt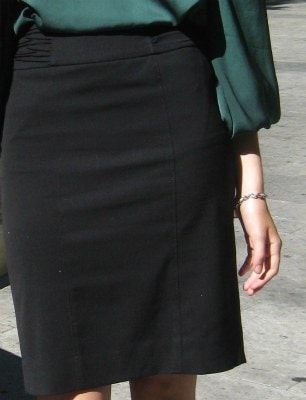 This perfect skirt is one of Emilie's staple pieces for a reason! It can easily create a classic and professional look, and still show her femininity. In addition, it can be styled with absolutely everything.
2. Wedges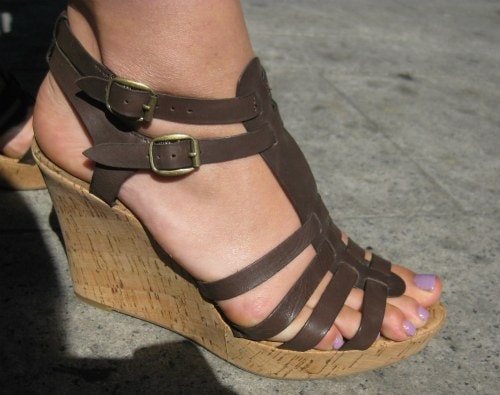 Wedges were definitely one of the hottest summer '11 footwear trends, and are definitely a perfect alternative to heels in Europe, where most of the streets are covered in peddle stone. I personally didn't bring any heels to Spain because I know I wouldn't be able to walk well on the stone streets, but wedges? That's a totally different story.
What do you think?
Do you like to dress elegantly and classically like Emilie does for a school day? Do you have a personal uniform? And what are some of your wardrobe staples? Let us know with a comment!