I have admired Ellie's sense of style since high school. She was always put-together elegantly and never failed to look anything but flawless. It was great to run into her at Jives, a local coffee shop in my hometown of Colorado Springs. As usual, her polished style stood out, and I was thrilled to have to opportunity to interview her for my next Looks on Campus post.
Ellie 101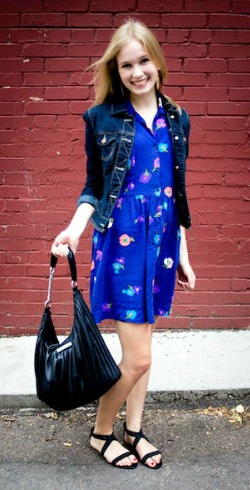 Name: Ellie
School: Colorado State University
Major: English Literature
Year: Sophomore
Let's Talk Fashion
Who or what inspires your style? "I absolutely adore fashion magazines like Elle, Vogue, Cosmopolitan, and Harper's Bazaar. I also love online shopping and browsing Tumblr for inspiration."
Where do you like to shop? "BCBG is one of my favorite brands, but it's so expensive, especially for a broke college student. I like Forever 21 and thrift store shopping. Sometimes you get lucky and find brand-name items for almost nothing. It's a sport."
How would you describe your sense of style? "Super flirty and really, really girly. I love lace, pastels, and flowy dresses. You'll almost never catch me in jeans."
Why did you choose this particular outfit? "I was going out for tea and coffee at one of my favorite cafés. I like to go there to write articles and catch up with friends. I really like this dress because it's flowy and super cute. I felt like it was perfect to wear on a summer day."
If you could raid anyone's closet, who would it be and why? "Possibly Audrey Hepburn. Her style is so classic, polished, and chic."
Elements of Ellie's Style
1. Blue Floral Dress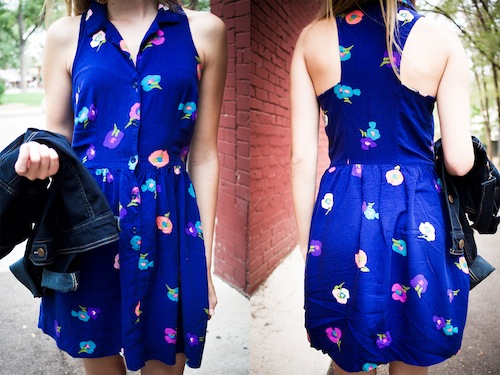 Floral prints are a big trend right now and the big flower print in Ellie's dress makes a bold statement with a classic twist. It's an ideal summer frock: light and flowy on the bottom with a flirty menswear-inspired collar on top. This shows off her gorgeous shoulders, plus the bold blue complements her skin tone perfectly. The button-up front and uncommon cut make this dress a knockout.
2. Sequined Sandals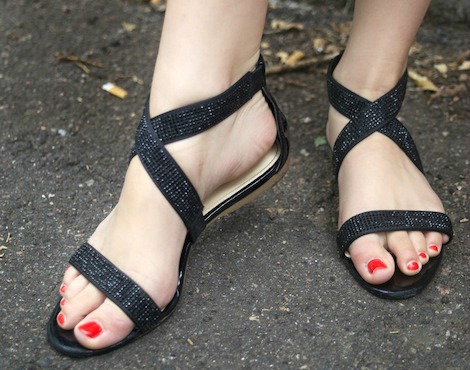 Ellie's shoes are to die for. Simple and elegant, these sandals look like the skeleton of ballet flats, only with a bit of sparkle. The straps are just the right size and are extremely flattering. These sparkly sandals keep her look from being too casual, but also don't draw too much attention from her dress. Additionally, her red nail polish adds a nice pop of color.
3. Purse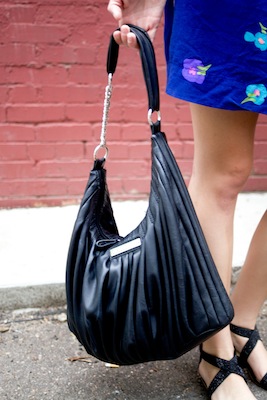 Ellie's black leather purse matches her shoes and keeps her outfit simple and elegant. Pleated leather is a classic handbag style, but the hobo shape is incredibly modern. Plus, it's the perfect size for sneaking a book and a bagel into the school library!
4. Standout Earrings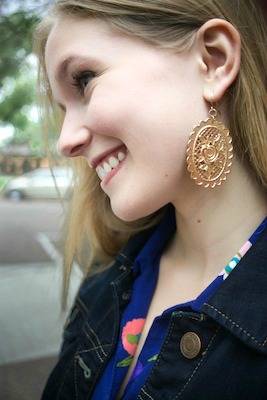 Ellie went with statement-making oval drop earrings to match the rest of her look. The floral embellishment in the center goes perfectly with her patterned dress. These gold earrings add just the right amount of glam to her polished ensemble.
5. Jean Jacket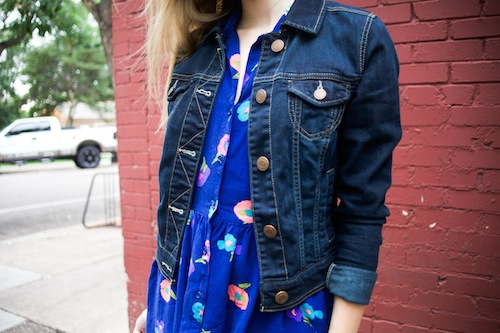 Jean jackets are making a strong comeback this season. Simply pair one with a sundress and you've got a complete look for very little effort! The clean-cut lines on Ellie's jacket add the finishing touch to this outfit, integrating her gold earrings and blue dress effectively without going overboard.
Now we want to know your thoughts!
Are you as big of a fan of Ellie's outfit as we are? Are you rocking denim jackets this fall? Do you love her unique floral print dress and sandals? Leave a comment below and let's discuss!