Ella lives in my dorm and whenever I see her, she always looks awesome! On this particular evening, I spotted her rocking sparkly tights, fiery red cowboy boots, and a unique necklace. I soon found out that her necklace is vintage from her grandma and her style is anything but ordinary.
Ella 101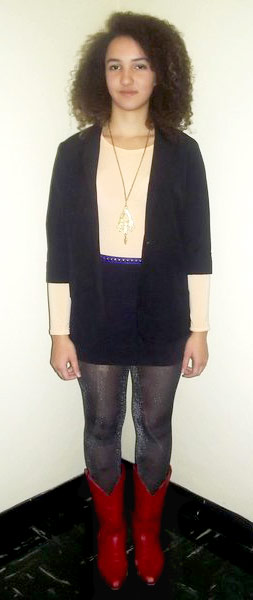 Name: Ella
Class Year: 2016
Major: Undecided
Hometown: Manhattan
Hobbies/Interests: "I sing a lot. I'm in the Vocal Jazz group and I'm on the diving team. I also play guitar and piano."
Let's Talk Fashion
How would you describe your personal style? "Spunky, urban, and eclectic. I try to be bold and innovative with my style. It's boring when people repeat other people's styles. I like to bring different elements into my outfit."
Where do you like to shop? "I wish I could shop on Prince Street in NYC! I mostly shop in the backstreets of Soho where there are private designers and boutiques because you can search through them and find stuff that isn't so 'commercial.' It's like a little treasure hunt!"
What are your favorite trends right now? "I love patterned tights! I also love boots and any statement shoe!"
If you could raid any celebrity's closet, who would it be and why? "I'd have to say Heidi Klum. I love her! She's always wearing something fabulous and I feel like it's so hard to define her style that I would love to look through her closet and see everything she has."
Who are your favorite fashion designers? "Alexander McQueen and Betsey Johnson. They are both very bold and unique!"
What advice would you give to other students looking to improve their style? "Of course it's always good to look at other people's personal styles! Also, when you're shopping don't look at what's in the windows or on the mannequins, find interesting items that you like that maybe aren't the latest trends."
Elements of Ella's Outfit
1. Sparkly Tights with Statement Boots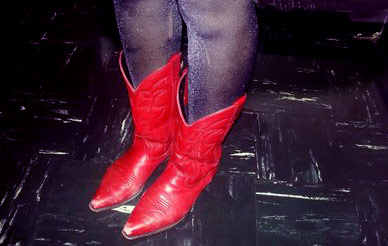 Ella started with a simple outfit of a blazer and body-con skirt, but instead of regular black tights, she wore shimmery tights which added a fun touch to her outfit. Ella also rocked a pair of worn-in red cowboy boots that her friend didn't want anymore (although I don't know how you could get rid of these). These boots show off Ella's funky style and add a bold pop of color to her look.
2. Vintage Necklace and Studded Belt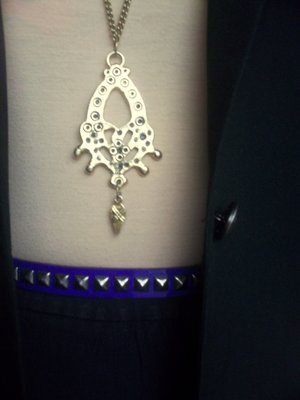 Ella's necklace was inherited from her grandma and looks handmade. This one-of-a-kind piece is interesting and eye-catching. Ella said that every time she wears it, she gets compliments and questions about where it's from. Ella was also wearing a dark blue belt with studs to add extra interest and sparkle to her look.
Your Thoughts?
What do you think of Ella's look? Do you own a pair of cowboy boots? How do you incorporate family heirlooms into your style? Let us know with a comment!