Gone are the rain boots and athletic clothes that seemed to reign throughout summer – University of Florida students are back on campus and ready to impress. Now that September is in full-swing, the promise of fall in Florida is gradually appearing. While the heat still reaches summer highs during the afternoon, students are beginning to opt for cooler-weather styles again.
I met Elizabeth at the poster sale outside our student union. Upon examination, I assumed she had to be at least a sophomore since she walked with the confidence of someone who knew where she belonged. When she told me she was a freshman, new to Gainesville from Miami, I was definitely impressed.
Elizabeth 101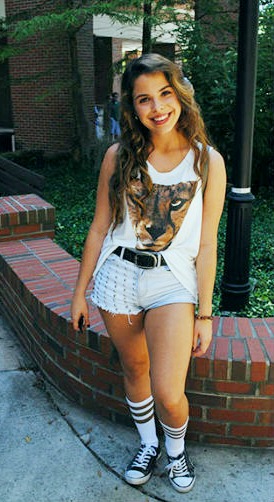 Name: Elizabeth
College: University of Florida
Year: Freshman
Major: Sociology
Hobbies: Field work, writing, singing, acting and dancing.
Let's Talk Fashion
Who or what inspires your style? "I like balance; I want incorporate the past with the present. I look at what my mom used to wear in the '90s. The '70s also inspire me, hence my choice in socks. Mostly I choose my outfits based on what will make me feel comfortable, but I also like to portray how I feel to others. Today I feel very earthy."
Where do you like to shop? "I like Forever 21, Urban Outfitters, American Apparel. I also like shopping at Ross and Marshalls because they have a lot of expensive pieces marked down to reasonable prices."
How would you describe your sense of style? "My sense of style is eclectic eccentricity. I think that I can be myself by using bits and pieces of other people's style."
Why did you choose this particular outfit? "I feel earthy today. I feel very… I feel like my shirt. I feel like I can go out there and tackle the world and keep walking."
What fashion advice would you give to other students looking to improve their style? "Just because you have an 8 a.m. class doesn't mean you can't look good for yourself. You don't have to look good for other people, but do it for yourself! And for me, the way I dress is the way I feel. If I dress badly, I don't feel as good. So, if you can go out there and wear something that makes you feel confident, that's what I think you should wear, regardless of how trendy it is."
What are your favorite fashion trends right now? "I really like the high-waisted shorts and high socks. I haven't seen anybody on campus with these socks except men. I also really love maxi skirts."
Do you have any favorite designers? "I can't afford high-end designer clothes so I am more inspired by the stores I shop at. I do love the gorgeous detail in Oscar de la Renta and Michael Kors dresses, though. Maybe one day!"
If you could raid anyone's closet, who would it be and why? "Marilyn Monroe. I really like the pin-up girl look. She has a very simple, classic style that is still quite complex. When you wear a feminine look with feminine makeup you can really show off your natural beauty. For the same reason, I really like Angelina Jolie's style. She can wear whatever she wants and look incredible. She never seems to care what the public thinks about a thigh-high slit or short skirt. It was never a problem for her – she just went out there and did it. It is all about confidence!"
Elements of Elizabeth's Outfit
1. Feminine makeup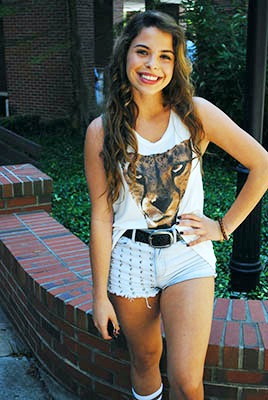 Elizabeth mentioned that she typically goes all-out with her makeup styles. She usually dons big, pin-up-inspired winged eyeliner, but I really loved the simple yet feminine red lip she wore this day. I thought it gave an elegant balance to her bold outfit.
2. Tube socks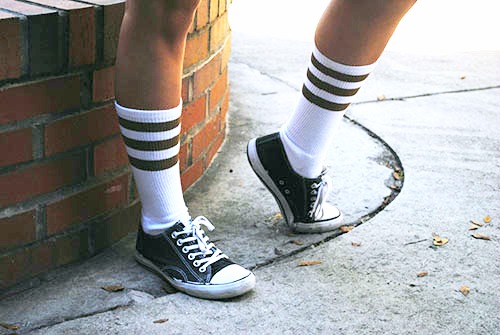 I'm deeply in love with Elizabeth's retro tube socks from American Apparel. These are one of my favorite trends, yet I rarely see UF students wearing them. In fact, her socks were one of the features that first drew me to her!
3. Studded Backpack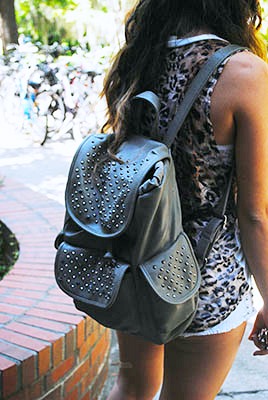 Funky backpacks are all the rage right now. Why opt for a plain style when you can have a cool studded version? Not only is Elizabeth's backpack on-trend, but it has plenty of space for toting around books and other essentials in the various pockets.
4. Attitude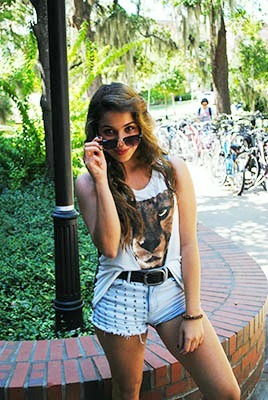 Elizabeth said she feels like a tigress in her outfit and I admire that so much. Her attitude completely embodies the spirit she is achieving through this ensemble. She is showing the world who she is through her style and her confidence acts as the perfect accessory.
What do you think of Elizabeth's outfit?
Do you think she is embodying a tigress with her funky look and confidence? What elements of her outfit are you obsessing over? Do you love high socks and high waisted shorts? Leave a comment below and let's talk about it!