As you may have heard, its been a rough few weeks for us here in New England. We have yet to have a full week of classes this semester due to the apocalyptic snow.
Elizabeth and I live on the same floor and her outfits have always captured my attention. Even on the dreariest snow days, when most of us have given up, she still manages to exude her effortless and unique style.
Elizabeth 101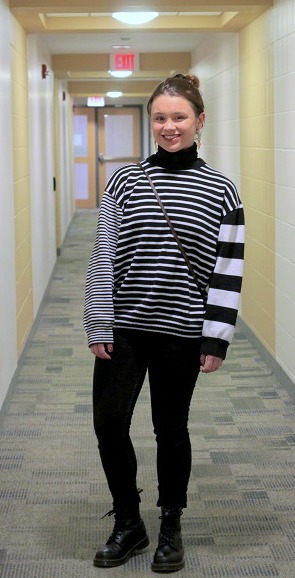 Name: Elizabeth
Major: English
Year: Senior
College: UMass Amherst
Let's Talk Fashion
Where do you like to shop? "Recently my go-to stores are H&M and J.Crew. I also love to browse the sale racks at Urban Outfitters and American Apparel."
How would you describe your sense of style? "I would say my sense of style is minimal yet bold. Most of my clothing is very simple in terms of shape and color. But I also like to incorporate more eye-catching pieces and patterns where I can.
Why did you choose this particular outfit? "This particular outfit was chosen for warmth above all. I love the look of the larger sweater worn over the more form-fitting turtleneck. My Levi's jeans and my Doc Marten boots are go-to in the snow. They allow me to stay warm and comfortable without completely giving up on my look. My clothes are fairly neutral, so I added a floral scrunchie and geometric earrings to add a touch of femininity."
What fashion advice would you give to other students? "Don't be afraid to stand out! The people whose fashion I admire when I'm walking around campus are people who dress based on their own personal tastes, not what looks good on someone else. You should experiment and steal elements of other people's style that you want to try for yourself. I love it when other students come up to me and ask me where I bought a particular article of clothing. It's the best compliment."
What are your favorite trends? "I love the crop top trend, but it's hard to maintain in the winter. When paired with high-waist skirts or shorts, there is an illusion of length, which is important when you're a short girl like me."
Do you have any favorite designers? "Sadly, I can't afford designer pieces on a college budget. The Louis Vuitton bag I'm wearing was a gift from my aunt, who found it when cleaning out her closet. But I definitely like to stay current with the fashion world. Some of my favorite designers are Rodarte, Marc Jacobs, and Alexander McQueen."
What do you do for fun? "This is my final semester, so I'm pretty busy. Most of my spare time is spent on my thesis project; it is creative writing, so it can actually be fun when inspiration strikes. I also compete with the club swim team at UMass, although my attendance has been very poor recently."
If you could raid anyone's closet, who would it be and why? "Rihanna. She is always on trend, but it's effortless. She exudes confidence no matter what she wears."
Elements of Elizabeth's Outfit
1. Bold Nail Polish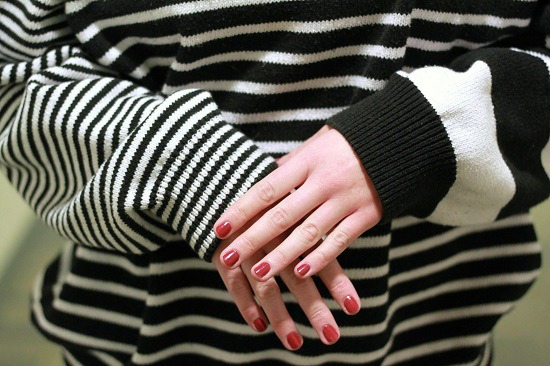 Elizabeth's red nails pop against her striped sweater. Pairing black and white with a pop of red is a classic combination, but the mix of stripes on her sweater keeps the look modern and trendy.
2. Floral Scrunchie + Earrings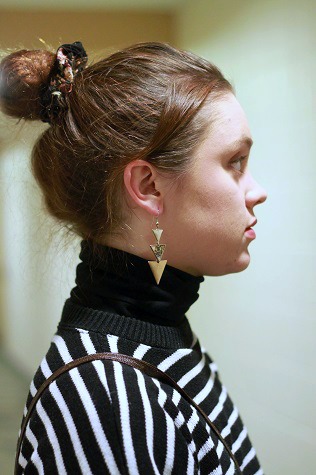 This floral scrunchie from American Apparel adds style to the plain 'ol everyday bun, while Elizabeth's metallic earrings provide contrast to her otherwise black and white look. We also love how she layered a black turtleneck under her striped sweater – it looks ultra-warm and chic.
3. Bag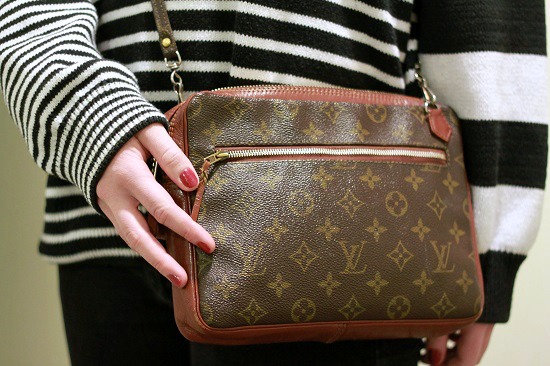 This vintage Louis Vuitton bag is a hand-me-down from Elizabeth's aunt's closet, and it brings a unique and personal touch to her modern aesthetic. It's a classic purse that she will be able to use for years to come.
Would you wear Elizabeth's outfit?
Would you wear her earrings and bold nail polish? How about that Louis Vuitton bag? What do you think of her style? Comment below and let us know!