School is winding down at Indiana State and students are clearing off of campus. The weather has been sweltering the last few weeks, and the few that are left are out and about in light and airy looks to keep cool.
When I saw Elizabeth in her cool tie-dye tank and circle skirt, I immediately wanted to know more about her whimsical style.
Elizabeth 101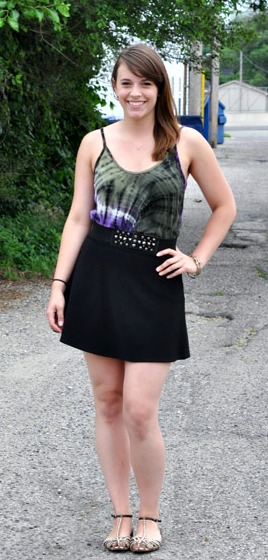 Name: Elizabeth
Major: Interior Architecture Design
Year: Senior
Let's Talk Fashion
Who or what inspires your style? "I'm inspired by the things around me; people, art, nature, anything beautiful."
Where do you like to shop? "I do a lot of shopping at T.J. Maxx, Target, H&M, and thrift stores."
How would you describe your sense of style? "I like my looks to appear effortless. I like to look put-together, but never like I'm trying too hard."
Why did you choose this particular outfit? "I know I'm going out later with friends, so I wanted something that could easily transition from class to the bar."
What fashion advice would you give to other students looking to improve their style? "Wear what you love and what you are comfortable in. I love the quote, 'be yourself, everyone else is already taken.' Don't try to mimic exactly what everyone else is doing; draw inspiration from something or someone, and make your outfits your own."
What are your favorite trends right now? "I'm really into rompers right now."
What do you do for fun – do you have any unique hobbies or interests? "I love photography and dancing. I'm a Zumba instructor and I love it!"
If you could raid anyone's closet, who would it be and why? "Miranda Kerr without a doubt. She has such an effortless style that I admire."
Elements of Elizabeth's Outfit
1. Studded Belt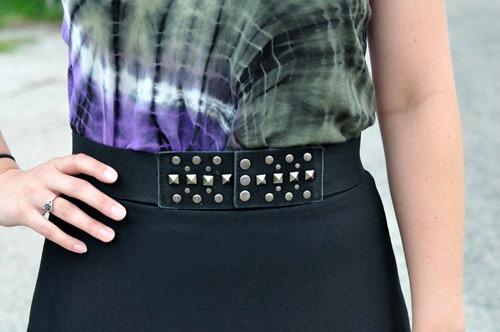 This studded belt is the perfect addition to Elizabeth's outfit, since it pulls together her skirt and top combo while also drawing attention to her waistline. Also, we love how the stylish studs add a slight edge to her look.
2. Bangles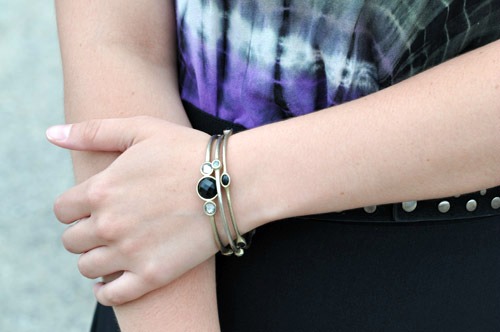 These bangles fit perfectly with Elizabeth's effortless ensemble. She likes the minimalistic style when it comes to fashion, and these bracelets can easily be incorporated into numerous outfits.
3. Sandals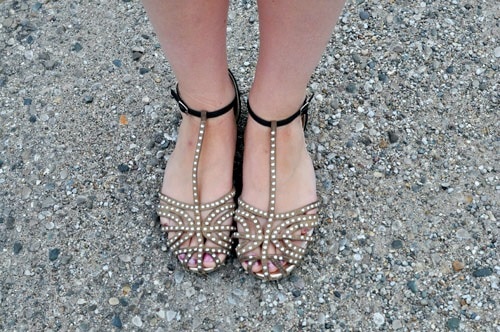 Elizabeth's chic t-strap sandals are not only cute, but the neutral colors make them very versatile. The studs on her belt tie in well with the embellishments on her shoes, and provide a little shine amongst the darker colors in her look.
What are you wearing on campus this summer?
How do you keep your outfits cute and cool? What do you wear to class when you know you'll be headed out with friends later? Do you love Elizabeth's accessories as much as we do? Let us know what you think below!