I don't know about the rest of the country, but this week has been gorgeous in upstate New York. We've had that perfect fall weather where it's warm in the sun but still cool enough to wear boots and cardigans.
I saw Elise on my way back from work and just had to take a picture of her outfit. I had seen her around campus and always admired her ability to look composed and put-together, yet still comfortable.
Elise 101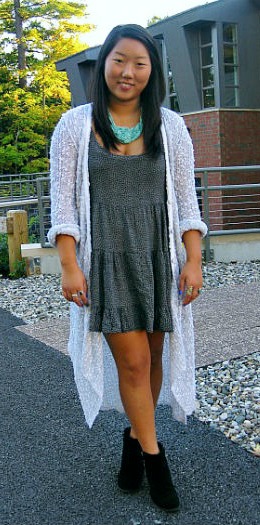 Name: Elise
School: Skidmore College
Year: Junior
Major: Business and Psychology
Let's Talk Fashion
Who or what inspires your style? "I'm inspired by street style, fashion blogs, and celebrities who try out new trends."
Where do you like to shop? "I like Free People, Brandy Melville, Urban Outfitters, H&M and Forever 21 for basics and boutiques for more unique pieces."
How would you describe your sense of style? "I wouldn't really say I have one particular style. I wear everything from comfortable-casual to boho-chic, to dressed up. I usually have a few pieces that I love that I try to incorporate into different outfits."
Why did you choose this particular outfit? "It was easy outfit this morning, but it is also very cute and cozy. It's also perfect for the weather right now because you can never tell if it is going to be warm or cold, so I wanted to make sure this outfit was functional with or without the sweater."
What fashion advice would you give to other students looking to improve their style? "It's way more important to find styles that flatter your body type instead of just wearing the latest trends. It is also good for your wallet to find classic styles instead of just focusing on what's hot right now. Also, if you're really interested in fashion, try to find a job or internship around that interest – this summer I interned for Free People and it was a really great experience."
What are your favorite trends right now? "I really like back cutouts and statement necklaces, like the one I'm wearing here!"
What do you do for fun – do you have any unique hobbies or interests? "I like to do craft projects! I have a screen printer, so I like to decorate my own clothes. I also really like to travel and see the world."
If you could raid anyone's closet, who would it be and why? "I can't pick just one! I'd say I really like Kate Bosworth's style, Rachel Bilson's clothes, and Jamie Chung. Their clothes are laid-back but always very fashionable."
Elements of Elise's Outfit
1. Patterned Dress and Long Cardigan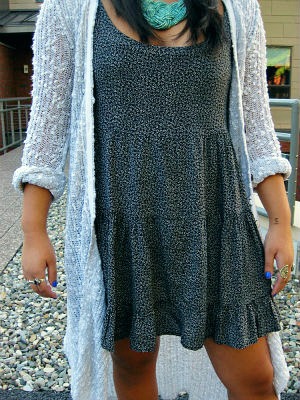 Elise's dress is adorable and ideal for fall weather. It is light and loose, but also polished and put-together. This dress, with its tiny pattern, is also great for layering with neutrals, like Elise did with a long, loose-knit white cardigan.
2. Black Studded Booties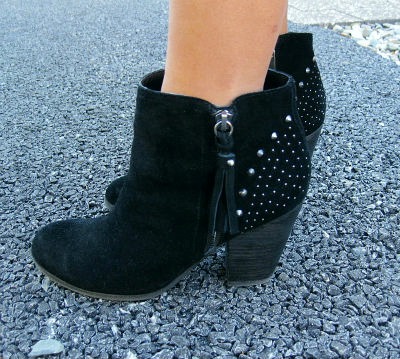 Elise's booties are so in style this autumn. They have just enough of a heel to add some flair to her outfit, while still being comfortable enough to wear on campus all day. The studs also add a little bit of edge to her otherwise girly outfit.
3. Bold Statement Necklace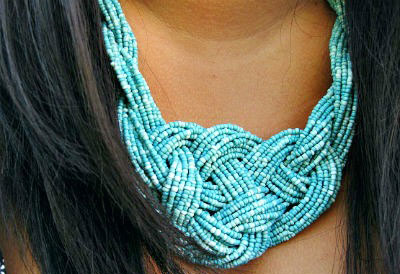 This beaded statement necklace, which Elise got as a gift from a friend who went to Ghana, adds a pretty pop of color to her outfit. I absolutely love this necklace; it's big enough to draw attention to itself without overpowering her entire outfit. It's the perfect complement to her boho-chic look!
What do you think?
Do you like Elise's laid-back school look? What are your favorite ways to layer this Fall? Do you dig her bright, statement necklace? Leave a comment below and let's discuss.