Eleanor and I met randomly one day in the library this fall. I complimented her on her outfit (a fun pair of lacy cutoff shorts and cheetah print loafers) and haven't seen her around campus much since. But when I ran into her on this winter day in yet another darling outfit, I just had to stop her and ask a few questions.
Who's That Girl?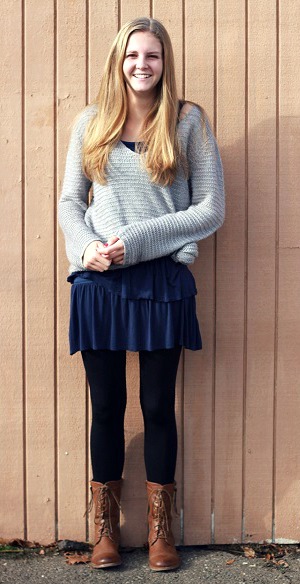 Name: Eleanor
School: University of Georgia
Class Standing: Junior, Class of 2016
Major: Biology
Hobbies: Listening to music and dancing
Let's Talk Fashion
Who or what inspires your style? "Most inspiration comes form Tumblr; a lot of what I wear is a re-creation of an outfit I've seen on there. I grew up on the west coast, in the LA area, so I try to pull skater vibes from the west coast and mix them in with the chilly winters that the East Coast brings."
Where do you like to shop? "When I'm not dancing or studying I go to thrift stores and try to mix and match cool pieces that wouldn't normally work with others. But my style revolves mostly around laid-back comfort with a girly twist."
What fashion advice would you give to other students looking to improve their style? "Spend time on your fashion choices, invest that time into yourself and it will pay off. If you take 5 or 10 minutes every day to make sure you love what you're stepping out of the house in, then you will feel more confident throughout the day and not be afraid to reach your goals and go for what you really want!"
What are your favorite trends right now? "Love the layered look that comes naturally with winter, mixing different textured tights, and chunky knits, like this sweater. Tights, like these from Target, open up so many doors because you don't have to be constricted in stiff jeans, but you can still show off your legs. Also, I adore these boots that I found at Ann Taylor because they add warm fall tones to the otherwise cool outfit."
What do you do for fun – do you have any unique hobbies or interests? "I've been dancing since I could walk, focusing on ballet until I was in high school and mov[ing] towards tap and jazz in high school and college. But I also spend a great amount of time in the library studying for my classes that are very labor intensive with all of the memorization and labs and such. I look for outfits that will take me from dance classes to labs to a coffee shop with friends."
If you could raid anyone's closet, who would it be and why? "I really like Olivia Munn's street style because it's a mix of light grunge and florals. She is effortlessly gorgeous, whether she's in knee-high boots or a green frock or a striped crop top. Also, her undying confidence makes her that much more beautiful."
Elements of Eleanor's Outfit
1. Texture + Color
Eleanor's love of textures are brought out in her H&M sweater and thrifted dress. Her red nail polish adds a festive touch to the look and provides a fun pop of color against the other neutrals. The tie at the waist also cinches the sweater in and flatters her figure.
2. Off-the-Shoulder Sweater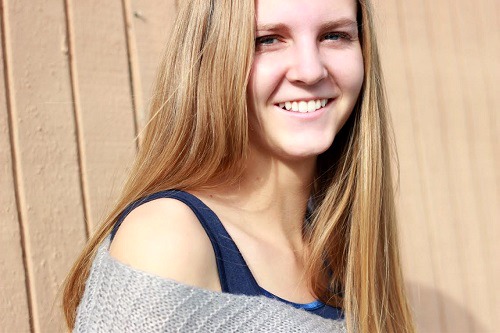 This off-the-shoulder sweater highlights Eleanor's collarbones and adds to the laid-back vibe of her outfit. It also shows off a bit of her dress, which acts like more of a skirt due to the pullover sweater on top.
Would you wear Eleanor's outfit?
Do you like her layered sweater and laid-back style? What do you think of this look? Comment below and let us know!