Here at UCLA, we're finally starting to feel a bit of "winter" weather (or, at least, Southern California's version of it), and personally, I'm happy to see some jackets and scarves out and about. Though LA doesn't experience falling snow or freezing cold temps, we still get some pretty cold winds in winter, so layers are essential.
As I was scanning the campus for stylish coeds, I met Ekeobong, a student hailing from Nigeria, looking comfy and warm in her seasonal getup. Read on to learn more about her and her pretty style.
Ekeobong 101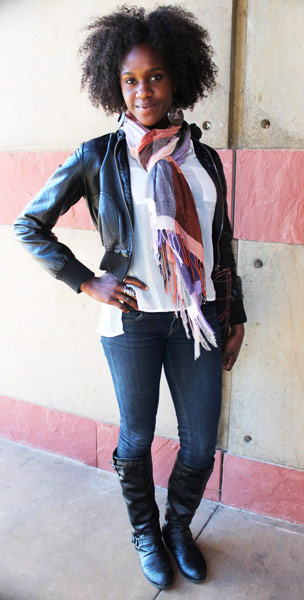 Name: Ekeobong Utibe
School: UCLA
Major: Communications
Hometown: St. Thomas, VI
Hobbies/Interests: Acting, dancing, writing, and watching TV and movies.
Let's Talk Fashion.
Who or what inspires your style? "I look at what others wear and how they pull it off and that gives me ideas for my next outfit. [However,] a lot of times I just go by how I am feeling."
Where do you like to shop? "I usually visit boutiques, but those get expensive, so I'm trying to find more thrift stores to shop in. Since I go to school at UCLA, I usually shop in Westwood."
How would you like to describe your personal style? "Laid back with a touch of sophistication. Simple, but eye-catching."
Why did you choose this particular outfit you wore today? "It was cold so I knew I wanted to be covered. I'm going to an event later today so I wanted to [be warm but] still look nice."
What fashion advice would you give to other students looking to improve their style? "Go outside of the box first, and then work your way into a comfortable medium. If you wear brown or black all the time, next time, buy something bright. And keep making those small adjustments and trying out new things. It will lead you to develop your own sense of style. [Also,] look at pictures of people you look up to or who have similar life goals to you and see how they dress. If you want to be the First Lady, dress like her."
What are your favorite trends right now? "I love animal print!"
What do you do for fun? Do you have any unique hobbies or interests? "I am a filmmaker and love watching TV shows. But I participate in anything that's artsy and allows self expression."
Elements of Ekeobong's Outfit
1. Jacket and Scarf Combo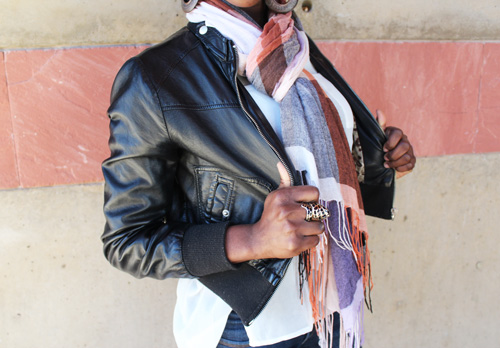 You can't go wrong with a jacket and scarf during cold weather, and this season, it doesn't get hotter than a leather (or faux leather) jacket. A neutral leather jacket like Ekeobong's creates a perfect canvas for bright colors or fun patterns. Here, Ekeobong keeps it simple and fresh with a fringe scarf in muted, fall-appropriate shades.
2. Statement Earrings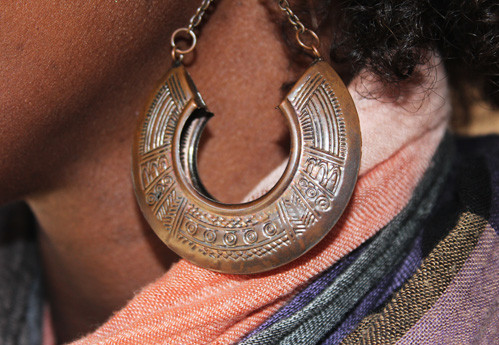 Ekeobong's bold earrings add a funky edge to her classic look. Chunky, statement-making earrings are a great way to add instant glamour to any outfit – just put them on and you're set.
3. Comfy Leather Boots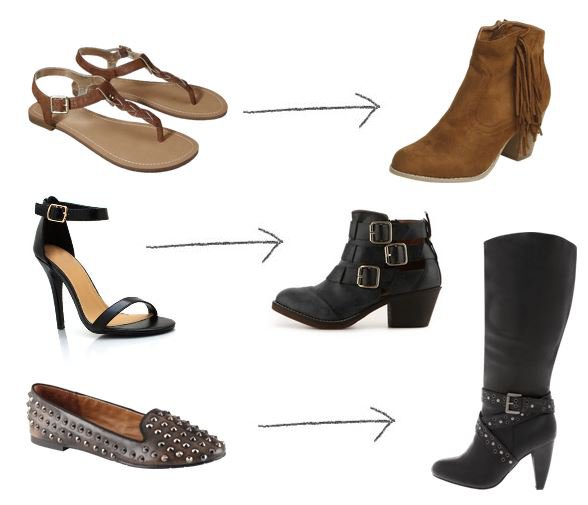 As is the case in the rest of the country, winter means boots here in LA. Ekeobong's leather boots are consistent with her classic, sophisticated look, and would work with just about any outfit.
Your Thoughts?
What do you think of Ekeobong's look? Do you have a leather jacket that you're wearing this fall? What is your must-wear item for winter? Have you added statement jewelry to your outfits? Let us know with a comment!