Readers hailing from the upper Midwest and Mid-Atlantic regions of the country can recall the bitterly cold weather conditions from the past month. At UMCP, the temperature had dipped to a cruel and unusual 20°F when I found Domonique.
It's already easy to get stuck in a sartorial rut with the upredictable weather conditions. However, there's something to be said about an outfit that succeeds in looking effortlessly put-together in below-freezing temperatures. Domonique's ensemble is made up of simple pieces, yet nods to several trends while still representing her personal style.
Domonique 101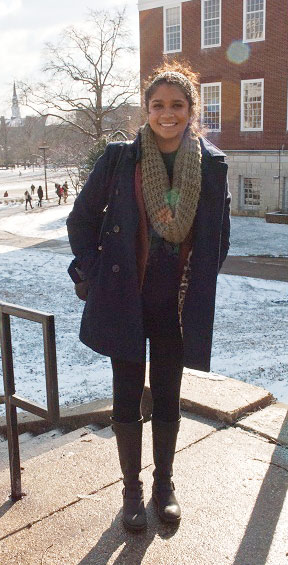 Name: Domonique
College: University of Maryland, College Park
Year: Junior
Major: Community Health, Pre Med
Hobbies: "I run track, and I play the double bass."
Let's Talk Fashion
Who or what inspires your style? "My brother. He's 25, he lives in NYC, and I swear he has the best style in the world."
Where do you like to shop? "I hate malls, that's one thing. But I love thrift stores, even if it's just Value Village or a consignment store."
How would you describe your sense of style? "I know there's a masculine point; I love structured pieces, and love a nice collar. But I try to feminize it – if I'm wearing a menswear blazer, I make sure my bottoms are tight."
Why did you choose this particular outfit? "I really got dressed in 15 minutes because I thought there was no school! I like wearing black, I don't like bright colors too much; greys, dark greens, stuff like that. I love infinity scarves, just throwing one on."
What fashion advice would you give to other students looking to improve their style? "Make yourself stand out. We're at a school with 40,000 students [so it's too easy to blend in]."
What are your favorite trends right now? "Color blocking, I love the color blocking trend. I also like those different color lipsticks; I went to Miami and rocked purple [lips] all weekend."
Do you have any favorite fashion designers? "Most of my classic pieces are all Michael Kors, but I also love Diane Von Fürstenberg. Her dresses are beautiful. Also Marc Jacobs, he's amazing."
If you could raid anyone's closet, whose would it be and why? "Carrie Bradshaw! I watch SATC reruns just for clothes."
Elements of Domonique's Outfit
1. Layers, Layers, Layers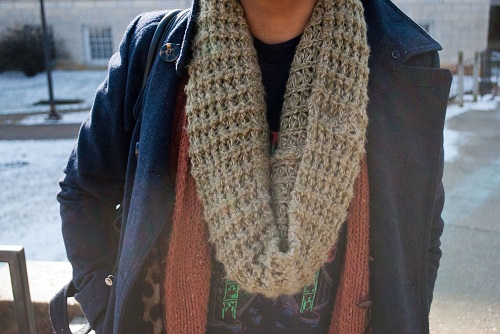 Domonique's layers are what really drew me to her outfit. They're simple, yet they work: the colors go, the knits upon knits create a 'cozy-yet-chic' vibe, and the leopard lining of her coat peeks out, which adds a nice and luxe touch. Underneath it all is a simple worn graphic tee (still trending on campus!) that bears sentimental value, given to her by her sartorially-gifted brother.
2. Black Boots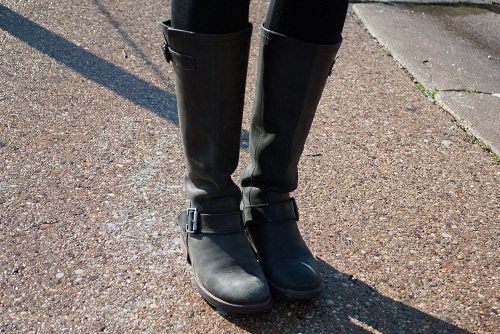 It's hard to go wrong with a classic black pair of Frye-esque motorcycle boots. Domonique bought these boots at Aldo five years ago, and actually purchased them from her brother (at a discount, of course), who happened to be working there at the time.
3. Chic Shoulder Bag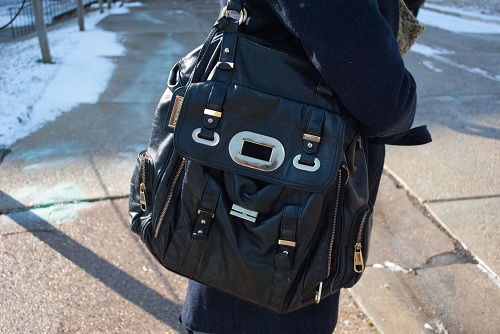 This was the deal-clincher for me; a black leather bag is a good old standby, and this Badgley Mischka shoulder bag really amps up Domonique's outfit, making it look sophisticated and put-together. This bag is a super stylish alternative to the old standby Longchamp tote we see everywhere on campus. If you, like most girls, don't have the budget for a designer bag, seek out a black leather bag with unique details to stand out from the crowd while looking chic.
What do you think?
How do you like Domonique's outfit? What are your go-to pieces when you're rushed for time? Do you share clothing with your family members/wear hand-me-downs? Let us know in the comments below!