I'm so excited to show you our first Looks on Campus online submission, the lovely Dominique!
If you'd like to be featured in the next edition of Looks on Campus, be sure to check out the information below!
Who We Spotted: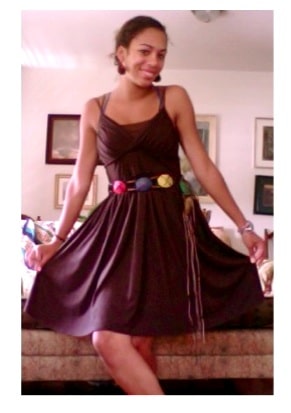 Name: Dominique
Hometown: Chicago, IL
Age: 18
Year in College: Freshman
Major: "I plan on double majoring in Political Science and probably Anthropology."
Hobbies/Interests: "Dancing (I've done Hip-hop for a while and I just started ballet), reading, writing, and listening to all types of music."
Describe your style: "My style is kind of all over the place. I love the very sophisticated looks, but often veer into boho looks as well."
Who/what inspires your style? "Blair Waldorf is my fashion icon. I also love taking cues from other girls on campus, and reading fashion blogs."
Where do you like to shop/find clothes? "Vintage stores, consignment shops, Anthropologie (when I can afford it!), Urban Outfitters (I am addicted to their sale section online), and Express."
Elements of Dominique's Style:
1. Earth Tones!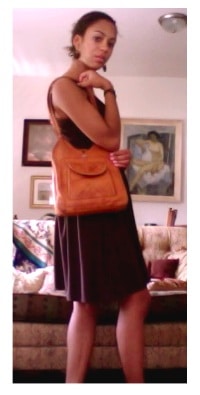 Dominique plays with a chocolate brown base (her dress) and adds additional earth tones. This isn't easy to do because you want tones and shades that contrast each other, otherwise it looks like a mess of mud. The good news is that earth tones are perfect for fall! Remember the golden rule: pick colors opposite each other on the color wheel. Here are my favorite earth tones:

2. Vintage accessories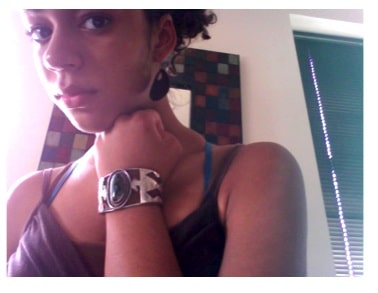 Dominique has a great eye for unique accessories. She frequently shops at vintage and thrift stores to find unique pieces that no one else has. You can also find great vintage and vintage-inspired accessories on websites such as Modcloth.
3. An open perspective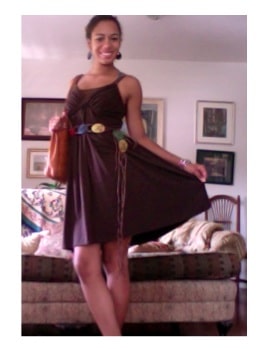 Dominique lets her style evolve and doesn't stick to any single genre. If you'd like to see more of Dominique's style, check out her blog, Dress Darling, where she documents what she wears around her campus!
Looks Inspired by Dominique: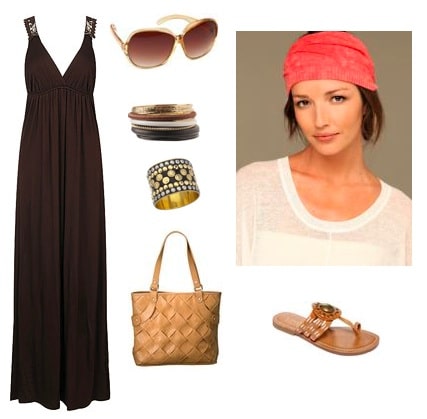 Product Information: Maxi Dress- Forever 21, Sunglasses- Old Navy, Studded Cuff- TopShop, Assorted Bangles- Forever 21, Sandals- Jessica Simpson at Zappos, Coral Headband- Free People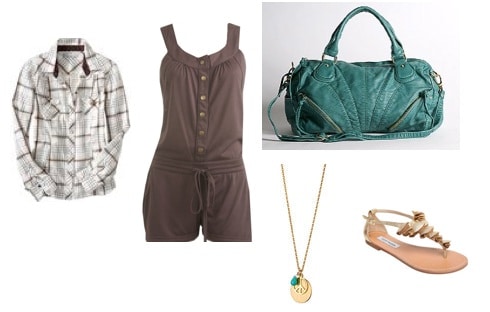 Product Information: Plaid shirt- Old Navy, Romper- Wet Seal, Bag- Urban Outfitters, Necklace- Couture Candy, Sandals- Steve Madden
Wanna be featured in Looks on Campus?
We're always looking for new fashionistas to feature from across the country. If you want your look featured, here's what we need:

Use a timer or have a friend take photos of your outfit head to toe – don't forget to include your shoes and bag!

Take a few detail shots of the pieces that make up your look – bag, shoes, accessories, etc. We want to see them up close!

Answer the interview questions listed above. Be sure to include where you go to school.

Send it all in an email to zephyr AT collegefashion DOT net with subject Looks on Campus.
We'll pick our favorites to feature here in the Looks on Campus column. Please note that we can't feature everyone who submits due to volume, but we'll try to do as many as we can. Can't wait to see your submissions!