Through the hustle and bustle of the busy campus of Michigan State University, where rolling out of bed for class with just enough time to throw on a pair of sweatpants and a T-shirt seems to be a campus-wide habit, it wasn't hard for Diane to capture my attention with her stunning floral print dress and impeccable sense of style. Diane's outfit exhibits how to perfectly transition your summer wardrobe for the fall.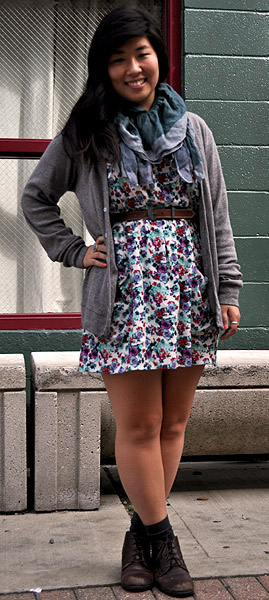 Diane 101
Name: Diane Paik
School: Michigan State University
Year in College: Sophomore
Major: Journalism
Hometown: West Bloomfield, MI
Hobbies/Interests: Blogging (check out Diane's blog at girlinformedme.blogspot.com), biking around campus, writing, people watching, learning about film.
Let's Talk Fashion
Who or what inspires your style? "I love taking high-fashion on the runway and transforming it into realistic, everyday affordable wear. There's no way I could ever afford Chanel, but I like looking at Chanel's pieces for inspiration. There's also lots of websites with everyday people posting outfits that they put together and I grab from that as well."
Where do you like to shop? "Ideally, Saks Fifth Avenue. Realistically, H&M, Forever21, Urban Outfitters, on-line stores like asos.com, and small boutiques like Mad Eagle (in East Lansing)."

What are your favorite trends right now? "Fall jackets, trench coats, military-inspired pieces."
How would you describe your sense of style? "….Grandma. I'm mostly attracted to patterns and colors. I like to keep my style simple with florals, scarves, cardigans, and once in a while socks that rest at my ankles…"
What fashion advice do you have for other students? "My most true-blue advice would be to make sure you feel and look good before you leave for the day."

What motivates you to dress up? "I guess it kind of goes back to my advice for other students. Before I leave the room, I want to feel good and feel confident, and what I wear affects my day and my lifestyle. I mean, if you're in sweatpants, all you want to do is lie in bed all day."
If you could raid anyone's closet, who would it be and why? "Diane Kruger's, because she has a way of being absolutely effortlessly chic… not because we have the same name… mostly. Her casual-to-evening looks are phenomenal. Also, it would be a dream to raid her glamorous closet."
Elements of Diane's Outfit
1. Smart Accessories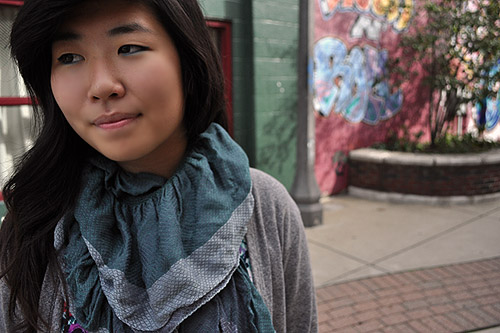 Adding a scarf and a waist belt are simple ways of embellishing and dressing up an outfit. Scarves are also an essential accessory for the fall/winter that can be easily paired with clothing items from your summer wardrobe to create an effortless transitional look between seasons.
2. Floral Prints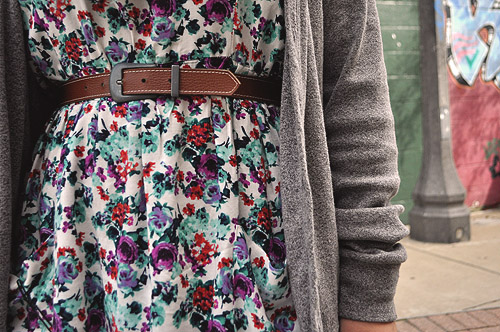 Floral prints provide an ultra-feminine component to any outfit. Rather than hanging up your summer floral dress in the back of your closet this season, pair it with a fall jacket or cardigan to change it into a perennial investment.
3. Lace-up boots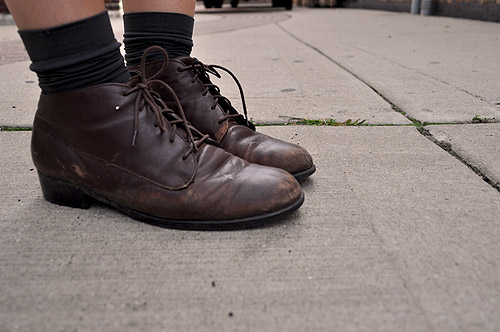 Lace up boots are a continuing trend this season, and are an excellent way to dress up a casual outfit or dress down an evening one.
Share Your Thoughts!
What do you think about Diane's sense of style? Is her outfit ideal for the transition between seasons? Would you draw fashion inspiration from your grandmother? Let us know with a comment!