Diana and I lived in the same dorm last year, and I'd notice her fabulous outfits every day on my way to class. When I saw her on campus recently, her ensemble did not disappoint! I then got the chance to speak with her about her fearless, unique sense of style and what inspires her taste in clothes. Read on to learn about Diana's style!
Diana 101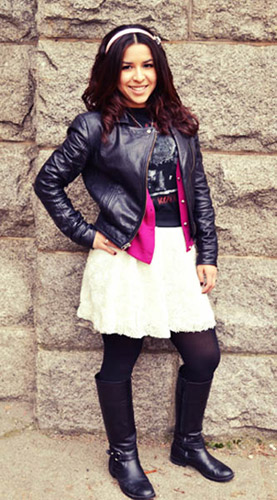 Name: Diana
School: Gonzaga University
Class Standing: Sophomore
Major: Political Science, French
Hometown: LaPlace, Louisiana
Hobbies/Interests: "I love to learn about new fashion designers (making a difference); I like people in the fashion world who help with poverty and give back. I also like the whole concept of fashion integrating into the workforce. Fashion can be meaningful."
Let's Talk Fashion
Who or what inspires your style? "I really love '60s, '20s, and '80s fashion. I love icons from the 1960s – Edie Sedgwick, Katharine Hepburn, and Audrey Hepburn. Katharine Hepburn was still girly, yet she was the first woman to wear pants in a movie. Also, Coco Chanel – love her!"
Where do you like to shop? "Different kinds of places. There's a store in Louisiana called Francesca's. I also love J. Crew – I can mix preppy with edgier stuff. I also like to shop at the boutiques on Magazine Street in Louisiana. And I like Urban Outfitters, too."
What are your favorite trends right now? "I love the ballerina look that's popular right now, as well as the resurgence of '70s flair. I also love leather jackets. I'm not a big fan of sparkle, which I know is trendy, but if you balance it out, it looks good."
Describe your style in three words. "Inspired, comfortable, and fun. I like to play with things and always think of how I can incorporate trends with timeless pieces that will last."
Do you have any favorite designers? If so, who? "Chloé, Marc Jacobs, Proenza Schouler, and Jean Paul Gaultier. He's a genius. And Alexander McQueen was one of my all-time favorites. I love distinctive designers – you can just look at a piece and tell 'that's a McQueen,' or 'that's a Gaultier.'"
If you could raid anyone's closet, who would it be and why? "I would definitely want to raid Rachel Zoe's or Blake Lively's closet. It would be fabulous."
What fashion advice would you give to other students looking to improve their style? "Definitely don't overdo trends. You don't want to wear all your trends at the same time. Also, college is about practicality. If three new trends are going to be the best for you, choose those (and forget the others). And keep it simple – don't try too hard, and just make it your own."
Elements of Diana's Outfit
Diana's style is all about balancing classic, girly items with edgier pieces. Her band t-shirt offsets the delicate white rosette skirt, while her motorcycle jacket and headband pull the overall look together. Here's a more detailed breakdown of the elements that really make Diana's look:
1. Headband and Natural Hair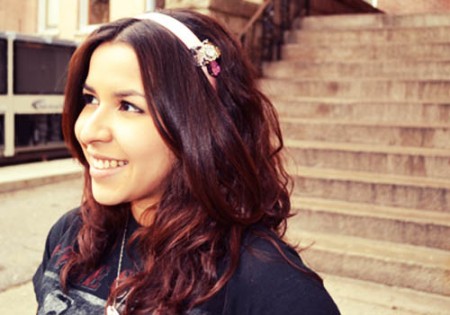 The light pink headband adds a little Gossip Girl chic to Diana's pretty, natural waves. "I'm trying to grow my hair out, so I just apply a small dab of Paul Mitchell Super Skinny Serum to wet hair and let it air dry like this. I only blow dry my bangs," Diana said.
2. Plenty of Accessories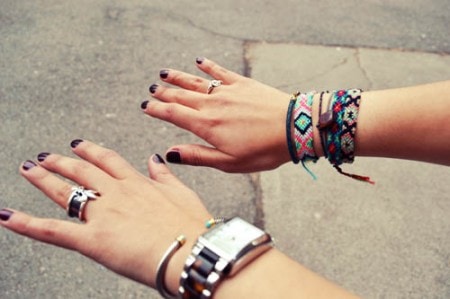 Diana's friendship bracelets display a quirky way to add color and texture to an outfit while channeling a 1970s vibe. Also, the tortoiseshell-colored watch goes with everything – I bet Diana is never late for class!
3. Timeless Boots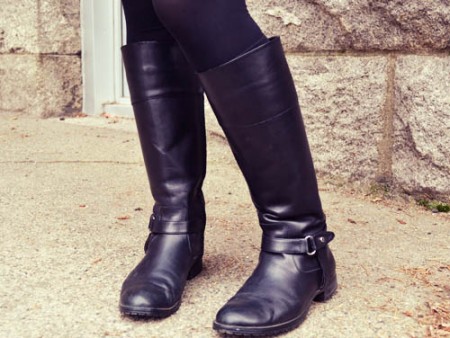 When living on a college campus, comfortable shoes are a must – you walk everywhere! The flat heels on Diana's boots make them practical for walking back and forth from dorm to class. Black leather boots are a basic wardrobe staple that will be in style for years to come.
What do you think?
Do you like Diana's outfit? What are your tips for balancing different styles in one outfit? Which era inspires your style the most? Let us know with a comment!