On the first day of school, most students dress to impress for their friends, peers, and professors. I saw Devon walking across campus and was impressed by her effortlessly casual yet polished look. Devon described her look as boho, but most days, she picks things from her closet and throws outfits together with no certain style in mind.
Now entering her senior year of college, Devon said that dressing up for the first day of school didn't matter to her as much as it did her freshman year, so she went with what was comfortable. Even though she dressed for comfort, she still stood out in a stylish way and made a great first impression for the fall semester.
Devon 101
Name: Devon
School: University of Nevada Reno
Major: Speech Language Pathology
Year: Senior
Hobbies: Working in a dental office, hanging out with friends, going to concerts, and watching football
Let's Talk Fashion
What's next for you after college? "Grad school! But eventually I want to work with kids on articulation disorders."
Where do you find inspiration for the things you wear? "Besides my friends' closets, I look online at the stores I like to shop at and see what the models are wearing. I mostly just browse Forever 21, Tobi, Brandy Melville, and H&M."
What is your favorite item in your closet right now and why? "I would have to say this headband, because the wire makes it fit perfectly to my head and it goes with everything I wear. It's from Forever 21."
If you could raid any celebrity's closet who would it be? "Oh, that's a tough one. I'm going to say my favorites are Shay Mitchell from Pretty Little Liars, Vanessa Hudgens, and Kendall Jenner. I love all of their Instagrams."
What are you most looking forward to for fall fashion? "Honestly, scarves, beanies, and boots!"
Elements of Devon's Outfit
1. Shoulder-Baring Shirt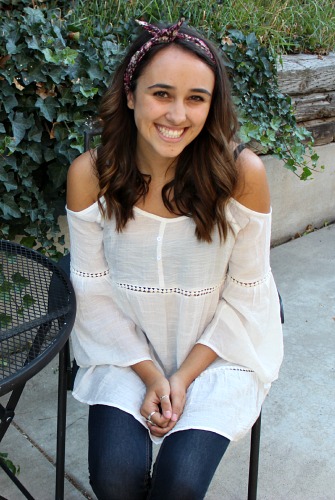 This boho chic shirt is perfect for any Reno day, because we have a lot of random windstorms. It may look 80 degrees and sunny outside, but once you start walking to class the winds may woosh you away!
This Nordstrom top is flowy, but long enough that there is no risk of accidental exposure. The cold shoulder look is also very flattering, as it shows some skin without revealing too much.
2. Strappy Sandals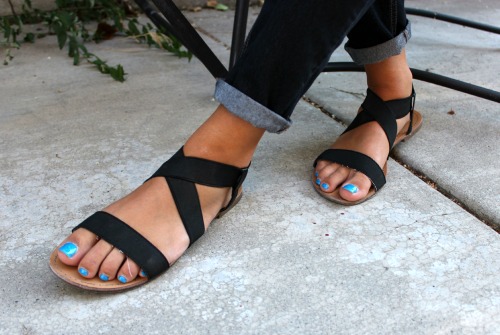 Devon's Steve Madden sandals give this outfit a more relaxed look. Because they are so comfortable and easy to walk across campus in, she says they're her go-to sandals for class. She confided that she wishes she had a pair of Birkenstocks, but these are close enough!
3. Silver Rings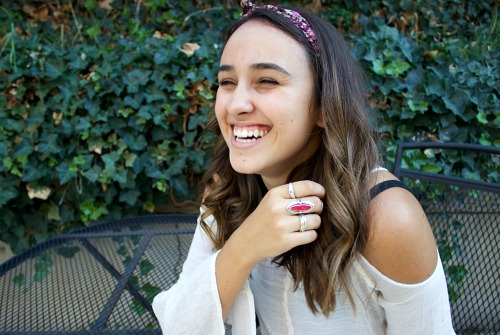 The most interesting aspect of Devon's outfit was her assortment of silver rings. She effortlessly groups together a collection of finger candy she found in several shops. She admitted she doesn't know where they are all from, but she bought some of them on vacations to Mexico and others on random shopping sprees.
Do you love Devon's first day of school style?
What do you think of her boho top? Do you love her mixed rings? What did you wear on the first day of school? Comment below and let us know what you think!