It was a bold fall day, but Devika's outfit was even bolder. As soon as I noticed the pattern on her dress was skulls, I just had to capture and share this look. Now that we are well into September, school has picked up its pace and most people have been wearing comfortable clothes, so I was really impressed by how put-together and sharp Devika looked. She is an inspiration in both aesthetics and in attitude!
Devika 101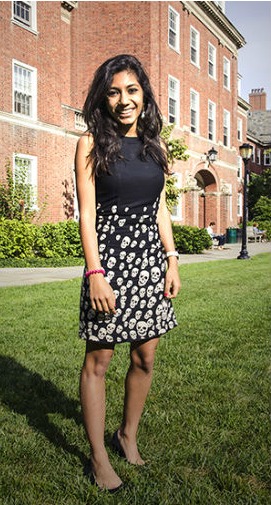 Name: Devika
School: Yale University
Year: Junior
Major: Political Science
Let's Talk Fashion
Who or what inspires your style? "Today is not a good representation, but I love Indian patterns. I also try to go for something very distinctive against the usual college campus clothes like sweatpants and gym clothes."
Where do you like to shop? "It is hard to find stores that cater to petite sizes, but H&M seems to fit me pretty well and they are very fashionable. I frequently buy bigger sizes and get things tailored to fit me. I also shop at boutiques when I'm traveling."
How would you describe your sense of style? "My style is form-fitting and put together. Something unique. I like what's current."
Why did you choose this particular outfit? "I chose this custom bespoke dress because I liked this design, and even though it's sunny today, I found it fitting. It's been a busy week, and I guess I was channeling my inner thoughts. I picked the shoes from Macy's and accessories to complement the dress. My scrunchie is from a Singaporean market and my earrings are from India."
What fashion advice would you give to other students looking to improve their style? "Tailor your clothes to fit you well. Don't underestimate accessories."
What are your favorite trends right now? "I'm obsessed with peplum. I really love mixing delicate materials and designs with tougher elements, for example, pairing leather and lace together."
Do you have any favorite fashion designers? If so, who? "So many! Ultimately, Christopher Bailey (Burberry) and Elie Saab."
What do you do for fun – do you have any unique hobbies or interests? "I bake, write (but not for anyone else to see!), and read a ton of fan fiction – if that counts as a hobby. I also frequent the farmer's market for produce and veggies."
If you could raid anyone's closet, who would it be and why? "I would like to raid my roommate's closet because her style is so different from mine. She's got more of a country or classic style, which is really not my cup of tea, but it would be really interesting to go through her closet and see how I could incorporate her pieces with mine."
Elements of Devika's Outfit
1. Skull Print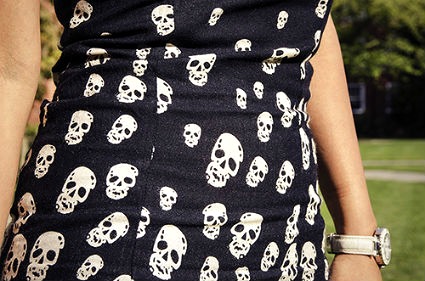 It was this form-fitting printed dress that first caught my eye. I love how the skulls gradually become larger and more concentrated toward the bottom of the dress, and it obviously fits her every curve. She says that this dress channels her admiration for Alexander McQueen.
2. Pearl Earrings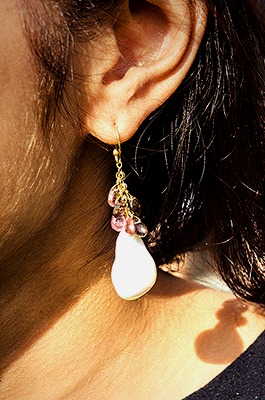 In person, Devika's earrings have an amazing baby blue iridescence that really add a delicate and ethereal touch to her outfit. The opaque blue iridescence mixed with the translucent pink beads and the metallic gold chains continue the elegant vibe. These colors are reminiscent of French Rococo style – one of the most playful, feminine, and charming art movements – so these earrings really balance out the tough print of the dress.
3. Scrunchie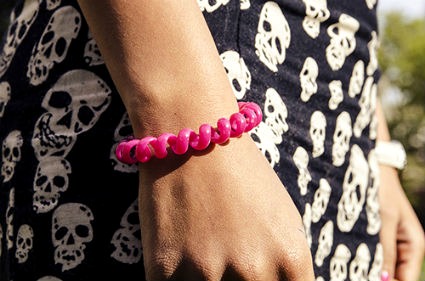 The hot pink scrunchie accentuates the feminine-punk attitude of Devika's outfit. Simultaneously bold and distinctly girly, this nonchalant scrunchie pulls together the various elements of Devika's outfit together. I absolutely love the contrast of hot pink and black! Devika herself said not to underestimate the accessories, and it's apparent she walks the walk.
Now we want to know what you think about Devika's look:
Do you love her feminine dress with the skull print? How do you feel about her accessory pairings with her tough-girl dress? Do you have any skull print in your closet? Leave a comment below and let us know!