Demi, a trend specialist at Charlotte Russe and a successful fashion student, has a cute and unique sense of style. Even though this is the time of year for lazy fashion – temperatures have dropped and students are stressed with finals – Demi does not resort to sweatpants and a hoodie, but instead, she keeps her sense of style in the library with mixed patterns and pops of color.
Demi 101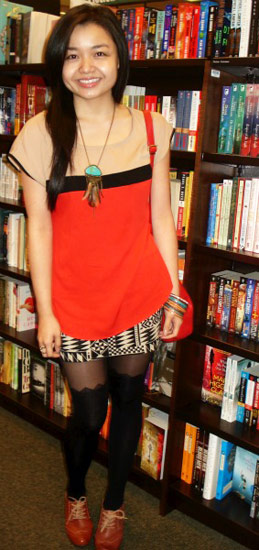 Name: Demi
Year: Sophomore
School: University of Texas at Arlington/Art Institute of Fort Worth
Major: Fashion and Retail Management
Let's Talk Fashion
Who or what inspires your style? "Carey Mulligan for her sweet, feminine style, and Alexa Chung, for her eccentric style."
Where do you like to shop? "I don't shop at one specific place – I am one of those people that takes forever to shop because I have to search for that one special piece. I will shop at places like Nordstrom and Charlotte Russe and even thrift shops."
How would you describe your sense of style? "Feminine but I like to add a little quirk. I like to mix and match."
Why did you choose this particular outfit? "I love color blocking. When I wear dull colors I like to spice it up with something bright. I also like to contrast the weather – if it is raining and cloudy outside, I like to wear something bright."
What fashion advice would you give to other students looking to improve their style? "Don't buy expensive brands just to have the brand. Look for pieces that you can use from season to season – take your time and find pieces that you really like."
What are your favorite trends this season? "Color blocking, mix and match patterns, and lots of layers."
Do you have any favorite fashion designers? If so, who? "Alexander McQueen, Oscar de la Renta, and Betsey Johnson."
What do you do for fun? Any unique hobbies or interests? "Painting, drawing, shopping/styling, and Dance Central."
If you could raid anyone's closet, whose would it be and why? "Audrey Hepburn for her classic style and the girls from Gossip Girl even though I don't watch the show."
What is one thing you can't leave the house without? "At least one accessory and a pop of color."
Elements of Demi's Outfit
1. Dressy-Casual Shoes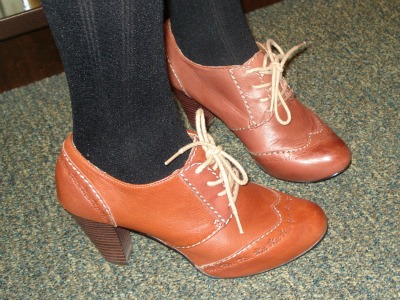 Demi's heeled oxfords are a perfect example of shoes that are comfortable but still stylish. These shoes are the perfect compromise, with the comfort of flats and the elegance of heels.
2. Eye-catching Patterns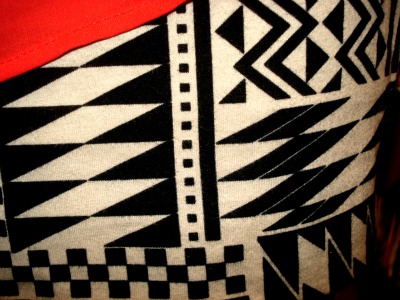 Demi's skirt has a simple design with an amazing pattern. What I love about patterned skirts like Demi's is that you can pair them with solid colors for a pretty look, or with other patterns for a hint of the mix and match trend that's so hot this season.
3. Red Bag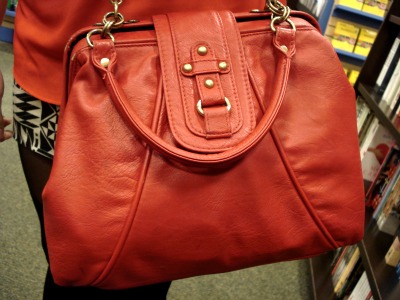 A bright bag like Demi's can help you to add that pop of color to any outfit. In this outfit, Demi used it to complement her red top and camel-colored oxfords, however, it could also be used as the standout piece in another ensemble.
What do you think?
Do you like Demi's outfit as much as we do? Do you wear mixed patterns? How do you add a pop of color to your outfits? Let us know with a comment!