The semester is finally over here at Cornell and the weather has finally decided to acknowledge it! I spotted Debra walking across campus on the second to last day of classes, on her way to an appointment. Her structured, denim crop top immediately caught my eye, so we met up later to talk about her experiences studying abroad in Rome and how it helped form her sharp sense of style.
Debra 101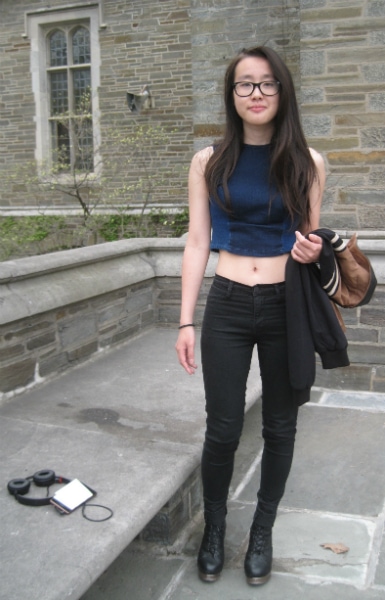 Name: Debra
Year: Fourth
Major: Architecture
School: Cornell University
Let's Talk Fashion
Where did each piece come from? "This top, I think I got it from Zara in Italy. I don't think they have this variation in Zara in America. These are Calvin Klein jeans. And then these [shoes] are Jeffrey Campbell's, I think they're called 'Back-offs.' And the jacket's Diesel."
Where do you like to shop? "Huh, that's a hard question. I actually didn't do my own shopping until I started college. But mostly online shopping, 'cause I'm a little lazy! But I do enjoy going to like… anywhere! Just, like, small shops you spot on the road, or large malls and stuff like that. I don't discriminate."
Why did you choose this particular outfit today? "I was waiting for the weather to get warm so I can start wearing my crop tops. They've been sitting in my closet for ages. Most of my clothes are actually very monochromatic, but today's warm, so I just wanted to wear something that's, you know, not too cold but relatively nice."
How would you describe your sense of style? "Well, I used to have terrible, terrible clothing choices! But mostly recently it'll be more like tight things, like less baggy. I don't really have a lot of baggy clothes; I like to tuck in my t-shirts. I guess anything that goes well with my changing body type."
Who or what inspires your style? "I think the fashion inspiration or trends that I kind of follow… I actually spent a semester in Rome, in Europe, and so then I kind of pick up, like, what people wear on the street. Kind of like what looks good on them, and then I kind of mix and match and find out what looks good on me. So, I guess it is a bit of a European influence."
What do you like to do for fun? "I like to play video games for fun. I play a lot of video games! I'm almost embarrassed to admit that."
Elements of Debra's Outfit
1. Denim Crop Top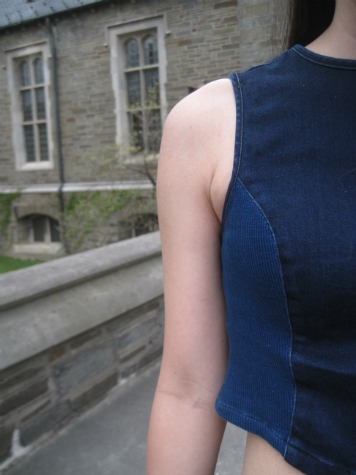 This figure-flattering crop top from Zara was the first thing I noticed about Debra's outfit. In addition to showing off her awesome body, the sharp lines and careful construction certainly seemed fitting for an architecture student.
2. Diesel Jacket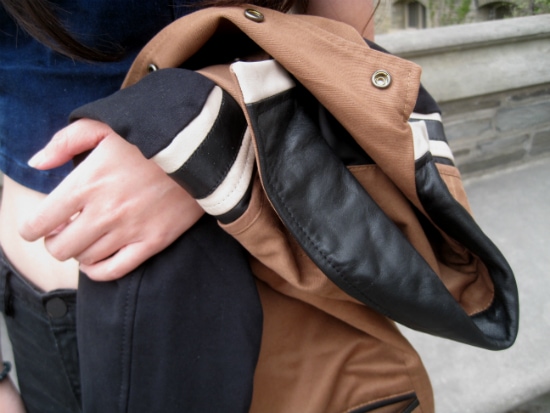 It was a little too warm out for Debra to wear this sporty Diesel jacket, but it still made a statement draped over her arm. Although it's composed only of neutral colors, the clean, graphic contrasts and pops of white complemented the rest of Debra's look perfectly.
3. Jeffrey Campbell Wedges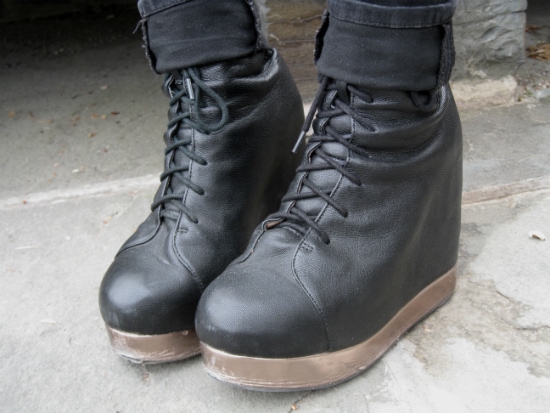 It takes some serious confidence to rock a pair of wedge booties on campus, but Debra definitely pulled it off. Like everything else in her look, her shoes incorporated contrasting shades, and the metallic soles added a little extra edge.
What do you think of Debra's structured style?
Would you wear her denim crop top or wedge booties? Is your own sense of style influenced by Europe? Share your thoughts below!