As I was heading out to the city for the night, I found David walking around on the loop, a popular place for students in St. Louis to hang out. There are hookah spots, bars, and neat shops for about a mile.
David was on his way to a concert at The Pageant and when I saw his European-inspired style, I had to ask for some pictures. I love how cool and classic he looked.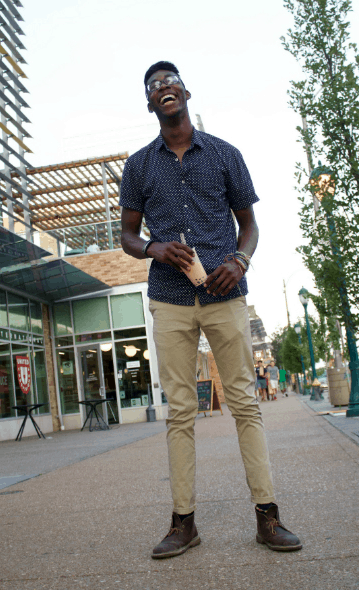 David 101
Name: David
School: St. Louis Community College, Meramec
Major: Senior Performing Arts
Let's Talk Fashion
Who or what inspires your style? "My style is inspired by Reddit– /r/malefashionadvice."
Where do you like to shop? "I mostly use online shops. I like UNIQLO and Jackthreads. I also like H&M and Goodwill."
How would you describe your sense of style? "My sense of style ranges anywhere from new trends to vintage looks to streetwear. I dig it all."
Why did you choose this particular outfit? "I was heading back into STL for a day off my summer camp and wanted to look good. I never normally get to wear these clothes because they don't last long in the heat and mud."
What fashion advice would you give to other students looking to improve their style? "Ultimately, wear what you feel the most comfortable in. Celebs have cool style; check them out for inspiration."
What are your favorite trends right now? "Desert boots and cut-off shorts."
What do you do for fun? Do you have any unique hobbies or interests? "I love acting. I also like to take transit to new places after I get off work some afternoons and explore new parts of St. Louis. There is so much here."
If you could raid anyone's closet, who would it be? "Anthony Green."
Elements of David's Outfit
1. Smartwatch and Woven Bracelets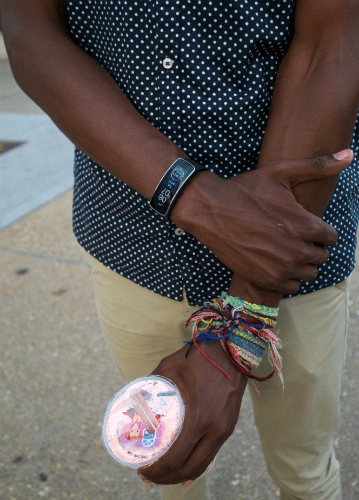 Even though I am still a skeptic about smartwatches, David had nothing but good things to say about his nifty gadget. It has a sleek look and eliminates the need for a phone crammed into your pocket at all times.
This watch was also a nice contrast to David's handmade woven bracelets. The colorful collection lightened up his put-together look, and gave it a more relaxed vibe.
2. Neutral Color Combo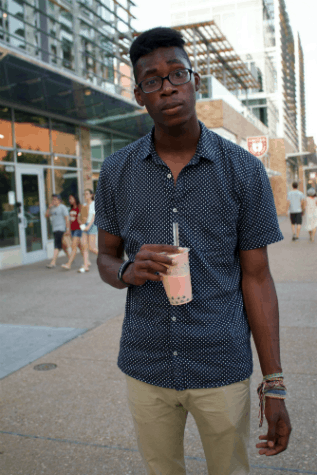 Navy and khaki are a fabulous neutral color combination. This pairing looks trendy, but is so easy to wear. Neutrals are perfect for everyday wear, and allow for accents and accessories to shine through.
3. Desert Boots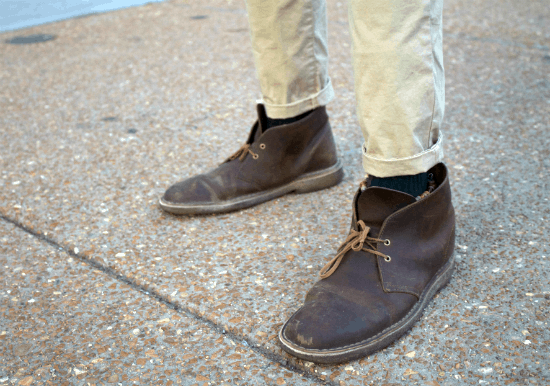 Desert boots are a classic choice that pair well with almost any outfit, and these shoes brought together David's trendy look. His laces were actually slightly broken, but apparently this happened often because David pulled out a reel of twine to re-lace them!
We want to know what you think!
Do you dig David's style? What do you think of desert boots? Comment below and let us know.