In some parts of the country, summer can bring triple-digit heat. With sweltering temperatures and frizz-inducing humidity, what's a fashion-forward college student to do to stay stylish and comfortable?
I spotted Daria walking in Memphis, beating the heat with her eye-catching dress from the Urban Outfitters sale rack. Daria's effortless and cool style is what first caught my interest, but it's the unique details of her outfit that make her look truly special. Meet Daria, fashion-savvy bargain-hunter extraordinaire, hairdo wizard, and pretty southern belle!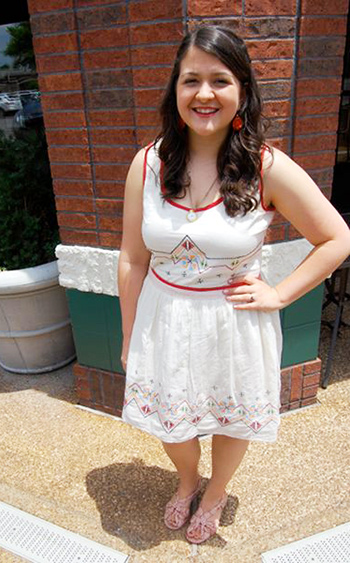 Daria 101
Name: Daria
College: University of Mississippi
Hometown: Memphis, TN
Major: English with a Spanish minor
Hobbies: "Singing, writing, reading, thrifting, coffee drinking, and browsing the web for delicious vegan recipes."
Year: Class of 2014
Let's Talk Fashion
Why did you choose this particular outfit? "I bought this dress a few weeks ago. I love the stitching on it – it's really unique. The front is a little shorter than the back, so it's a nice way to embrace a trend without going full-on mullet dress. I like simple cotton dresses in the summer, and after I picked the dress, it was all about finding the right colors to pull out bits and pieces of the dress."
What process do you go through when picking out an outfit? "I usually try to pick out something special, like an interesting shirt or a unique skirt, and then build the outfit around that piece. One item of clothing comes before the rest, and then, the hair and jewelry and whatever else follows."
Who or what inspires your style? "I love old trends that are becoming new again, like button ups and high-waisted things. I like Zooey Deschanel a lot. She's got a fun and quirky sense of style. Also, I browse the Anthropologie website and take ideas from there and then dress them down. And my sister and I play a lot off of each other's style even though we have our own individual looks."
Do you and your sister share clothes? How does that work? "We do trade clothes. The rule is that if you want to borrow something that isn't a big deal, then, you can, but you have to ask. Always! With any special items, you trade for control of the other person's closet. There are only a few items that are off-limits between the two of us."
Where do you like to shop? "My favorite stores are Target, Goodwill, Anthropologie, Urban Outfitters, and Marshalls. It's a little easier to find things at Anthropologie and Urban Outfitters, but it's more fun to search for things at the other places."
Do you have any advice for college students looking to shop on a budget? "I would definitely say to look at thrift stores and stores like Marshalls. Try on anything that looks interesting. You can buy quite a few pieces, even if they need to be hemmed or fixed, because everything is so cheap. You have to learn how to dig and see what sticks out to you for good, staple pieces. Basically, just look for the word 'sale!'"
Do you think your style has changed since you entered college? "It's gotten better. I've learned a bit more about what I like to wear and what makes me feel comfortable. I think part of it is being out on my own. I didn't want to dress like everyone else at my school, so I sought out a style that I could feel comfortable in – not in a pajama kind of way, but an 'I feel good about myself' kind of way."
Do you have any favorite thrift store finds? "I love my collection of grandfather sweaters. They're great, comfy and cute in the winter if you wear them with the right scarf. And I bought a pair of tie-dyed blue shoes that are kind of like Keds. I wear them pretty much every day, and they were only three dollars!"
Elements of Daria's Outfit
1. Patterned Sandals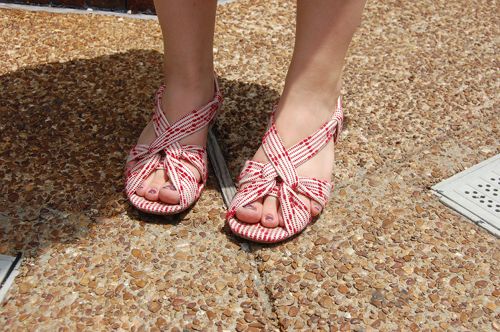 Daria scoured Anthropologie's sale section to find these cute, patterned sandals. The sandals are comfy, cool, and eye-catching, and they complement the red accents in her dress without being too matchy.
2. Simple, Chic Jewelry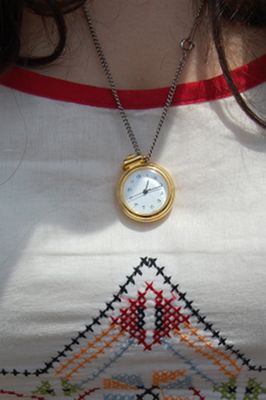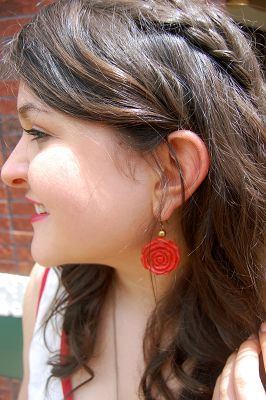 Daria's cotton dress and detailed sandals are statement pieces, and her understated jewelry serves to bring out the unique stitching on her dress and the red stripes in her shoes without overpowering her outfit. Daria's mom made her fabulous rose earrings by re-purposing some old jewelry – so cool, right? Also, Daria's clock necklace has been handed down through the generations of her family. Not only is the necklace super cute and vintage, but it's also sentimental.
3. Girly Braids and Curls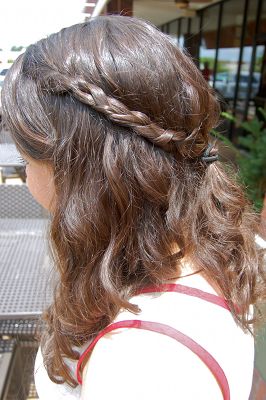 Just like a statement necklace or an armful of colorful bangles, hair can be an accessory. A pretty hairstyle can take an outfit from everyday to something special. Daria's sweet braids and luscious curls are the perfect complement to her girly ensemble.
Share Your Thoughts!
What do you think of Daria's style? Do you braid your hair often? How do you save money while shopping? Let us know with some comments!