This week on campus, all eyes are looking towards summer. The Miami heat is finally starting to set in and the summer nights have arrived for students. The bars and parties have been packed and it's no surprise that I ran into one of my classmates, Danielle, ready to go out with her boyfriend and get away from all the projects we have due next week.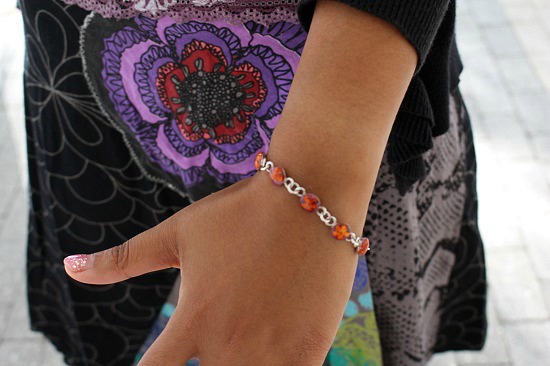 CLICK TO ENLARGE.
I like how Danielle incorporated brown into her mainly-monochromatic ensemble. I think the earth tone works well with the floral embroidery of her dress. To take this look beyond basic, she paired her dress with a dainty bracelet, pretty heels, and a great smile.
Hometown: Boston, Mass
Major: Print Journalism and English
Hobbies and Interests: "Serving as an editor for the school newspaper, The Miami Hurricane, spending time with my sorority sisters, reading and going to the gym."
Describe your style: "I think my style is classic, but I like to have fun with it and try out new things. One minute I can be totally preppy with my pink Sperry's, and then the next I can rock my leather jacket and boots. I don't take my style too seriously but always try to look put-together."
Who or what inspires your style? "I like classic looks and try draw inspiration from Audrey Hepburn and Grace Kelly. I love the way women in the '50s and '60s always looked so classy and styled, and I try to incorporate that into my own outfits."
Where do you like to shop? "I like to shop at all kinds of stores, and to use a mix of high and low pieces when pulling together an outfit. Lord and Taylor is my favorite department store for dresses, J. Crew is the best for cute t-shirts, and I like to check out surf shops for unique tops and beach cover-ups."
Why did you chose this particular outfit? "I wanted to look a little more casual but still styled for an evening out in South Beach. My black Nine West pumps are my go-to heels; I love them because they go with everything I own and instantly add oomph to an outfit."
Elements of Danielle's Outfit
The Brown Clutch and Gold Knot Bracelet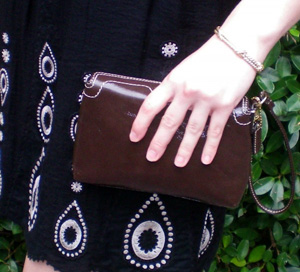 I think the toughness of the brown leather clutch complements Danielle's sweet dress perfectly. The gold hardware also coordinates with the knot bracelet. Plus it's the perfect size for parties or dinners out; it fits the necessities without being too big. Also, her dainty bracelet makes a bold statement. I like the nautical rope details and the little knots that dot the bracelet.
Embroidery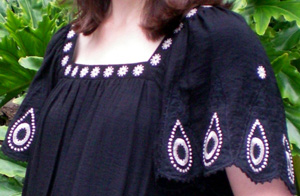 I love the embroidery on this dress. It has a Middle Eastern/Indian vibe that punches up a very simple linen tent dress. The dress is very wearable and the linen is perfect for keeping cool in the Miami heat.
What do you think?
Do you like Danielle's style as much as we do? Are you a fan of embroidery? How do you accessorize your favorite dresses? Leave us a comment!