Now that school's out, I've been using my free time to reconnect with old friends. When I called up my friend Danielle to catch up and chat, I started thinking about our growth from children (we became best friends in the fifth grade and were absolutely inseparable) to adults (we're now at totally different colleges studying incredibly different things).
When I saw her for the first time this summer, it was clear her sense of style had also matured! So, today's LOC post is all about Danielle's sweet summer style and a celebration of all of our childhood friendships.
Danielle 101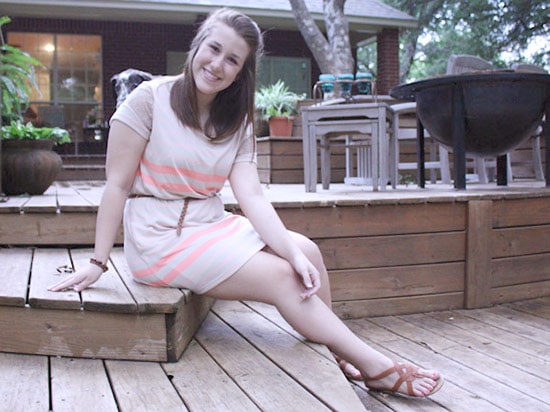 Name: Danielle
School: University of Mary Hardin Baylor
Major: Nursing
Class Standing: Sophomore
Let's Talk Fashion
Who or what inspires your style? "To be honest, I get a lot of inspiration from Pinterest. Also, I like to pay attention to the outfits showcased at some of my favorite stores for even more ideas."
Where do you like to shop? "I really love Buckle, but I shop at lots of different places."
How would you describe your sense of style? "I try to keep up with the latest trends while still staying versatile. I don't want to corner myself into one look; I just want to wear whatever looks good on me!"
Why did you choose this particular outfit? "Neon is really popular, and nudes are very in style as well – I liked that this dress incorporated both."
What fashion advice would you give to other students looking to improve their style? "Go with what you're comfortable with. If you're unsure, do some research and try to figure out what you really do like."
What are your favorite trends right now? "Definitely neon and lace."
Do you have any favorite fashion designers? If so, who? "It's hard to pick a favorite designer, but as far as clothing brands go, I love Antonio Melani and Rock Star Jeans."
What do you do for fun – do you have any unique hobbies or interests? "Right now, I'm just wrapped up in school, but I love to play ultimate frisbee when I have time."
If you could raid anyone?s closet, whose would it be and why? "No question about it: Kate Middleton."
Do you think the growth of a person corresponds to their development of personal style? "I feel like that's kind of true. As your personality and likes change, so does your sense of style and how you choose to represent yourself."
Elements of Danielle's Outfit
1. Earthy Accessories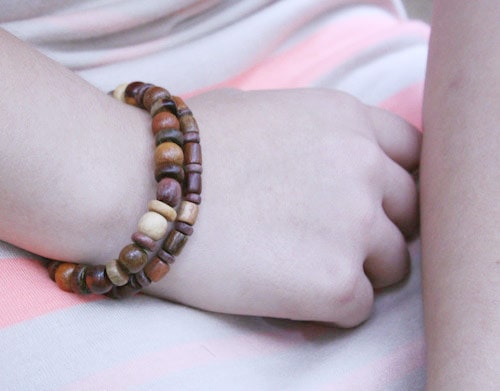 For me, summer is all about getting outdoors — and, here, Danielle incorporates the outdoors into her summer style with these wooden beaded bracelets. By accessorizing with natural materials, summer style comes across as effortless and beautiful.
2. Delicate Details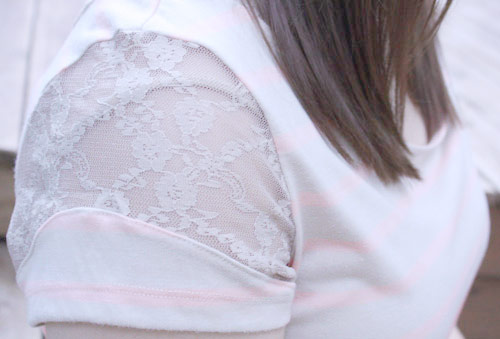 The panels of lace in this nude and neon dress really add visual interest to this simple outfit, yet they are still muted enough to feel whimsical, not gaudy. By combining a few trends in a subtle, coherent way, Danielle plays with fashion in a simple, subtle way.
Share Your Thoughts!
What do you think of Danielle's outfit? Have you experimented with neon yet? Do you have a childhood friend that you're catching up with this summer? How has your style evolved over the years? Let us know with a comment!