I saw Daniela at a small get-together with friends. I loved that her outfit was not only summer-chic, but also cool enough to withstand the Nicaraguan summer heat. As soon as I saw her trendy yet laid-back ensemble, I knew I had to share her look with you.
Daniela 101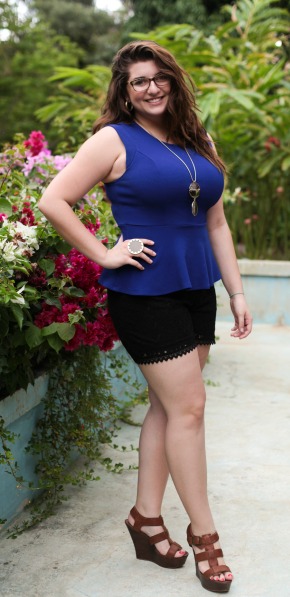 Name: Daniela
School: Loyola University
Hometown: Managua, Nicaragua
Year: Junior
Major: Marketing
Let's Talk Fashion
Who/what inspires your sense of fashion? "I watch E! News a lot. That, and I follow a lot of fashion bloggers on Twitter, Instagram, and Pinterest."
What are your favorite places to shop? "I wanna be all cool and say, like 'thrift stores and stuff,' but I really like H&M, Zara, and Nordstrom. Also, American Eagle. I buy all my jeans from there."
How would you describe your sense of style? "I really hate to be be super matchy. I like to mix and match, and focus on one statement piece. I really want a lot of summery dresses and jumpsuits. Necessary Clothing has a lot of stuff that I really like.
It all depends on my mood. Some days I like to wear more rock-and-roll style clothing, and some days I'll be super girly and wear pastels and a skirt."
Do you have any interesting hobbies? "I like to go out and go take pictures with a friend."
Do you have any favorite designers? "I love Elie Saab, Alexander McQueen, and Marc Jacobs."
What fashion advice would you give to others looking to improve their style? "Don't look at what people are wearing in magazines or on TV. Don't do what's trendy. Do what's gonna flatter you the most and make you feel the best. Don't worry about the label. And lastly, just because it zips doesn't mean it fits, so be wary of that!"
Elements of Daniela's Outfit
1. Cobalt Peplum Top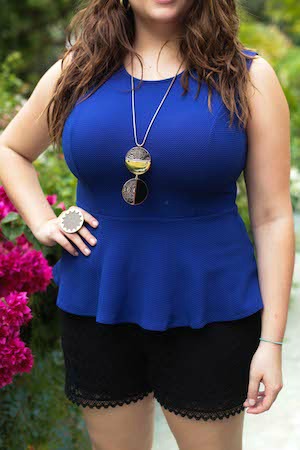 The shape of Daniela's Forever 21 peplum top creates a fantastic silhouette. She paired her top with black lace shorts from H&M, which give the outfit some texture and draw attention to her legs. The combination of these two pieces looks so chic and on-trend for summertime!
2. Strappy Wedges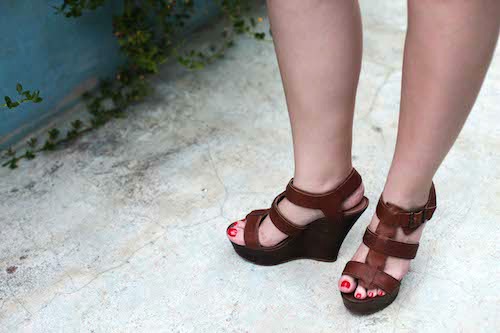 Wedges are taking over this season. Not only do they add incredible height, but these sandals are far more comfortable than stilettos. These Steve Madden wedges add a nice summery touch to Daniela's outfit, and the neutral color means they can be incorporated into almost any ensemble.
3. Unique Jewelry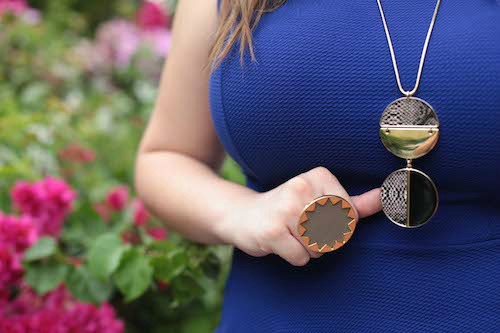 Bold jewelry completes Daniela's outfit, and we love how the same circular shape can be found in both her necklace and ring. These geometric shapes keep her look trendy and fashion-forward without looking over-the-top.
How do you keep cool yet chic in the summer heat?
Do you love Daniela's bold top and funky jewelry? Have you ever worn lace shorts? What do you think of Daniela's look? Leave a comment below!