Spring has arrived, which means it's finally time to pull out all of your colorful pieces and cute dresses! Although it is still a bit chilly here in Minnesota, students are looking brighter and livelier than ever.
Dagmara's outfit is the perfect example of this spring-centric attitude across campus. Her looks are always casual yet put-together, plus she knows how to style outfits that are both sharp and chic.
Dagmara 101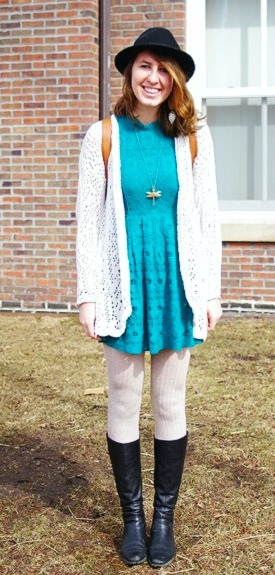 Name: Dagmara
Year: Freshman
Major: International Studies/Russian Studies
Hometown: A small town in Poland
School: Macalester College
Let's Talk Fashion
Who or what inspires your style? "I don't think that I have a specific inspiration, but I do remember that I used to steal clothes from my mom's closet."
Where do you like to shop? "I actually buy a lot of my clothes back home at shops that aren't here in the States. One specific store I like is called Reserved. I also like to do some second hand shopping back home too, and it is still a pretty new concept for me. But here in the States I like to shop at Urban Outfitters."
How would you describe your sense of style? "I don't think I have a particular style because I think I dress according to how I feel that particular day. Sometimes I wear dresses and I feel girly while other times I like to just wear jeans and a tee. But overall, I would probably say that I have a rather classic style with mainly basic and staple colors."
Why did you choose this particular outfit? "I think this dress works well with this particular cardigan because they both have a similar crochet-like pattern. I would also like to believe that spring is coming to Minnesota!"
What fashion advice would you give to other students looking to improve their style? "I would say start off with wearing what you like – [it's as] simple as that! And I think if every day you wear something you like and feel good in, you would get a better sense of what you like to wear and what your style is. As time goes by it wouldn't even take that much effort."
What are your favorite trends right now? "Recently, I really like hats. I discovered that I really like pairing hats with my outfits. I saw one of my friends back home wearing them, and I think they really make my outfits stand out and [look] better. I don't see a lot of people wearing hats on campus, but I think they are making a comeback."
Do you have any favorite fashion designers? If so, who? "I never really cared about brand names or designer items. I can only say I really like jackets from Zara, but I feel like it is more about the style and the clothes than the name. I don't really follow any fashion designers in particular."
What do you do for fun – do you have any unique hobbies or interests? "I play volleyball for Macalester. I am also really into photography. And recently, I have realized that I love to explore the Twin Cities by myself. I find that it is a totally a different experience, and I think it is important to know how to spend time with yourself and take a break from everything else."
If you could raid anyone's closet, who would it be and why? "There is a Polish model that just recently became quite popular, her name is Anja Rubik. She has been pretty successful on the international runaway, and I would raid her closet."
Elements of Dagmara's Outfit
1. Wide-Brimmed Fedora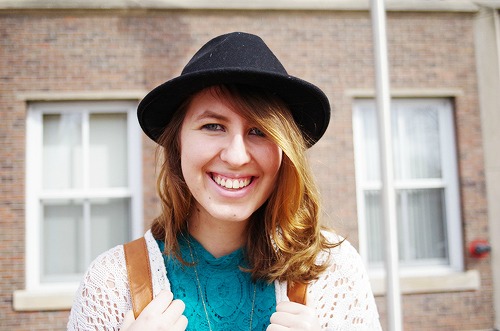 Like Dagmara said, topping an outfit with a hat just makes it better! This black fedora adds a sophisticated touch to her otherwise playful outfit, plus the wide-brimmed style is right on-trend this season.
2. Color-Blocked Backpack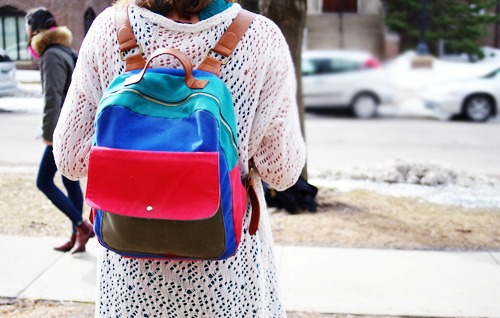 Not only is Dagamra's Urban Outfitters backpack fun and lively, but it's also totally functional for a day on campus. Color-blocking is a huge trend at the moment and this backpack is a great way to make any outfit pop.
3. Pairing Similar Patterns and Textures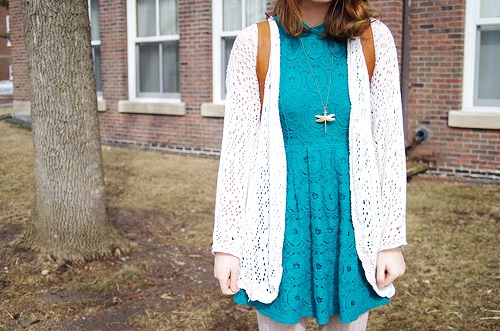 Between the turquoise hue and delicate crochet, Dagmara is rocking the ultimate springtime dress. Her white cardigan complements the brightness of the frock, while the similar textures keep things cohesive. The overall look is fresh, girly, and oh-so cute. (We're also loving that adorable dragonfly necklace!)
Do you like Dagmara's chic spring outfit?
Do you like the way she played with materials and textures? Are you a fan of her bold, color-blocked backpack? Do you think this look has a European flair? Let us know what you think below!