I spotted Crystal on my way to the library one breezy afternoon. Her bright red-orange pants and cool nautical top looked so bright and cheery in the Los Angeles afternoon sunshine – I knew I had to snag her to talk fashion with us!
Crystal 101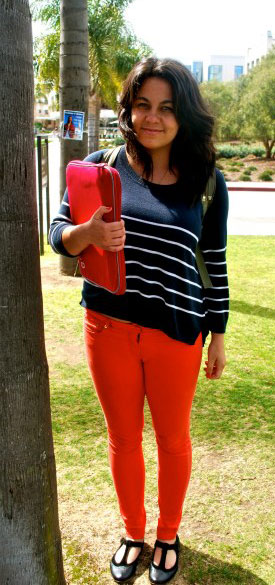 Name: Crystal
College: Loyola Marymount University
Age: 23
Year: Senior
Major: Business
Hometown: San Diego, Ca
Let's Talk Fashion
Who or what inspires your style? "Who What Wear, street style, Vogue, and Teen Vogue."
Where do you like to shop? "H&M, Forever 21, and thrift shops."
How would you describe your sense of style? "It changes every day, but mostly preppy, and a little boho-chic."
What are your favorite trends right now? "Mint green pants, statement jewelry, and floral EVERYTHING!"
What do you do for fun – do you have any unique hobbies or interests? "I like hiking, camping, traveling, and jewelry making."
If you could raid anyone's closet, who would it be? "Alexa Chung, Zooey Deschanel, or the Olsen twins."
What is your favorite thing about your personal style? "It's unique to me. I like to mix and match lots of colors, styles, fabrics, patterns, etc. I take a lot of risks, especially with bright colors."
Elements of Crystal's Outfit
1. Bright Denim and Striped Sweater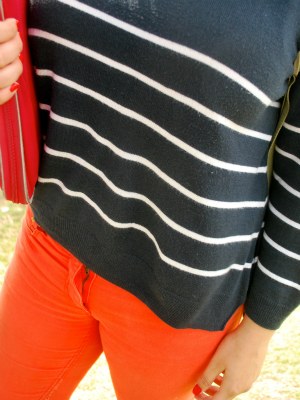 I love the way Crystal styled her bright red-orange jeans. Colored denim is popular right now, but some of the bold colors can be hard to wear. That's why I admire Crystal's simple take on them – by pairing her bright jeans with a neutral navy sweater, she makes them look cool and chic, not clownish. And that's not to mention that nautical sweaters like hers are perfect for spring!
2. T-Strap Flats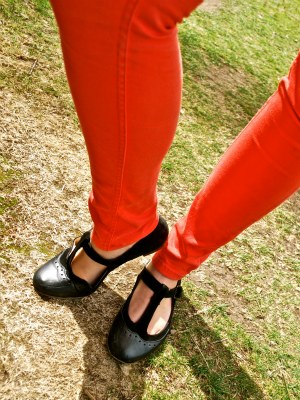 Crystal's T-strap black flats made her look fashion-forward, while still allowing her to be comfortable and on the go! They also showcase her sweet, friendly, and girly personality.
3. Simple Jewelry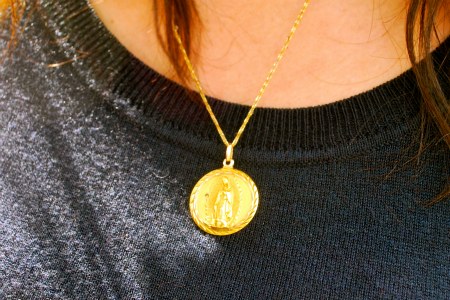 Crystal's pendant not only allows her to display her personal commitment to her faith, but also complements her orange pants beautifully with a touch of gold. She is wearing just the right amount of sparkle, which allows her fun tangerine pants to remain the focus of her outfit.
Share Your Thoughts!
What do you think about Crystal's sense of style? Have you rocked the colored denim look yet this spring? How do you incorporate nautical elements into your wardrobe? Share your thoughts with a comment!