The snow has finally melted in Flagstaff and spring has officially sprung! With the warmer temperatures, students are beginning to shed the drab layers of winter clothing and embrace less clothing and shorter hemlines.
While cutoffs and threadbare tees are usually the typical college girl's springtime uniform, Corrina stepped outside the box in her eye-catching, dressed-up ensemble. Not only does she embody springtime perfection in her simple yet fun outfit, as I soon found out, she's also a total sweetheart!
Corrina 101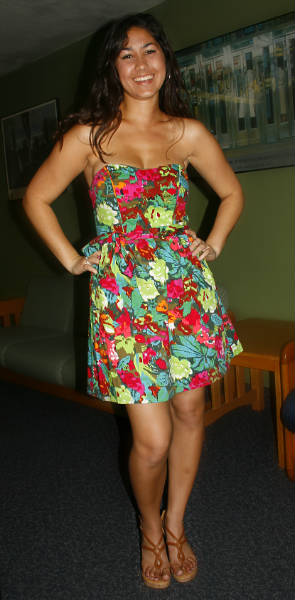 Name: Corrina
Major: Elementary and Special Education
Year: Sophomore
School: Northern Arizona University
Hometown: Phoenix, AZ
Hobbies/Interests: "I love photography and reading! I spend most of my summers on Fire Island, NY and I love to spend time at the beach and swimming."
Let's Talk Fashion
Why did you wear this outfit today? "The weather has been so nice lately, so I thought I would be springy."
Who or what inspires your style? "My sister really influences my style because she always has an eye for what looks good."
Where do you like to shop? "Anywhere that has good sales – I love American Eagle. My dress is from a local store called The Basement, which also has some really cute stuff."
How would you describe your sense of style? "My style is very comfortable but still cute."
What fashion advice would you give to other students looking to improve their style? "Wear things things that make you feel confident and pretty, but that are still comfortable."
What are your favorite trends right now? "I love anything nautical or striped!"
If you could raid anyone's closet, who's would it be and why? "Probably Emma Watson– she has such a unique sense of style and always pulls it off effortlessly."
Elements of Corrina's Outfit
1. Springtime Dress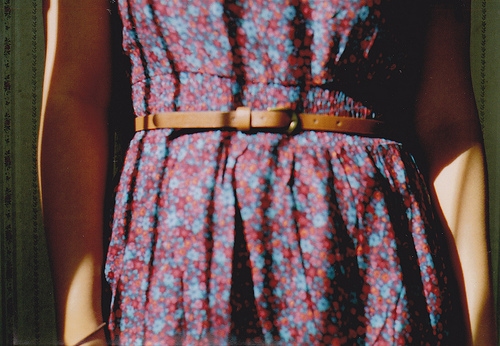 Since the weather has been nice enough to wear dresses (without layers and tights!), I love that Corrina wore a floral print dress that really embraced spring. Corrina also nails two spring trends in one fell swoop: Not only are floral prints always popular for spring, but the brights trend is also super hot right now.
2. Neutral Wedges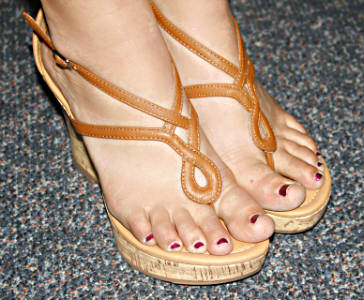 Corrina made her dress the focal point of her outfit by keeping her accessories simple and neutral, adding these simple tan wedges from Charlotte Russe. Not only do they complement the bold pattern of her dress, they're insanely cute, too!
3. Simple Accessories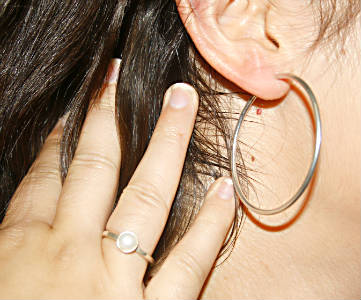 Again, in order to keep the dress as the main focal point of her outfit, Corrina kept her accessories to a minimum, adding just simple hoop earrings and a classic pearl ring.
What do you think?
Have you worn a spring dress yet this season? Are you as obsessed with the floral trend as we are? What do you think of Corrina's adorable wedges? Let us know with a comment!