In a 200+ person lecture class, it's often hard to see what everyone is wearing, especially when everyone has on a bulky coat to protect themselves from the vicious Ohio wind. Presentation day was different though: I got to see Corey in front of the class. I knew I had to stop this stylish beauty afterwards and broadcast her style across the internet.
Corey 101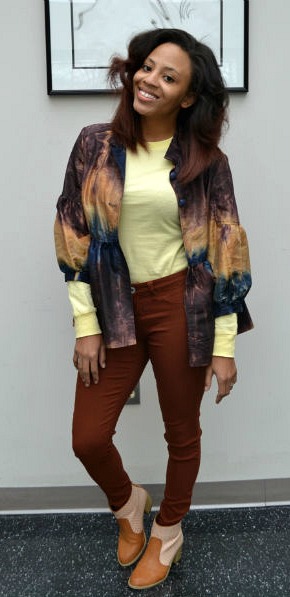 Name: Coretha (Corey)
Year: Junior
Major: Fashion Merchandising
Hometown: Cleveland, OH
Let's Talk Fashion
Who or what inspires your style? "I have always been inspired by the most random things, but mostly high fashion and creating a more urban way to do it. That made me very creative and I've always been able to create my own way as far as fashion goes. I also hate matching."
Where do you like to shop? "Thrift stores are my favorite. But I also shop at Forever 21, Madewell, ALDO, and many more. I'm a person who can find something anywhere."
What do you do for fun? Do you have any unique hobbies? "Well, besides being obsessed with fashion and researching for my future, dance, dance, and more dance!"
What are your favorite trends right now? "My favorite trend right now is the trend where everyone does what they want. The rules of fashion have gone out the window. Everyone dresses how they feel, not concerning themselves with the 'classic' rules of fashion."
What fashion advice would you give to other students looking to improve their style? "Be yourself. Nobody can truly make it in fashion by being like everyone else. Separate yourself!"
Do you have any favorite designers? If so, why? "I love Jeremy Scott! I love how he goes for it. He gives people a line that allows them to take it as far as they want to go. I have a lot of favorite designers, but I'm completely obsessed with him right now!"
How would you describe your style?"Darling. I wear what I want, without considering others opinion. Ask any of my friends; they will tell you I hate matching."
Why did you choose this particular outfit? "I had a presentation today in class so I wanted to be fashionably professional, but not too much."
If you could raid anyone's closet, who would it be and why? "A little bit of every major celebrity."
Elements of Corey's Outfit
1. Print Jacket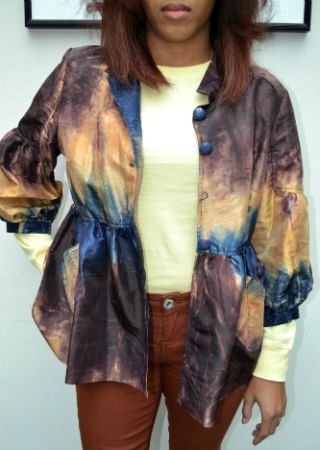 Corey's color story of the day is gorgeous and is clearly the inspired by her jacket. Although she isn't matching in the traditional way, every piece she has on is tied together beautifully with the tie-dye. This jacket almost has an intergalactic color scheme and Corey works it.
2. Dainty Ring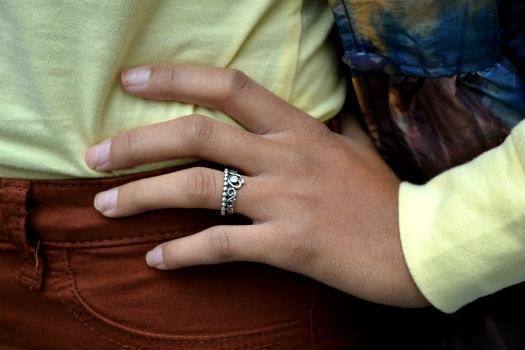 This dainty ring is a small but noticeable detail of Corey's outfit. She didn't go overboard with her jewelry, which was a good call due to her bold printed jacket. This ring is subtle enough to work into her outfit without being dramatic.
3. Woven Booties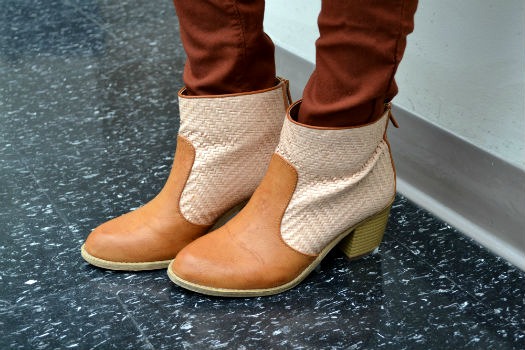 While booties are very commonplace this season, Corey's colorblocked ones stand out. The woven element on the side is a unique material that makes them different from other shoes spotted on campus.
4. Rust-Colored Pants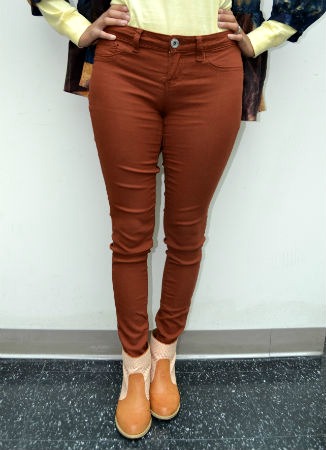 Corey's fashion-forward look is tied together by her rust-colored pants. These jeans tie into her jacket and shoes without being too bright. The fit? Phenomenal!
What do you think of Corey's outfit?
Do you like her jacket? What do you think of the colors Corey based her outfit around? Would you wear it? Let us know in the comments section below!