During my fifteen minute break/coffee run, I ran into Colleen. Because I have a new obsession with cropped shirts (especially bold printed ones), I couldn't help but take notice of the shirt she was sporting. Her look represents something we don't normally feature in Looks on Campus – a grunge, rock and roll chic aesthetic. Lucky for me, Colleen had more than enough time before her class to discuss her influences and taste in style.
Colleen 101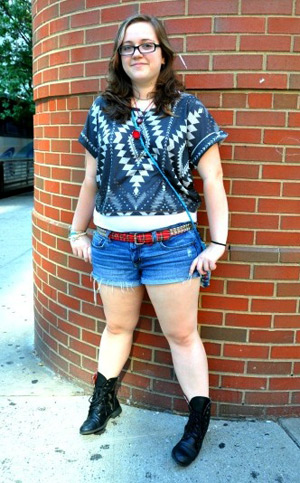 Name: Colleen
College: SUNY Oneonta
Major: Photography (Taking a Modern Art History course at FIT for the summer)
Year: Sophomore
Hobbies/Interests: "I like taking photos, but I guess that's turned into schoolwork for me. But I love playing the guitar, singing, and just walking around. This city is such a unique place, so I love to just take it in."
Let's Talk Fashion
Describe your style: "That's a hard one, actually…I would say it's a mix of both grungy-punk type look and a boho look almost. I find that I have a really unique style because it's kind of a mix of everything, so it can be really hard when people ask me."
Where do you like to shop? "I mostly shop at American Eagle, Forever 21, H&M, but sometimes I like to pick up pieces in little shops [in the city] too."
Who or what inspires your style? "I think I get a lot of my style from movies. I love looking at costume designs and picking silhouettes or colors from there. So recently, it's been a lot of Alice in Wonderland with a lot of blues and darker colors."
Why did you choose this particular outfit today? "Actually, this shirt is new! So I was excited to wear it. But I also like having my outfits in a certain palette – usually grays and blacks or neutral colors, so my accessories can pop really well. Especially my belt, my necklace, and my bag – which I actually made myself!"
Does your major inspire the way you dress? "Yeah, it does! Along with the movies thing, photos that I see where people have costume type themes or just an interesting outfit. From that, I will try to emulate it or put my own twist on it. Also, the color palettes I see inspire what colors I would pair together. Maroon and green, for example. Black and white as well, because we live in New York City."
What are your favorite trends right now? "I like the cropped shirt, as you can see! I'm a little late on it, but I like the look. I know that this is also an old trend was mainly in last summer, but I really like the gladiator sandal. Lace is a trend that I am in love with. It's coming back, so I'm excited."
Do you have any favorite designers?If so, who? "I can't say that I do because I don't really shop designer. Though I do like looking through what Kate Spade has done, as well as Michael Kors. I like how both keep it simple with clean lines."
If you could raid anyone's closet, who would it be and why? "Uhm…oh, that's a hard one. I think I would have to raid my friend, David's closet because I love what he wears. He has a classic, simple style with jeans, dress shoes, collared shirts, and a sweater, which I think is a great look that can be worn on anyone."
What fashion advice would you give to others looking to improve their style? "Find something you like and wear it all the time. I recycle outfits all the time, and I like to experiment with my favorite pieces with other things. When I like something, I will continue to wear it time and time again, regardless of what's in. Also, keep your look simple, but accessorize well."
Elements of Colleen's Outfit
1. Cropped Shirt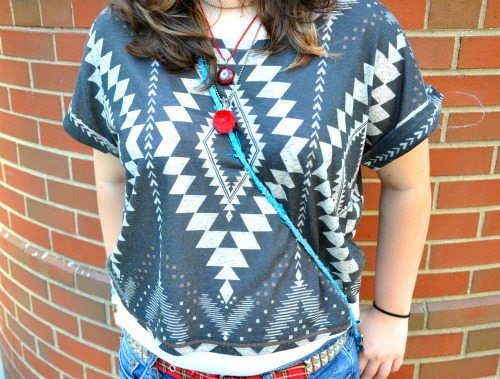 Cropped shirts have definitely become a popular trend, and can be versatile in numerous outfits depending on how you wear them. They're cute, and come in so many styles to fit anyone's taste! For more information on how to wear a cropped top, click here or here.
2. DIY Bag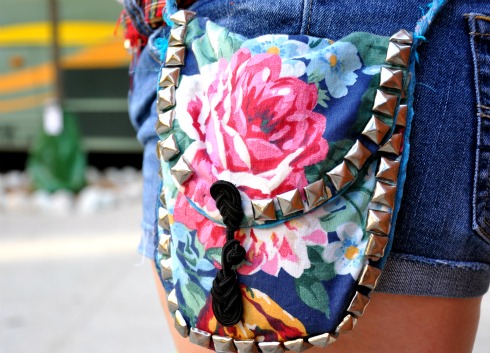 DIY projects are not only fun and simple, but a perfect way to create a unique piece that you won't find anywhere else. Colleen's bag is the perfect mixture of girly and edgy, and the best part? She created it herself!
3. Lace-up Boots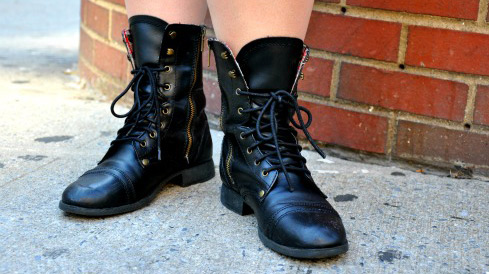 Who says you can't wear boots in the summer? Shoes always add an extra pop to any outfit, and because Colleen's style is inspired by grunge, these lace-up boots are a perfect fit for her style.
What do you think?
Have you worn a cropped top before? What do you think of Colleen's grunge look? Have you experimented with a DIY lately? Do you wear boots in the summer? Let us know with a comment!