Colorado Springs attracts international tourists for its splendid mountains and incredible wildlife. However, due to freak flooding in the mountains this month, many tourists traded in a day in the great outdoors to shop in the quaint boutiques of Old Colorado City. This is where I found Cleo, whose indie style made the dreary day of rain a bit more bearable.
Cleo 101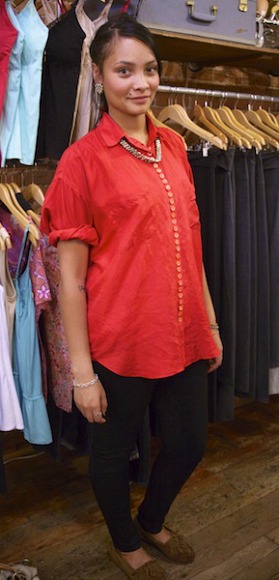 Name: Cleo
Major: Undecided
Where are you from? "I'm from South Africa, actually. I'm living in the States as a nanny. I live in Atlanta, but I'm taking online classes at UCLA."
What do you do for fun? "I sing a lot. I'm also a born-again Christian, so I go to a lot of church activities. I also love to hang out with friends."
Let's Talk Fashion
Who or what inspires your style? "I just wear whatever I feel. I don't even care if it doesn't match, if I find something and another thing and I like them, I just put them together."
Where do you like to shop? "Mostly thrift stores, Love Culture, Forever 21."
Why did you choose this particular outfit? "This is my favorite shirt. I got it at a thrift store in Berkley for five dollars. I love my moccasins and I just enjoy wearing skinny jeans. Just throw all this together."
What advice would you give to students eager to improve their style? "Just wear what you're comfortable in and wear it with confidence. I think that as long as you're comfortable in what you're wearing — no matter what that may be — if you think you wear it well then it doesn't matter what you're actually wearing."
What are your favorite trends right now? "I like oversize shirts, as you can see. I like the whole hipster look. Actually, I love the whole hipster look. Also the whole baggy/comfy look."
If you could raid anyone's closet, who would it be? "I think Vanessa Hudgens with her new, lacy style."
Elements of Cleo's Style
1. Mixed Metallics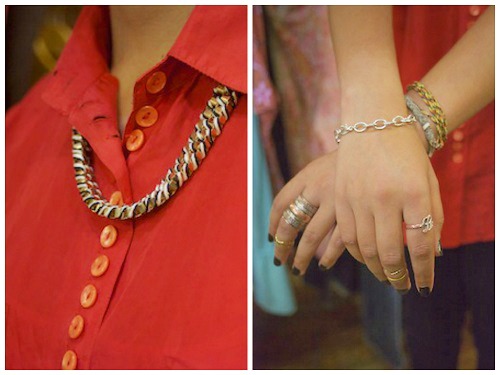 Cleo proves that it's a myth that you can't wear gold and silver together. She combines different metals in her jewelry to create an indie rock vibe that complements her outfit perfectly. Cleo purchased most of her jewelry from Forever 21 and Urban Outfitters, so head there for a similar look. Even her black nails add to her rocker vibe!
2. Red Top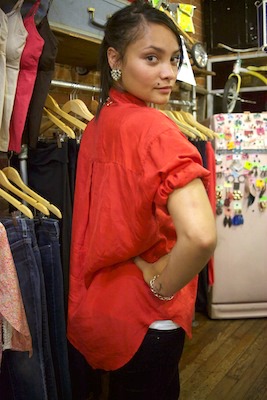 Cleo's red oversized top immediately caught me eye. This shade of red is a bold, vibrant color that's geared to make anyone wearing it stand out. The shirt works well with Cleo's skin tone and pairs nicely with her black skinny jeans from Target.
The loose fit and collar are definitely inspired by menswear, but the buttons help keep her top feminine and flirty. Cleo purchased her shirt at a thrift store, proving that fashion can be inexpensive and socially and environmentally-friendly!
3. Tattoos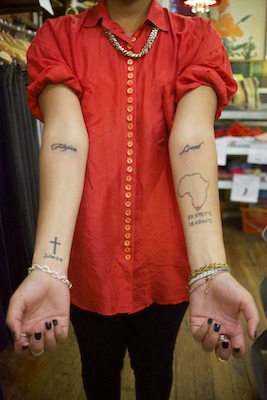 Cleo's tats are not only statement-making, but also pay homage to her South African background and religious beliefs. This personal and unique ink definitely adds to her one-of-a-kind style.
Okay, I'm not recommending anyone to get a tattoo for the sake of fashion – unless you want to, of course. If you really adore the look, there's a cheaper, less permanent way to achieve Cleo's look… temporary tattoos! The best part is they come off with a little soap and water, while still giving off a rocker chic vibe.
What do you think?
What do you think of Cleo's outfit? How do you incorporate rocker elements into your style? Do you shop at thrift stores? How do you feel about tattoos, permanent or temporary? Let us know in the comments!