One chilly, overcast, and dreary September morning, while walking through Timothy Dwight's cozy courtyard, I spotted an incredibly well-dressed girl, lounging lazily on the green. With one look at her ensemble, I knew I had to snap her picture for CF. And that's how I met Clemantine, one of the most distinctive fashionistas at Yale.
Clemantine's alluring personality and intoxicating sense of style has already attracted a ring of friends and admirers. There is no denying that Clemantine possesses a magnetic aura. Everywhere she goes – believe me, I've witnessed it – strangers approach her to compliment her on her ensemble. Her keen eye for style is effortless and natural. Without further ado, Clemantine!
Clemantine 101
Hometown: Chicago, IL
Class Year: 2013
Major: Comparative Literature
What are your hobbies and interests? "Community services, dance, making jewelry, painting, and writing & reading. Also, I've been asked to design a line of jewelry for an upcoming YCouture fashion show!""
Where is your favorite place in the world to be? "In the hills of Rwanda during sunset or sunrise."
Let's Talk Fashion
How would you describe your style? "Trendy with a hint of retro glamor."
Favorite style decade? "60s and turn of the 70s."
Favorite stores? "Ann Taylor, CUSP, H&M, Zara, and any other small clothing boutiques that have beautiful stylish clothes."
How and why did you choose this outfit? "I chose this outfit because it is colorful, comfortable, and stylish. In addition, I love that each piece is functional for different vibes, and different types of days."
In terms of a fun, funky, practical, and colorful fall look, Clemantine's outfit has it all: the tights, the boots, the cardigan, the scarf, and a belt to tie it all together.
Elements of Clemantine's Style
The Belted Cardigan:
A timeless classic (and college fashionista's must-have) the cardigan is the perfect layering piece, keeping you cozy and fashionable through the brisk fall months. The warm purple hue of Clemantine's cardigan is especially pleasing to the eye in this increasingly cold and gray time of year.
The belt, which accentuates Clemantine's amazing figure, is a flattering way to show off your curves and has been a popular look on the runway as well. The belted cardigan guarantees that this elegant ensemble is fashionably noticeable.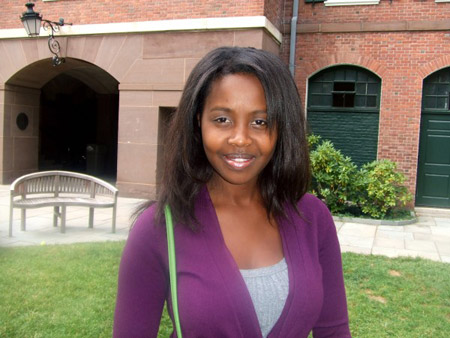 The Statement Purse:
The bright green bag says a lot about Clemantine's playful taste and personality, grabbing attention without looking too outlandish. This bright shade of green also provides a perfect contrast to the richer purple.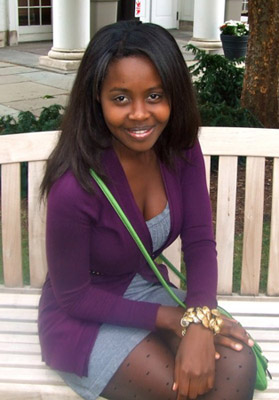 The Boots and Tights:
Every girl knows that boots are a warm and sexy way to stay chic during the fall. The heels give these boots a dressier feel to a casual ensebmle. You don't always need tights, but a sheer, patterned pair like Clemantine's will make any pair of black boots pop.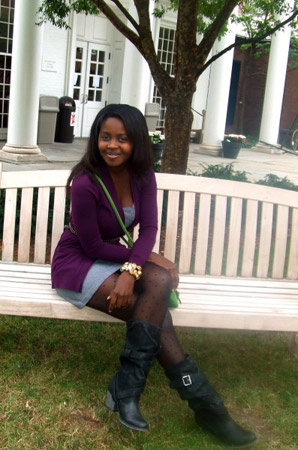 Share Your Thoughts
What do you think of Clemantine's fall outfit? Do you prefer a cardigan in cool weather? Do you like to accessorize with brightly-colored purses? Let us know with a comment!