Summer is in full swing, which means that most college students will be heading back to their hometowns, including Claire, who attends Virginia Tech.
In the summer heat, it's hard to stay cool, be comfortable, and look stylish. Luckily, Claire knows how to balance all three of these elements like a pro!
Claire 101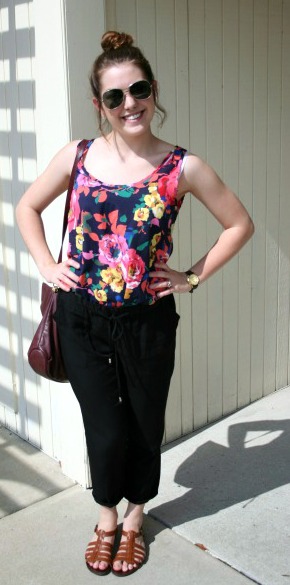 Name: Claire
Year: Freshman
Major: Industrial Design
School: Virginia Tech
Hometown: Lancaster, PA
Let's Talk Fashion
Who or what inspires your style? "People I see around campus definitely influence my style, along with magazines and media."
Where do you like to shop? "J. Crew, Gap, Banana Republic, and sometimes Urban Outfitters when I'm feeling it."
How would you describe your sense of style? "Preppy, but sometimes I have to bum it in leggings and a sweatshirt when I have late nights at school."
Why did you choose this particular outfit? "This outfit is pretty comfortable, but still cute enough for a day out with my girl friends."
What fashion advice would you give to other students looking to improve their style? "Definitely invest in a few staple items, but don't splurge on trends that are only going to last a season or two. A college budget limits how much you can spend on your wardrobe, but that doesn't mean you need to sacrifice your personal style."
What are your favorite trends right now? "Cute sandals, high-waisted anything, and accessories. I've been mixing up my watches, earrings, and belts lately."
Do you have any favorite fashion designers? If so, who? "Kate Spade! I also love Sam Edelman shoes."
What do you do for fun- do you have any unique hobbies or interests? "I love working out and going for runs when I can fit it into my schedule. Recently I've had some fun with photography, and of course, shopping and hanging out with my friends."
If you could raid anyone's closet, who would it be and why? "Giuliana Rancic. She has a great mix of fancy and casual clothes but is always looking stylish and cute no matter what she's doing."
Elements of Claire's Outfit
1. Gold Watch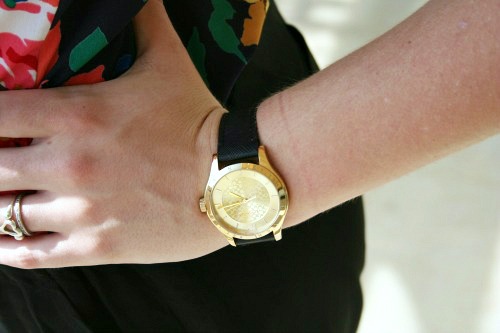 A classic watch is one of the best accessories a girl can have. Claire's sleek black and gold one can be paired with basically anything, and ensures she's always on time. Between the various styles, colors, and hardware, it's so easy to find a watch that matches your personal style and budget.
2. Strappy Sandals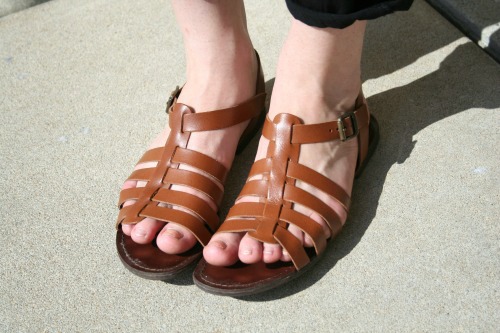 Strappy sandals are perfect for hot summer weather, and Claire's neutral brown pair keeps her look casual yet chic. Flat sandals can be can be paired with all of your favorite pants, shorts, or skirts, which makes them a versatile addition to any wardrobe.
3. Burgundy Bag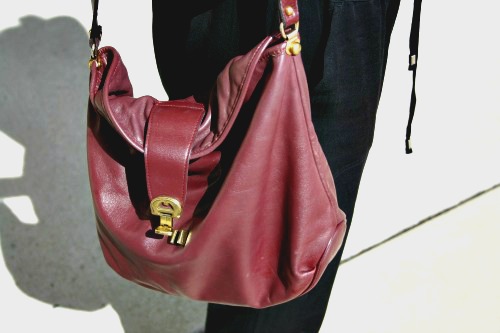 In the summer, you don't want to be tied down with a huge purse that you have to lug around everywhere. We get enough of that during the school year! A slouchy bag in a unique color, like Claire's burgundy satchel, keeps your hands free and looks extra stylish.
What do you think of Claire's summery look?
Do you love her floral top and strappy sandals? What have you been wearing to stay cool in the summer heat? Let us know what you think by leaving your thoughts below!