From her semesters spent in the little town of Elon, North Carolina to the big city of New York, where she's doing her summer internship, Claire exudes confidence and is a fashionable breath of fresh air. Today she dressed for a day of running to the office, catching a bus to Pennsylvania, and driving to the mountains. Claire needed an outfit that was comfortable, cute, and still appropriate for a quick stop at her internship to take some photographs.
Claire 101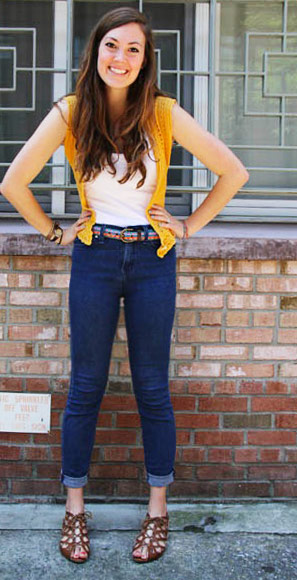 Name: Claire
Major: Photojournalism
Year: Senior
Hometown: New Orleans
Let's Talk Fashion
Who or what inspires your style? "My fascination with the West, the '60s and early '70s, and my desire to never be boring or just like everyone else. I aim to just stick to what I like, and not try too hard."
Where do you like to shop? "Inexpensive places! I love thrift stores and places like Goodwill and Buffalo Exchange. I try not to stick to one place. I also love to collect fun pieces when I travel so that I have special associations with what I purchase. But I know I can always find favorite pieces at Urban Outfitters, H&M, Target, TJ Maxx, Marshall's and American Apparel. My secret is that I never pay full price."
How would you describe your sense of style? "I'd say my style is Quirky Boho."
Why did you choose this particular outfit? "It was so sunny out and this yellow sweater vest makes me feel like a ray of sunshine! I love the more classic but hip spin the high-waisted jeans give the look, while the woven belt, the brown sandals, and the earthy jewelry give it my personal spin."
What fashion advice would you give to other students looking to improve their style? "Don't be so boring! Why would you want to buy the same things and look the exact same as everyone else around you? Also, you are only young for so long, so have fun with the way you dress and experiment!"
What are your favorite trends right now? "White lace, floral prints, fringe, long and flowing skirts, asymmetry, and high-waisted denim."
Do you have any favorite fashion designers? If so, who? "I honestly don't pay much attention to designers – that's not what's important to me. I respect the really talented ones and think that designing is an incredible form of art, but I approach clothing more visually. I buy things because they are great for me, not because of who made them."
What do you do for fun – do you have any unique hobbies or interests? "Photography! I also love to craft and paint, dance, hike and cook."
If you could raid anyone?s closet, who would it be and why? "Florence Welch, from Florence + the Machine. Everything she wears is so ethereal and majestic. I worship her as an artist, and she is truly a vision every time she appears on stage. I saw her once in New York, and she was wearing a flowing black and red kimono with black leather hot shorts and awesome boots. She rocks everything she sports like a STAR."
Elements of Claire's Outfit
1. Yellow Crocheted Vest
One of the first things I noticed about Claire's outfit was her bright yellow vest. The color is eye-catching and perfect for summer! The lightness of the vest makes it a perfect and simple accessory to add to her basic white tank and cuffed jeans.
2. Patterned Belt
The bright colors of Claire's outfit are all tied together in this patterned belt. It is the glue that holds this outfit together and really showcases her fun personality.
3. Lace-Up Sandals
With a busy day ahead, Claire needs fashionable, yet functional footwear. These lace-up gladiator sandals are a great addition to Claire's outfit because they are not only adorable but also – she assured me – comfortable, and perfect for running around the city. They even resemble the stitching of her vest!
4. Myriad of Accessories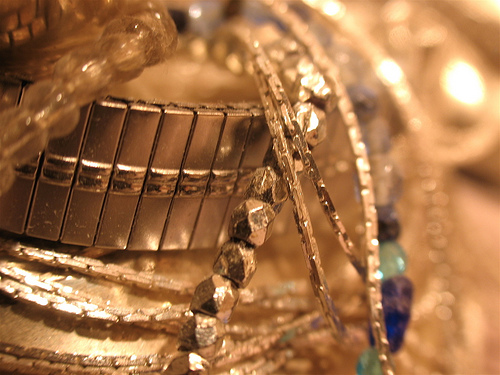 Claire is not afraid to accessorize. Here, she mixes gold, silver, and leather jewelry to form the perfect balance in this creative and fun outfit.
What do you think?
What do you think of Claire's style? Do you love her crocheted vest as much as we do? Claire's outfit is full of accessories– how do you accessorize? What kind of sandals are you wearing this summer? Let us know with a comment!