A dreary, rainy forecast doesn't mean your day has to be without style! I spotted Christine, a busy senior, in the cafeteria, and practically chased her down to talk about her fab trench coat. Her style is the perfect mix of classic and comfy, and her look serves as some great inspiration for rainy day fashion.
Christine 101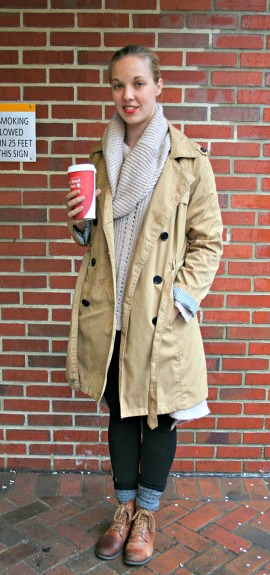 Name: Christine
Major: Advertising
Year: Senior
Let's Talk Fashion
Who or what inspires your style? "Laundry day."
Where do you like to shop? "I haven't been shopping in a very long time. I like going [to] find cool boots in old cowboy stores."
How would you describe your sense of style? "Pretty simple."
Why did you choose this particular outfit? "It was cold and I really wanted [to wear] a sweater! And it was raining."
What fashion advice would you give to other students looking to improve their style? "Don't try too hard at being cool. And sweatpants are awful."
What are your favorite trends right now? "The reversion to better quality clothes."
Do you have any favorite fashion designers? If so, who? "Not particularly… Old Valentino, like really old Valentino is nice."
What do you do for fun – do you have any unique hobbies or interests? "I build treehouses upstate. We're building a treehouse village right now, and that's sort of a big thing right now. [I also like] exploring."
If you could raid anyone's closet, who would it be and why? "An Amish closet. Like a really cool, old Amish dude. The area where we build the treehouses is an Amish community and when they hang their laundry up, it's so beautiful."
Elements of Christine's Outfit
1. Classic Trench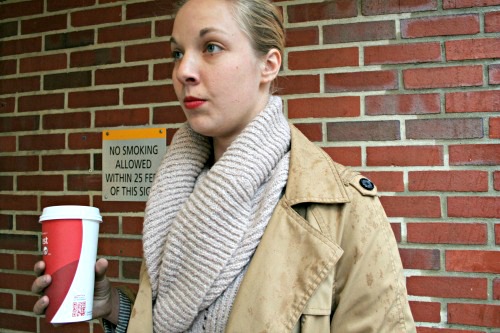 A trench coat is the one item every woman should own. It's the perfect piece for transitioning to spring and is ideal for the season's odd weather patterns! The camel color of Christine's trench goes with everything, making it a versatile addition to her wardrobe.
2. Cozy Sweater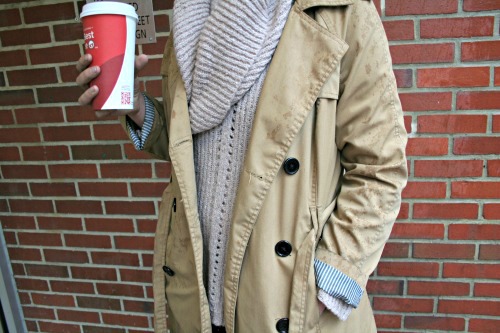 A fluffy sweater is great for those days when you just want to curl up in bed, but simply can't! The cowl neck on this sweater adds texture and interest, and also doubles as a scarf for chillier days.
3. Boots and Socks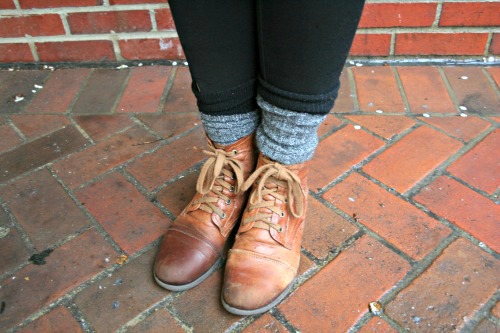 Combat-style boots are a campus favorite, and we think they're here to stay. Not only are these boots comfortable enough for a busy college student, but a neutral-colored pair goes with everything. Christine paired her combat boots with socks that peeked out of the top for added warmth and style.
What do you wear when the weather gets dreary?
Do you believe that the trench coat is a classic? Do you rock combat boots on the regular? Do you love Christine's rainy day look? Let us know by leaving your thoughts below!