First of all, I am so excited that Spring Break is finally here! Since I wanted to get away from all the projects and tests that I endured this semester, I decided to go back home to the west coast of Florida. While I was there, I had lunch with one of my best friends from home, Christine.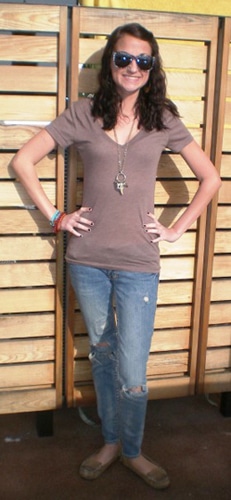 CLICK IMAGE TO ENLARGE.
Christine and I have been friends since high school and I have always admired her fun sense of style. Since Christine has been at Florida Gulf Coast University, her style has evolved, adding a funky edge and a love for accessories. I knew she would be perfect for this spring break edition of Looks on Campus. Read more about her style below!
Hometown: Brooklyn, New York.
Major: Art
Hobbies and Interests: "Reading, writing, drawing, shopping, tanning, tattoos, good food, camping, dancing."
Describe Your Style: "Edgy yet trendy. I like bright colors, horizontal stripes, lace, floral patterns, graphic t-shirts, racerback tank tops, flowy shirts, ripped jeans, gladiator sandals, and strappy heels."
Who or what inspires your style: "I don't really turn towards celebrities for inspiration for my style. When I shop around, my theory is that if you wouldn't normally try something on, that should be the first thing you should take into the fitting room. Although, as of late, I like trends like torn clothing, beaded necklaces, bangle bracelets, and trendy boots you see a lot in music videos."
Where do you shop? "Charlotte Russe, Forever 21, and Target."
Why did you choose this outfit? "I try to be comfortable but stylish. I like to coordinate my accessories. I make sure the colors of my accessories go with my shirts usually. And I sometimes match my shoes to my shirt."
Elements of Christine's Outfit
Her Sunglasses and Accessories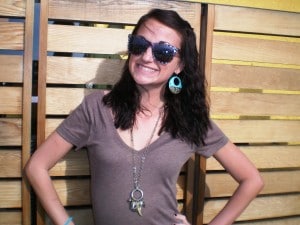 Click image to enlarge.
Christine's cute sunglasses and bold jewelry add a fun twist to a basic jeans-and-tee combo. I love how she coordinates the gold in the necklace with the gold peace sign on one of the bracelets. I also like how the turquoise jewelry just pops against her skin, and how the colorful earrings and bracelets bring everything together. The sunglasses are also a trendy touch; the wayfarer style is here to stay and Christine is on top of the trend with her zebra striped shades.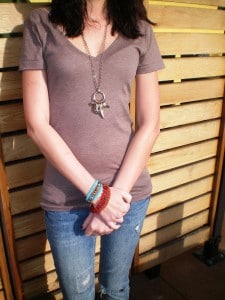 Click image to enlarge.
Destroyed Jeans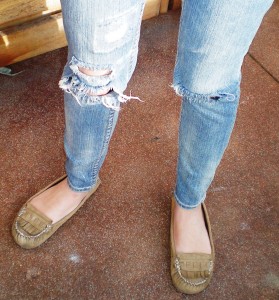 Click image to enlarge.
Destroyed jeans are slowly making a big comeback this year. I have seen them popping up all over the mall and on my campus. I love how the big rips in Christine's jeans add to the artsy vibe of her outfit. The skinny style also adds the right amount of structure so it doesn't look like she's swimming in hobo jeans. The mocs are a great shoe to rock with these jeans, adding an earthy touch that works well with her turquoise jewelry. I do not think the outfit would look as cute if she was wearing flip flops.
Outfits Inspired by Christine
Outfit 1
For this outfit, I used Christine's style as a guideline for a basic campus look. This outfit would be perfect for going to class or hanging around your dorm.
I like how the orange and turquoise jewelry punch up the navy tank, while the complementary colors add interest and earthy details to the look. This effortless style is great if you are in a hurry. If you're late for class it doesn't take too long to throw on some bold accessories, which can really punch up your basic tee.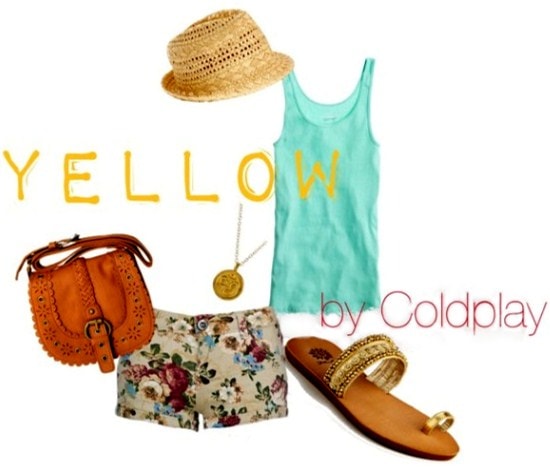 Product Information: Jeans- American Eagle, Earrings- Charlotte Russe, Tank- American Eagle, Ring- Charlotte Russe, Bracelet- Forever 21, Flats- American Eagle, Necklace- American Eagle
Outfit 2
I wanted to use Christine's style to create a fun beach day look, too – after all, it is spring break (for many of us). This look incorporates all the great things you need for a successful beach day: a bikini, sunglasses, sunscreen, and the perfect jean shorts to cover up in. Just add a fashion mag or two, and it's the perfect spring break beach look.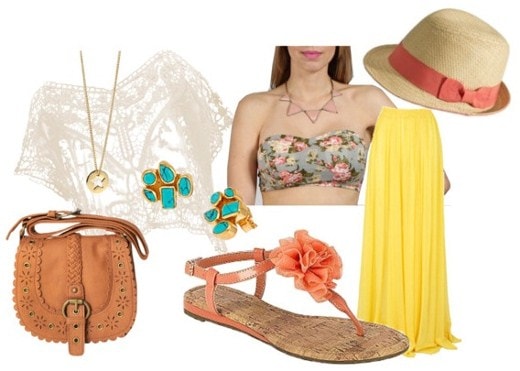 Product Information: Swim Top- Hollister Co. , Swim Bottoms- Hollister Co., Tank- Forever 21, Shorts- American Eagle, Sandals- American Eagle, Bag- Amazon, Sunglasses- Urban Outfitters, Sunblock- Drugstore.com
What do YOU think?
Are you planning on bringing your destroyed jeans and/or shorts out for the new season? What do you plan on wearing with them? What are you going to wear/did you wear during spring break? As always, we love hearing your thoughts!