Dressing for the fall in North Carolina can be a challenge when the weather fluctuates so much. Christina's outfit is the perfect blend of fall colors and light summer materials; it's ideal for the wacky weather here.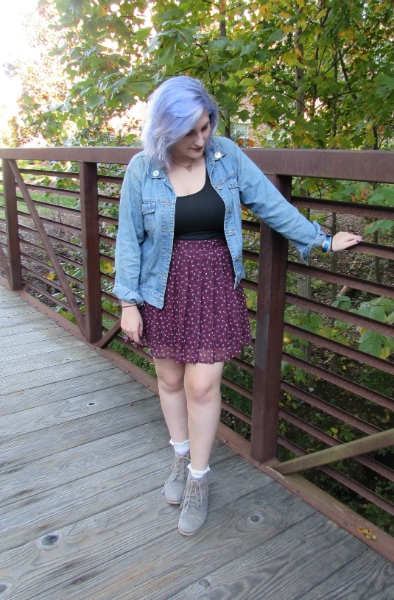 Christina 101
Name: Christina
School: Elon University
Year: Junior
Major: Strategic Communications and Communications Design double major, with a minor in Gender Studies
Let's Talk Fashion
Who or what inspires your style? "If I'm not sure how to style something, I always check Pinterest. I'm also very inspired by Cara Delevigne's style. I love how she flawlessly combines masculine and feminine pieces."
Where do you like to shop? "I mostly shop at Target, H&M, Forever 21, and sometimes American Eagle. I would love to shop at Topshop and Zara more if I wasn't a poor college student!"
How would you describe your sense of style? "Ever-changing. It honestly changes day to day based on how I'm feeling. Sometimes it's girly, sometimes preppy, sometimes edgy; it's just never conventional."
Why did you choose this particular outfit? "It was cold and rainy all of last week and then today it was suddenly 80 degrees. I've already transitioned into fall colors, so I tried to incorporate them into a summer look."
What fashion advice would you give to other students looking to improve their style? "Don't be afraid to look ridiculous. If you want to wear something, just wear it."
What are your favorite trends right now? "I'm so excited for flare leg pants; my ankles haven't breathed since ninth grade! And I love the poncho trend – they make me feel like a wise, old king."
Do you have any favorite fashion designers? If so, who? "I love Elie Saab's gowns with their intricate floral details. I also love Rachel Antonoff, especially her recent line inspired by a middle school science fair. And I loved Valentino's pre-fall 2015 range that was space-themed."
What do you do for fun – do you have any unique hobbies or interests? "I work with Elon's fashion magazine, The Edge, on their video and fashion teams. I also am a part of I Am that Girl, a women's empowerment group on campus."
If you could raid anyone's closet, who would it be and why? "To be honest, Taylor Swift; she has great coordinates, if I could have it all in my size. I also would love to have Harry Styles's button-downs."
Elements of Christina's Outfit
1. Lace Shoes + Ruffle Socks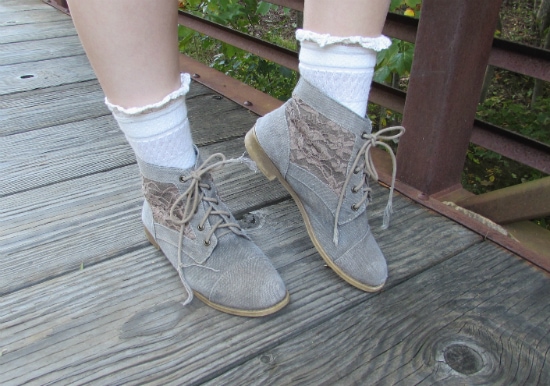 Christina's booties pair adorably with her ruffled socks. She bought them at a shoe warehouse in nearby Greensboro before starting freshman year. Talk about combining comfortable with cute!
2. Pastel Hair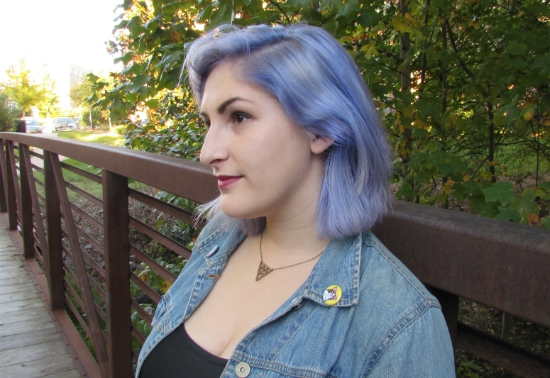 Christina's pastel hair makes her stand out on campus. The bright purple color pops from the rest of her outfit, with a tank top from Target and skirt from Old Navy.
Do you love Christina's look as much as we do?
Are you into her pastel hair and denim jacket? Would you ever rock ruffled socks? Let us know in the comments!