Here in Raleigh, NC, our weather motto for the month of January is "expect the unexpected." Take this past week for example: We've gone from cold and wintery, to muggy fog, to seventy degrees and sunny, and right back to freezing cold and rainy.
It can be a challenge to dress for these weather conditions, and, as such, many students "opt out" and just wear sweatshirts for the entire month. (Ugh!) So naturally, Christie's bright pink blazer stood out in a big way on campus. Read on to learn more about Christie and her style!
Christie 101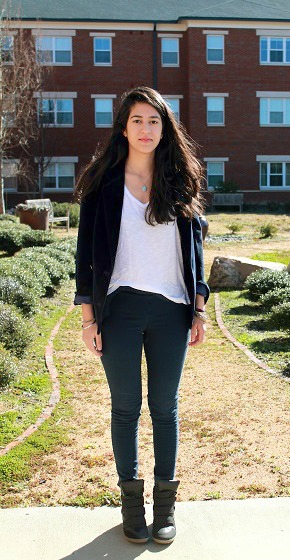 Name: Christie Lane
College: Meredith College
Year: Senior
Major: Psychology
Minor: Social Work
Let's Talk Fashion
Who or what inspires your style? "I like a lot of classic looks and lots of black and white together. I am a huge fan of Audrey Hepburn and always have been. If I could dress like her every day, I'd be so happy."
Where do you like to shop? "I work at a recycled clothing store, Uptown Cheapskate, here in Raleigh. Ever since starting there, I have been shopping at stores like Marshall's, TJ Maxx, and, of course, other consignment stores. I do like brand name labels, but I prefer to get more for my money."
How would you describe your sense of style? "Classic."
Why did you choose this particular outfit? "I chose this outfit because I thought the blazer fit well and was a good pop of color for this dreary rainy day. I like black skinny jeans because you can pair anything with them. For example, you can dress them up with a good black leather flat, which is exactly what I did for my internship."
What fashion advice would you give to other students looking to improve their style? "Dress up often if you can because the better you feel like you look, the better you will feel overall. I know it's hard to do that as a college student, but I think it really helps!"
What are your favorite trends right now? "One of my favorite trends right now is stacking bracelets with my watches. I think a few small bracelets in different styles can add to an outfit and make a statement. I also love colored denim. I love my red jeans – especially for NC State events! (That's the color of the coed university down the street from Meredith.)"
What do you do for fun – do you have any unique hobbies or interests? "I like to craft for fun. My hot glue gun is my best friend at times! I also like to paint – I wish I had more time to do it. One of my weaknesses is window shopping. I love going to stores just to look around, even if I don't have any money! I also love spending time with my niece and nephew as well as going to the beach with my family."
If you could raid anyone's closet, who would it be and why? "It would have to be either Audrey Hepburn or Jackie O! They are both so timeless and elegant – I love them both!"
Elements of Christie's Outfit
1. Bright Blazer and Bold Pattern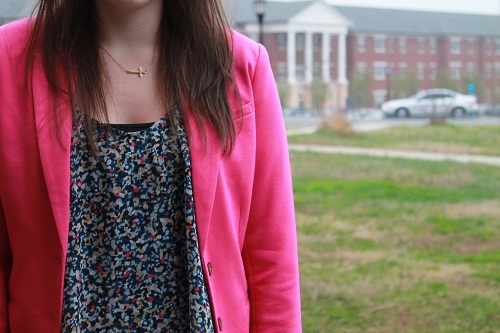 Christie's eye-catching hot pink blazer is a fun take on an old professional classic. (I don't know about you, but my professors are going a little bit overboard in stressing the need for black and navy work clothes.) I also love how Christie opted for a patterned blouse instead of wearing a solid color.
2. Mix Classic Watch and Jewelry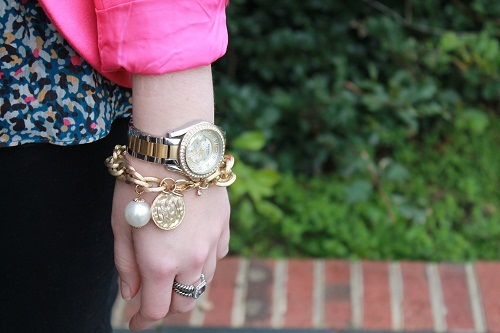 Christie said she likes to combine her bracelets and watches to make ordinary pieces more exciting, and I couldn't agree more – they really do make a serious statement! Paired with her delicate necklace, the watch and bracelet are just enough jewelry for a casual internship setting.
What do you think?
What do you think of Christie's outfit? How do you like to bring color into your day? Do you fight the rainy-day blues with clothes too? And is anyone else's weather just as confused as ours? Leave a comment!