Recently, I haven't been having much luck scouting fashionable girls on campus due to the constant rain and bad weather. But last week, Chrissy surprised me with her polished outfit in the dining hall. I love how she wears a dress on a casual school day without looking over-the-top! At the same time, the special details on the dress and the accessories are perfect to spark up her all-black outfit. Very inspiring!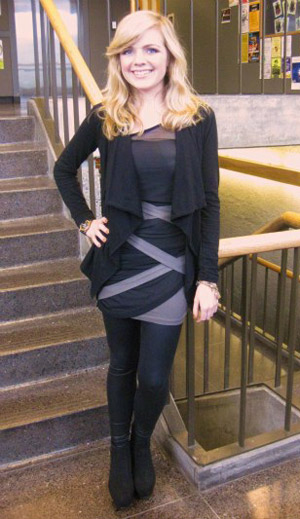 Chrissy 101
Name: Chrissy
Class Standing: Freshman
Major: Chinese & International Business
Hometown: Originally Indiana, but my current "home" is in Shanghai
Hobbies/Interests: Traveling, eating Asian food, video games, city life
Let's Talk Fashion
How would you describe your style?
"I have never given it much thought; I don't believe you should try to emulate a specific style. But I suppose if you wanted to capture my style in a nutshell, it would go along the lines of modern minimalism with a more boyish and classical edge."
Who or what inspires you in terms of fashion?
"Long List! Cantonese street style, cyberpunk cities, Swedish fashion blogs, models off duty, Rick Owens, Anna Wintour, Natalia Vodianova, Sasha Pivovarova… and who doesn't love Kate Moss? And I also wish Karl Lagerfeld was my best friend."
Where do you like to shop?
"I.T. Hong Kong, Tough Jeansmith, and (my favorite) JNBY. All but the latter are Cantonese fashion houses, and unfortunately I have yet to see a store for any outside Asia."
Any fashion tips? Or Fashion Do's and Don'ts?
"I think that one should wear clothing that complements her body. Most importantly, I strongly believe in investing in the quality of your clothing; I much prefer quality over quantity."
What motivates you to dress up?
"I feel that part of respecting yourself and your environment is to put forth effort in all areas, including the way you present yourself. Personally, I would not feel confident enough to go to a professor for help if I was in a hoodie and pajama pants! You have to feel confident in what you wear, and dressing up helps provide me with that."
What are some trends you love/hate now?
"For Spring 2010 RTW, I really enjoyed the Sci-Fi aspects of Rick Owens' designs – they reminded me of the Vulcans on Star Trek! I also favored Balenciaga's boyishness."
Elements of Chrissy's Outfit
1. Special details: The Asymmetrical, Sheer Bandage Dress
Chrissy's ASOS.com dress is genius! Different from most typical LBDs, this dress has so many fun and fashionable details, including the asymmetrical and sheer elements. Plus, it reminds me of a Herve Leger dress. It's definitely a great example of an investment piece that won't break your budget!
2. Suede Wedges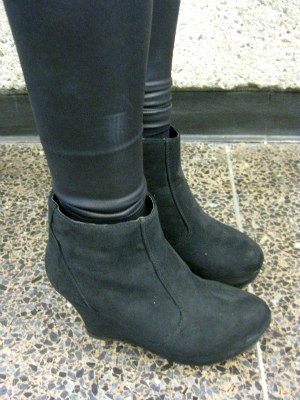 Stay stylish, warm, and comfortable in these "short boots!" Personally I think they are perfect for any occasion, especially when you want to add some height to your look without walking around the campus in your 6-inch heels (in the rain, too – eek!).
3. Minimal but High-Quality Accessories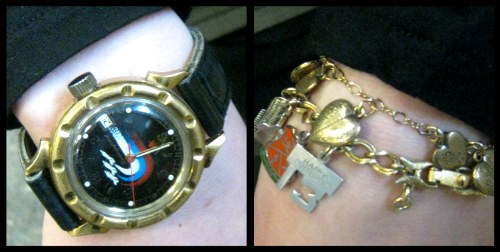 I'm usually a fan of placing the emphasis on accessories to spark up a monotone outfit, but Chrissy kept it simple with this look, adding a classic watch and bracelet, both of which (coincidentally?) complement her hair color. Very chic!
Share Your Thoughts!
Overall, I love how put-together and inspiring Chrissy manages to look, even when simply wearing shades of black. Now I want to know what YOU think! Have you tried wearing one color in your outfit? And would you wear a dress on a school day? Let us know with a comment!