Having noticed Cherry around campus this term, it's obvious that spring is her season. She loves to wear colors and prints that scream "let the sun shine." When I saw her in this tropical blue number, it reminded me how beautiful Schenectady is and the importance of shedding those layers during this season. Read on to learn more about Cherry and her take on springtime fashion!
Cherry 101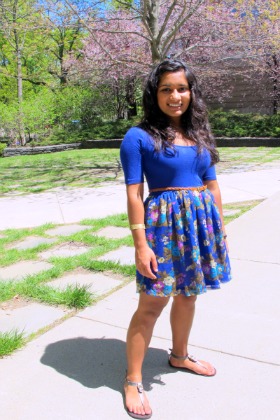 Name: Cherry
School: Union College
Year in College: Freshman, Class of 2014
Major: Neuroscience/Pre-Med
Hometown: Rotterdam, New York
Hobbies/Interests: "Tour guiding, French Club, watching Glee, traveling, going on adventures."
Let's Talk Fashion
Who or what inspires your style? "I really like the way Vanessa Hudgens dresses so I look to her style for inspiration. Also, I'm very into summer dresses that are comfy and relaxing."
What fashion advice would you give to other students looking to improve their style? "Look in magazines! Look at the students on campus! Sometimes the best style is what's around you."
If you could raid anyone's closet, who would it be and why? "My friend Natasha – she wears really pretty, flowy, bohemian-style clothing that I love."
What inspired this outfit today? "The beautiful weather. In the winter, I wear lots of jeans and hoodies but now that it's warm out I like to bring out my skirts and dresses."
Where do you like to shop? "Forever 21, Charlotte Russe, American Eagle, and H&M."
Describe your style in three words: "Springy, flowy, colorful."
Elements of Cherry's Outfit
1. Versatile Dress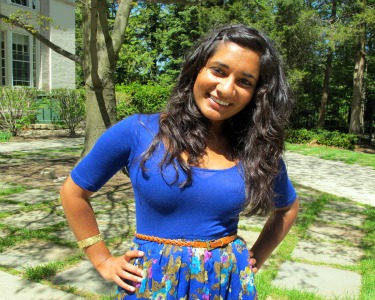 You can see that Cherry isn't afraid to let her hair down and embrace the warm weather with this bold mini dress – a college girl's fashion staple. The versatility of this dress allows her to wear it almost anywhere on campus, while its floral pattern and flowy nature speak to the simplicity of Cherry's approach to fashion.
2. Buckled Sandals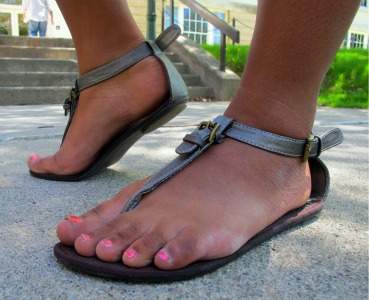 Cherry's metallic buckled sandals are practical for walking around campus and serve as fashionable flip flop alternatives, demonstrating that you don't have to sacrifice comfort to be trendy. Here, Cherry shows us how to incorporate cute and simple sandals into a look for class.
3. Neutral Braided Belt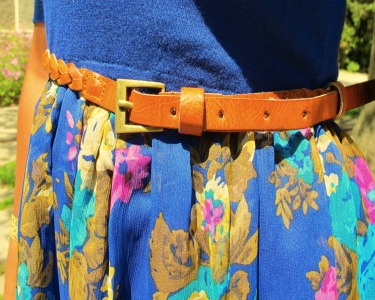 This skinny braided belt is an accessory that can enhance any outfit. Against Cherry's tropical blue floral dress, the belt cinches and accents her waistline while creating an interesting color and texture contrast.
4. Handcrafted Boho Gold Cuff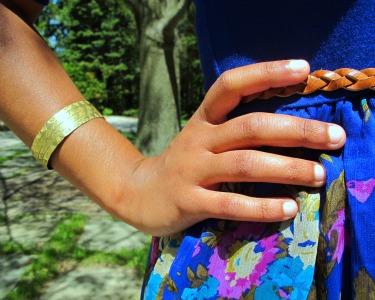 Cherry spices up her springtime inspired frock with simple jewelry, namely this handcrafted boho-chic gold cuff. Its hammered and textured appearance with various lines adds an organic feel to the look. By wearing it alone, Cherry elevates the simple cuff to statement piece status.
What do you think?
What do you think of Cherry's style? What dresses are you wearing this summer? Have you bought a pair of sandals yet this season? What is your go-to belt? Let us know with a comment!