Because my school's spring semester hasn't quite started yet, I was very lucky to run into Chelsea, who looked so cute just to move back into the dorms! Her tee is what originally caught my eye. It is just so fun and makes her otherwise simple outfit unique!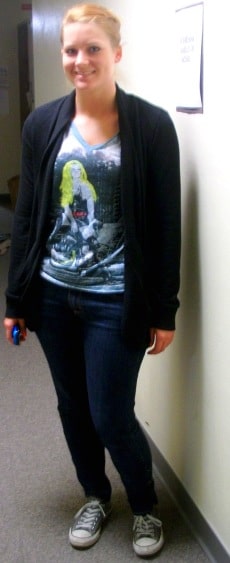 Chelsea 101
Name: Chelsea
Hometown: Kansas City, Missouri
Some More Details…
Year in College: Senior
Major: Fashion Design and Product Development
Hobbies and Interests: "Between my intense major and the swim team, I don't have a lot of free time, but when I do, I enjoy reading, shopping, and going on random adventures!"
Describe your style: "I like bright colors and fun unique prints. Everything I wear always has a rocker edge."
Who or what inspires your style? "I'm really into Pink, and my favorite designer is Betsey Johnson. I also get a lot of inspiration from Joan Jett – she is such an original."
Where do you shop? "Mostly Forever 21. Being a struggling college student, I live on a budget, and they have the best variety. Actually, this entire outfit is from Forever 21! I also spent a lot of time in the fashion district in L.A. while I interned there this summer. It's the perfect place to find cheap shoes!"
Why did you choose this outfit? "It's not dressy, but it is still cute. Plus, it's really comfortable. I'm all about comfort!"
Elements of Chelsea's Outfit
1. Unique Tee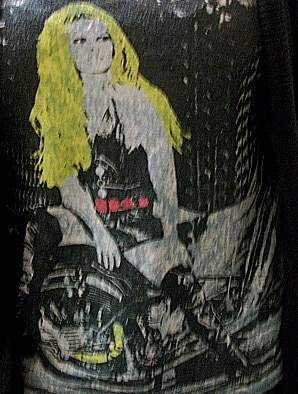 I love this shirt because it immediately catches your eye. The iconic motorcycle photo of Brigitte Bardot perfectly showcases Chelsea's persona and rocker-chic individual style. A great graphic tee like this is an easy way to make a simple outfit show off your exciting personality.
2. Skinny Jeans and Converse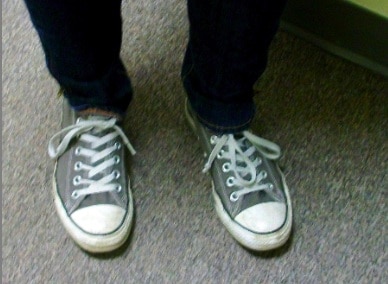 Since Chelsea is always striving for comfortable fashion, her grey Converse sneakers are always her go-to pair of shoes. They are the perfect choice for any college girl because they are classic and come in almost every color under the sun.
Shoes like these can be warn in winter or summer and with jeans or dresses. Chelsea's have a rocker vibe because she paired them with skinny jeans and a graphic tee, but if that's not your style, try a pink pair with a simple dress. These shoes can go far in any wardrobe!
Looks Inspired by Chelsea
Outfit 1
Chelsea's outfit has a great rocker edge, but if your style is more girly, here is a great alternative for you!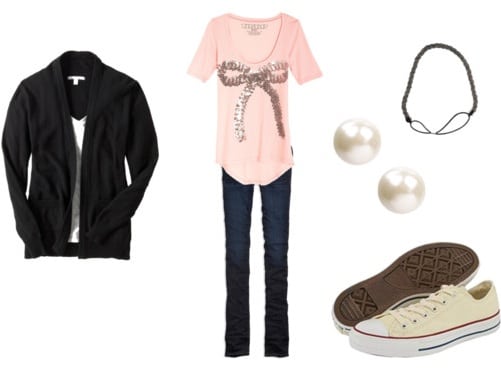 Product Information: Womens Skinny Jeans – American Eagle, Bow Tunic Tee- Delia's, Womens Pique Open-Front Cardigans- Old Navy, Converse All Star® Core OX – Zappos.com, Braided Chains Headband- Forever 21, Oversized Pearl Stud Earrings- ASOS
Outfit 2
Another comfortable look featuring a cute tee and a pair of Converses: Chelsea's look is extremely casual and great for class or hanging out with friends, but if you want to take comfort into the night, here is a great way to pull it off!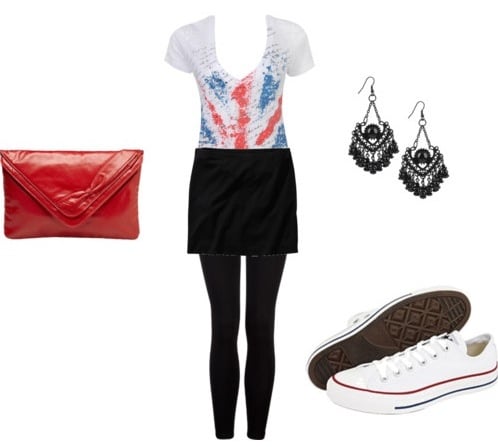 Product Information: British Burnout Foil Tee- Forever 21, Basic Womens Leggings- Tilly's, Bodycon Skirt- H&M, Vintage Love Letter Clutch- Modcloth, Escapade Dangle Earrings- Forever 21
What do you think?
Is your style casual cool like Chelsea's? Do you own any funky tees or Converse? How do you wear them? Let us know with a comment!