After weeks filled with snow up to our knees and cloudy skies for days, the student body here at the University of Kansas is ready for a little sunshine and temperatures higher than 35 degrees. When I saw Chelsea getting back from class, she was wearing a spring-inspired ensemble while I was wearing a winter coat and gloves. She's both anticipating and embodying spring! I knew I had to interview her about her bold outfit choice.
Chelsea 101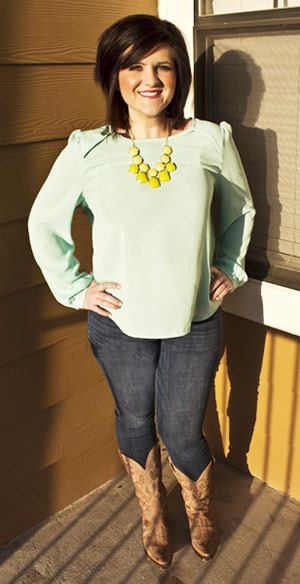 Name: Chelsea
School: University of Kansas
Major: Photomedia
Hometown: Houston, Texas
Let's Talk Fashion
Where do you like to shop? "Everywhere; I don't really have a favorite store. If I see something I like, I'll buy it, whether it's from a department store or a thrift shop."
How would you describe your sense of style? "A little bit 'cowgirl' but a little classy, with a funky twist sometimes. I like scuffed-up boots, pearls, rhinestones, turquoise, florals, lace, and ripped jeans."
Why did you choose this particular outfit? "Well I just got my new boots and I wanted to show them off! I'm ready for springtime and this outfit is really springy with the pastel colors. I also like how the shoulder detail on the top makes my shoulders look broader than they really are."
What fashion advice would you give to other students looking to improve their style? "Don't be afraid to be bold! Never worry what other people will think of you. Try on something you normally wouldn't wear to see if you like it because it can add something special to your wardrobe. Also, don't be afraid of colors or patterns."
What are your favorite trends right now? "I don't really pay attention to the trends. I try to just focus on developing my personal style!"
Do you have any favorite fashion designers? If so, who? "Betsey Johnson would describe my style well, if I had to pick a favorite designer, but to be honest, I really don't care a whole lot about what the tag on my clothes says."
What do you do for fun? Do you have any unique hobbies or interests? "I love make-up, fashion, hair, and nails. I have a ton of nail polish. I love when my friends ask me for fashion advice and I have a photography business that keeps me busy on top of school. I also love antiques and interior decorating, even though my room is a little messy from time to time."
If you could raid any person's closet, who would it be and why? "Miranda Lambert because she's an inspiration to me. I would also raid Julianne Hough's closet because her outfits are cute and girly but not overcomplicated. The Kardahsians' closets would be cool to look through, too, since they're so unique themselves… also, their closets are probably larger than my apartment."
Elements of Chelsea's Outfit
1. Pastel Top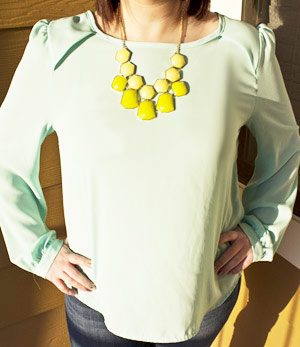 With spring temperatures well on their way, Chelsea's mint green top is ideal for welcoming the new season. Since it's still bitterly cold here in Kansas, this top is perfect for the weather since it boasts long sleeves but still has that spring flare.
2. Gemstone Necklace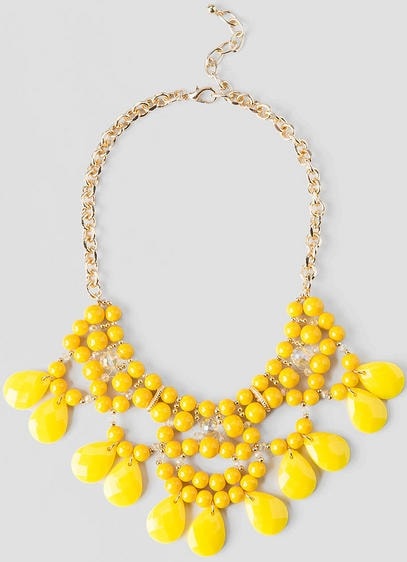 Chelsea told me she wished she had been wearing more jewelry when I interviewed her, but I think that this necklace complements the color of her top perfectly and is a statement in itself. Here at CF, we love a good chunky statement necklace, especially when paired with a top like Chelsea's that has a higher neckline.
3. Cowgirl Boots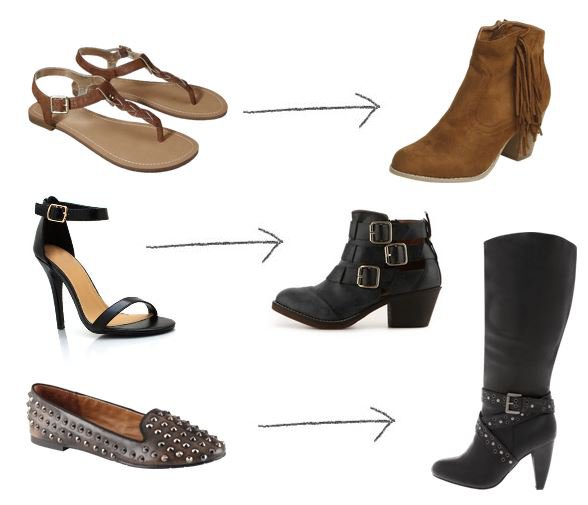 These brown cowboy boots are not only a great, versatile shoe choice, but are also a great representation of Chelsea's funky style. Even better, they really make a statement on campus – you can't help but notice them in a sea of Uggs!
What do you think?
Are you loving Chelsea's look? Do you love her cowboy boots? How are you preparing for spring? Let us know your thoughts in a comment below!