The first thing that caught my attention when I spotted Chelsea was her intense, bright pants. It didn't take long for me to learn that her bright personality was even more energetic, interesting, and inspiring.
As a nursing major at Cal State Chico, Chelsea is used to wearing scrubs and yoga pants after long hours at the library. Continuing that comfort in a more stylish way, she has become a proud promoter of these loose-fitting printed pants. Her trendy yet laid-back summer look is put-together, comfortable, and effortlessly cool.
Chelsea 101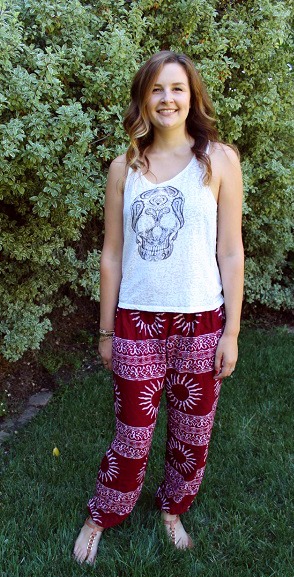 Name: Chelsea
School: CSU Chico
Hometown: Alamo, CA
Year: Junior
Major: Nursing
Let's Talk Fashion
Who or what inspires your style? "I have a lot of different styles depending on what I am doing each day. During the summer my main 'style' would be keeping cool and not overheating. I think traveling develops my inspiration as well; whenever I go to new places I like to buy a few of the key pieces the locals wear."
Where do you like to shop? "I love wandering into the little boutiques in downtown Chico and finding thrift items and unique pieces, but I will admit half of my closet is Forever 21 and Nordstrom Rack."
Why did you choose this particular outfit? "I just got back from a month-long nursing program in Tanzania, and this was my go-to outfit once I got out of my scrubs. These pants are from a village close to where I was staying. They are perfect because of how lightweight and breezy they can be, and also how fun they look."
What do you do for fun – do you have any unique hobbies or interests? "Since nursing takes up a lot of my time, when I do have a free moment I play with my cat Violet, hang out with my friends, or go out for food."
What are your favorite trends right now? "I am a little biased to these kinds of pants because they are so great, so I would have to say patterned loose pants are my favorite trend right now along with tribal prints."
Elements of Chelsea's Outfit
1. Printed Pants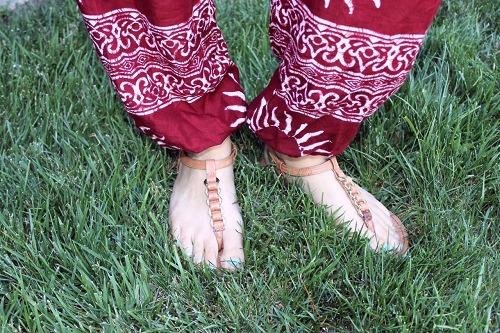 These authentic African pants are a sight to see! The print is one that is seldom seen in major fashion stores in the US: a deep, burgundy red accented by an intricate white pattern. Along with their attractive appearance, Chelsea was proud of how lightweight and cool these pants remained in the scorching heat.
2. Bracelets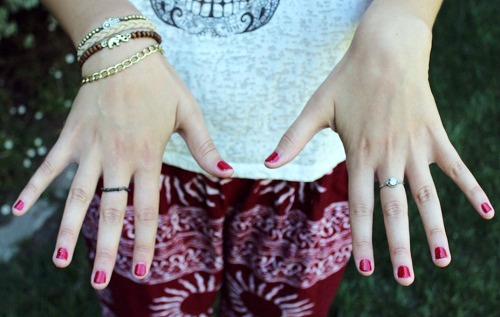 Chelsea is very fond of these bracelets and confessed that she was trying to accessorize more than normal. Her bracelets are layered and collected on her wrist in an effortless fashion, which adds charm and character to her look.
3. Skull Shirt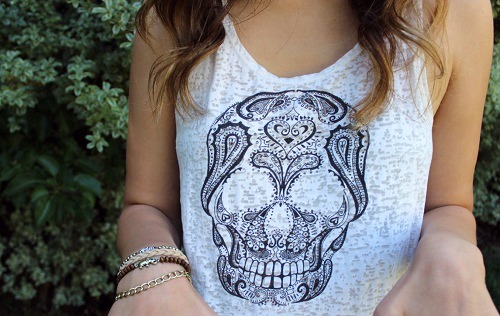 The Dia de los Muertos (or Day of the Dead)-inspired skull shirt Chelsea is wearing appears surprisingly soft as an accent to her bright pants. The combination doesn't appear rough or overly dramatic with Chelsea's bright smile and easy-going personality.
What do you think of Chelsea's easy-breezy summertime look?
Are you a fan of her bold pants? Do you ever wear loose, patterned trousers? What do you think of her stacked bracelets and skull shirt? Let us know what you think by leaving a comment below.