I first noticed Chelsea because of her fantastic hair, but when I spotted her on campus again last week, I soon realized that her style is just as free and fun as her ombre locks. Her outfit fits perfectly with the fall foliage and keeps her comfortable in Utah's variable November weather.
Chelsea 101
Name: Chelsea
College: Brigham Young University
Hometown: Mesa, Arizona
Year: Sophmore
Major: Special Education
Let's Talk Fashion
How would you describe your style? "Comfortable, that's my top one. Classy, for sure. Sophisticated. And a little urban."
Who is your style icon? "I love Lauren Conrad. I think she has fabulous, fabulous style."
Where do you like to shop? "My favorite stores are Anthropologie, LOFT, J.Crew and Urban Oufitters."
What advice would you give to other students trying to define their own style? "Being a student, I'm all about getting good deals. Just finding a store you really like, and being smart about what you get. For me, I like to pick just one thing I love. Just finding that one piece — looking around and making sure you're really getting something that you'll wear."
What trends do you feel are distinctly you? "I'm all about prints, and pairing prints with prints."
What are your hobbies? "I love to read and I like to swim. And with my major, I do a lot of volunteering with special needs people. I do something called Respite— it's really what makes me happiest."
Elements of Chelsea's Outfit
1. Mustard Jacket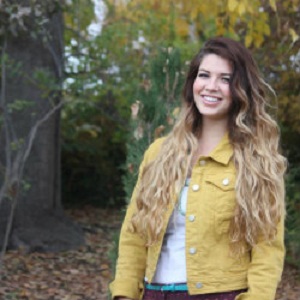 Denim jackets have been popping up everywhere lately, and Chelsea's mustard-colored one is a fun spin on the trend. The color complements her ombre hair and blends in perfectly with the warm tones of fall.
2. Leather Bag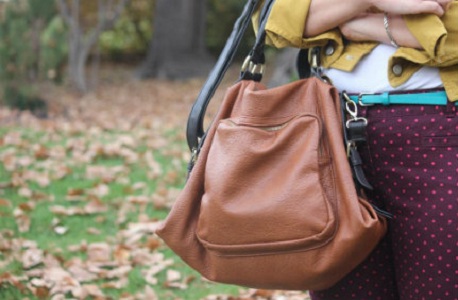 Against her purple polka dot pants, Chelsea's bag makes a great statement. Big enough to hold what she needs, but small enough to carry around, it's the perfect school accessory. It's functional for daytime activities, and the leather is chic enough to tote around at night.
3. Studded Sandals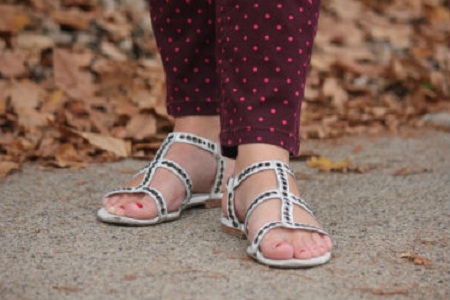 These studded sandals are a great way to hold onto the last few sunny days of fall. (It was in the mid 60s when this photo was taken.) The small wooden heel and metal detailing are interesting additions that make Chelsea's pair unique.
Your Thoughts?
What do you think of Chelsea's look? What do you think about the ombre hair trend? How do you wear your jean jacket in a fresh way? Let us know with a comment!