Charlyne is an international student from Ghana. We met on a Friday, a day when she and the other Ghanaian students dress up with an African flair or like they have an event to attend. Charlyne and I chatted about her experience as an international student in Indiana, the places she's traveled, and her style. Hopefully she'll inspire your own style in the new year!
Charlyne 101
Name: Charlyne
Year: Sophomore
Major: Biology/Computer Science
School: DePauw University
Let's Talk Fashion
How would you describe your style? "It's more conservative. I prefer to cover up my body. It's not a TV. I don't know why people are watching it!"
How does America compare to Ghana? "I'm from a big city, so this town was shockingly small to me the first time I came here. I've also been surprised by how ignorant people are about Ghana. I've had people think I live in a mud hut and eat bugs.
Style-wise, at home, everyone knows how to put outfits together. Even if people don't have a lot of clothes, they're able to make them work. People in America don't seem to mix and match outfits as much."
Do you have any style advice? "I generally believe clothes are just as important as makeup, if not more, so make you sure you devote time to your outfits too in the morning. Some people look really made up in the face, but they don't look put together in other ways. Fashion-wise, if it feels right, wear it. If everyone looked the same, it wouldn't be fun!"
Do you have any hobbies? "I love to eat. People think my mom is letting me starve, but she knows how much food I really eat. Multiple plates."
What will you be wearing on New Year's Eve? "I'll be going home for the break, and it's warm in Ghana, so I'll be dressed for summer! I'll probably wear something similar to this."
What kind of advice do you have for shopping? "I'm really reckless with money. I don't know how to manage it. But I'm trying to be better. If I want to buy something, I think of what's in my closet. I try to make sure it can work with at least three things I already own. It seems wasteful if a piece only works with one outfit."
What does fashion mean to you? "Style is by definition unique to the individual, so style is whatever you make it. It's self-expression."
What are your hopes and dreams? "I want to learn how to speak French, Spanish, and Italian. I'm hoping to learn French if I go to med school in Switzerland. Then maybe I could get a job in Italy for a while and learn Italian. Someday I think I would like to open my own hospital in Ghana."
Elements of Charlyne's Outfit
1. Color-Blocked Bag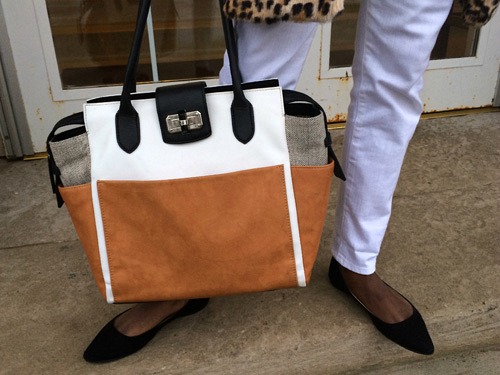 Charlyne's bag is neutral enough to be carried with multiple outfits, but the muted orange also provides a nice pop of color. Paired with her straight leg jeans and pointed-toe Steve Madden flats, this Nine West bag adds an extra layer of sophistication to her outfit.
2. Mixed Patterns and Textures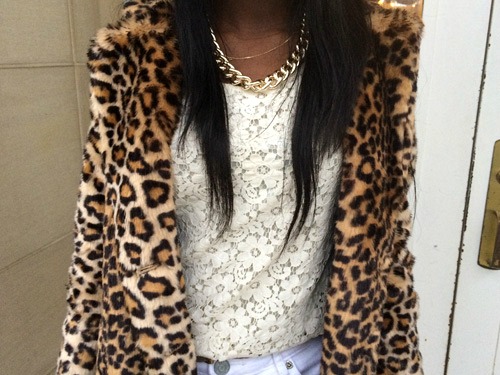 Charlyne's floral lace shirt looks like a springtime hit, but she wore it on this winter day with a heavy faux fur coat. The cream-colored shirt also works well with her white jeans. They're complementary without being too matchy-matchy.
3. Faux Fur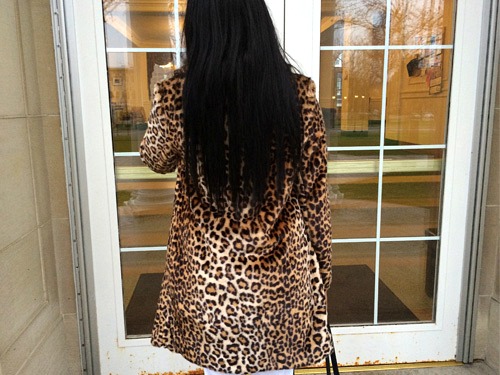 Not everyone can pull off this much leopard print, but Charlyne looks warm and fabulous in her coat from Forever 21. Her coat is the statement piece of this outfit and certainly helps her stand out in a crowd.
What do you think of Charlyne's outfit?
Would you wear a leopard print coat? Do you have any advice for being money conscious while shopping? Do you love her pointed-toe flats? Let us know in the comments!