Let's be honest: In the average college man's wardrobe, jeans and a tee shirt are practically a uniform – rarely do you see a guy on campus not sporting these casual staples. So you can imagine how invigorating it was to spot Chadric, a stylish guy from the south, wearing none of the above. He immediately caught my eye sporting the all-white trend, topped off with a pristine navy blazer and green details.
What I love about Chadric's style philosophy is that he has fun with what he wears but he's always dressed for success as well. Keep reading to learn more about Chadric and his style convictions.
Chadric 101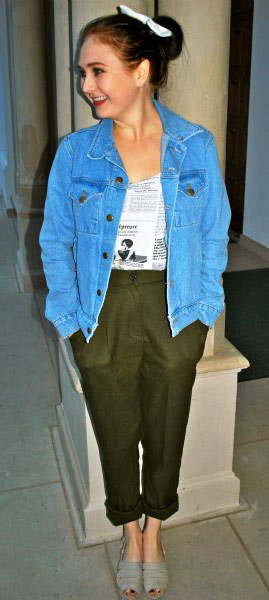 Name: Chadric
School: Loyola Marymount University
Class Standing: Senior
Major: Dance (major) and Theology (minor)
Hometown: Winnsboro, South Carolina
Hobbies/Interests: "I sing, dance, model and act. I really enjoy playing volleyball, going to the gym and attending church. I'm also a drummer."
Let's Talk Fashion
Who or what inspires your style? "My parents. Growing up in a household with two parents who are very fashion-orientated, I always admired their style [and was inspired] to create my own style. I use fashion to express my character and to tell a story."
Where do you like to shop? "I love Zara – it is my all-time favorite store. I also shop at H&M and other places. I feel like a true fashion lover should not be married to just one store – they should go to a multitude of stores with different brands. A true artist creates their own wardrobe."
How would you describe your sense of style? "I'm very bold and polished yet conservative and fun as well. So I guess you could sum it all up by saying I'm versatile. I try to be welcoming with what I wear, too. I know that sometimes when guys dress, they tend to play it a little too cool and plain. It's okay to try different colors and different things to add a special element to your look. I honestly feel like gender doesn't play a role in fashion either – I feel like we think that women have to look very done-up but guys are supposed to just wear jeans and a v-neck or a button up and that's how it's supposed to go. I feel like with me, guys can get dressed up too to spice up the stereotypical way men should dress."
Why did you choose this particular outfit? "This morning, I had a dream about this outfit – I felt as if I was on a boat at an all white party and I didn't have a care in the world. I felt like I was really living life to the fullest. Wearing that outfit kind of set the mood for the remainder of my day. I didn't want the all-white to be too plain and typical so I added the blue and green for a little color. Green is my favorite color, so that's a personal touch. And I always love a blazer – they give off that very sophisticated, preppy look and emulate high fashion."
What fashion advice would you give to other students looking to improve their style? "First, determine what mood you want to be in for the day and let that dictate what you wear. You should also love the outfit you put on. Be the outfit and let the outfit be you. I've also always been taught to dress for success – that means even when you're coming to class, dressing well shows that you care about your education, your professor and being present."
What are your favorite trends right now? "I love 3/4 sleeve shirts and seersucker shorts for the spring. I'm also a tie and bow-tie fanatic."
If you could raid anyone's closet, who would it be and why? "I would raid Fonzworth Bentley's closet – I love his clothes. I agree with everything he stands for in fashion. His style is so articulate and so believable to his character. I feel like people should be able to believe and feel you [through your clothes]."
Elements of Chadric's Outfit
1. Polished Blazer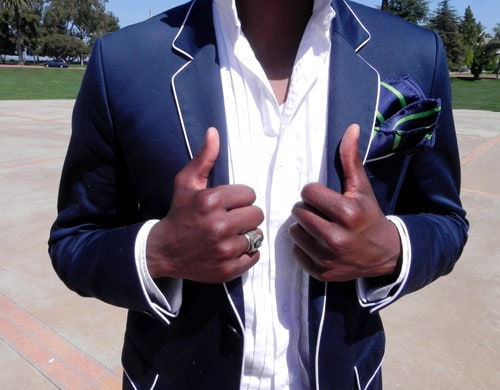 I strongly believe that a blazer is a must-have piece in every person's closet, and Chadric obviously agrees. Chadric's navy blazer is very polished, well tailored and the white piping really ties everything together. This blazer adds a pop of color to a rather minimalist outfit, which represents an easy way to add something special to your look.
2. White Pants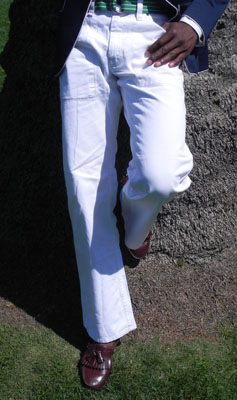 For many, white pants can feel difficult to pull off. Nonetheless, retailers are making them in all shapes and sizes these days so you are bound to find a pair that works. Here, Chadric opts for a pair of linen, straight-leg pants, which are light and comfortable for long days on campus.
When you're shopping for a pair of white pants, remember to make sure they are not see through or too tight. Chadric's well-fitting, yet slightly loose pants represent a nice cut that would be flattering on a variety of people.
3. Loafers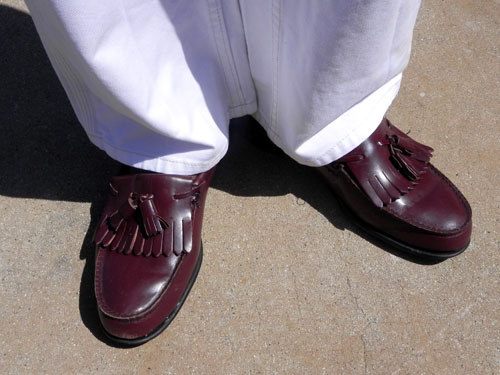 A classic loafer is a simple and practical shoe for both men and women. Loafers are comfortable and refined, and a rather convenient if you need a place to store your pennies! Originating in the 1930s, loafers still have long-term fashion value, especially in a classic cognac color like Chadric's. You might be wary of loafers at first, as was I, until you find the perfect pair — they might just turn out to be your new favorite flats.
What do you think?
What do you think about Chadric's style? Do you like his all-white look? Do you wear blazers, white pants, and/or loafers? Let us know with a comment!