Being back in Seattle has been such a great experience. Even with all the rain, nothing can beat seeing my high school friends and having adventures with them. I filled up on all the good coffee the city had to offer and got back my Seattle pride with the recent Seahawk win. GO HAWKS!
I arranged to meet up with my friend Celeste at one of my favorite coffee shops, Ballard Coffee Works. We danced together from 5th grade to the end of high school. We hadn't seen each other for a year, which meant we had a lot to catch up on! She's always had the best sense of style, so I couldn't resist the chance to snag a picture of a quintessential "Celeste" outfit.
Celeste 101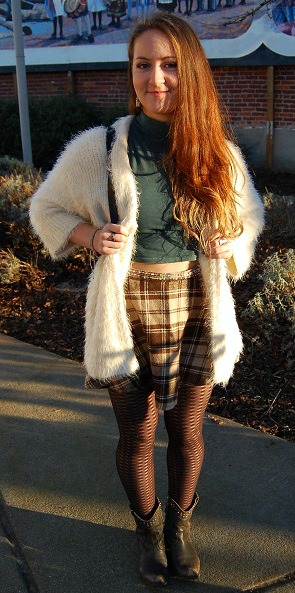 Name: Celeste
Major: Dance
Year: Sophomore
University: George Mason University
Let's Talk Fashion
Who or what inspires your style? "My surroundings, my friends, [and] the weather. I look up to people like Frida Kahlo, who act and dress as they please, regardless of others' opinions."
Where do you like to shop? "Mainly Goodwill now, but I used to shop at Urban Outfitters and American Apparel."
How would you describe your sense of style? "I dress for my mood; I have clothes that can fit almost all of my emotions. My wardrobe is filled with floral prints as well as leather and lace."
Why did you choose this particular outfit? "I was feeling kind of edgy today and just threw on what looked good in the moment."
What fashion advice would you give to other students looking to improve their style? "Dress to impress yourself and no one else."
What are your favorite trends right now? "I'm into comfy sweaters, knee-highs, and I don't think I'll ever stop loving crop tops."
Do you have any favorite fashion designers? If so, who? "Not really. I don't pay a whole lot of attention to designers, but I've liked everything I've gotten from Kimchi Blue."
What do you do for fun – do you have any unique hobbies or interests? "Well, dance first off, but I also like hiking and hot yoga. Oh, and cats. I love befriending cats."
If you could raid anyone's closet, who would it be and why? "Hmm, I'm going to say Emma Watson, but I'm not sure if that is because of her style or because of my admiration of really everything about her."
Elements of Celeste's Jacket
1. Fuzzy Sweater + Crop Top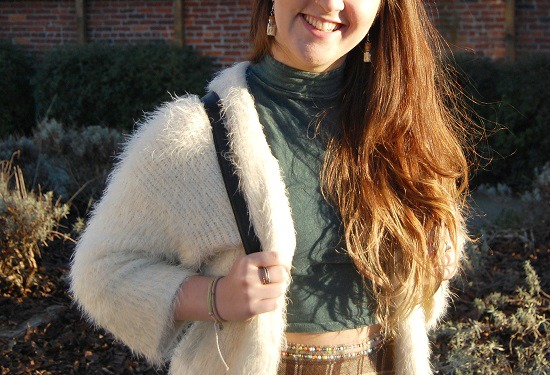 Celeste totally rocked this look! Her forest green crop top from Urban Outfitters was glammed up with a fuzzy white H&M sweater. Mohair-esque jackets like this one have been a hot trend this season. The colors she chose were also a nice departure from the usual monochromatic blacks and grays that can be spotted all over campus in the cold winter months.
2. Totally Cool Cowboy Booties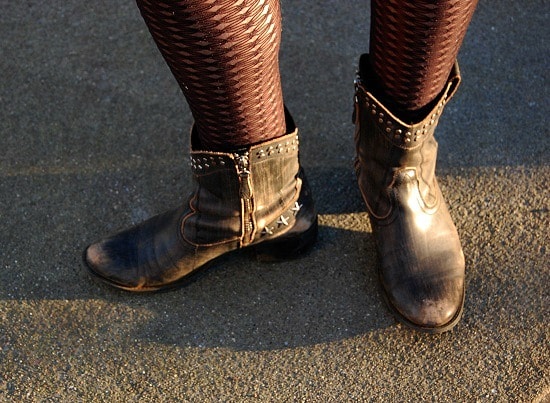 I used to have a cowboy boot obsession in high school, so I immediately fell in love with Celeste's DSW booties. She wore them with patterned tights, which complemented her cute plaid skirt. The boots added a cool and quirky touch to Celeste's outfit.
3. Unique Jewelry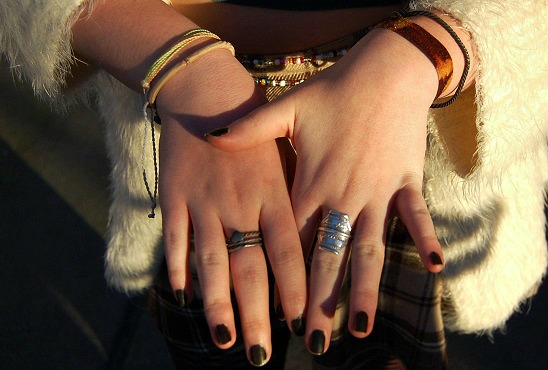 Celeste really brought her look home with an array of funky jewelry. Her rings, bracelets, and earrings add a bohemian vibe to the outfit.
What do you think of Celeste's cool style?
Which element is your favorite? Do you love her fuzzy sweater and bold jewelry? Would you wear this look? Comment below and let us know what you think!