For many college students, comfortable, flat shoes are practically the uniform on campus. Although they're not always the most fashion-forward choice, they're certainly a practical choice for those who have to do lots of walking. So when I saw Catherine strutting around campus in high heels amidst a sea of flats, I had to stop and talk to her about her fierce style.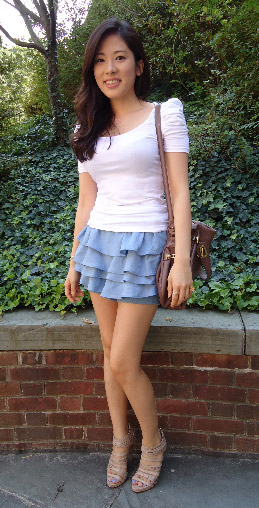 Catherine 101
Name: Catherine
College: Brown University
Class Standing: Senior
Major: Economics
Hobbies/Interests: "Learning languages. I speak Korean, English, Japanese, French and a little bit of Chinese."
Let's Talk Fashion
How would you describe your sense of style?
"Since we're in college, I like to wear cute and comfy clothing, for example, the skort that I'm wearing is really comfortable. I like to wear clothing that other people wouldn't usually wear, things that are different and unique."
Where do you like to shop?
"I like to shop everywhere: Japan, Hong Kong, Korea, and Marc Jacobs in the United States."
Why did you choose this particular outfit?
"Well, I love shorts worn with power-shoulder tops. They're quite unique and appeal to my sense of style."
What fashion advice would you give to other students looking to improve their sense of style?
"Try something new, something other people won't necessarily wear."
What is our favorite trend right now?
"Skinny jeans! I know they're older trends but I really like skinny jeans and jeggings."
Who are your favorite fashion designers?
"Marc Jacobs and Sonia Rykiel."
If you could raid anyone's closet, who would it be and why?
"I haven't thought about this but if I had to pick someone it would be Leighton Meester from Gossip Girl; I really like her."
What is your desert island beauty pick?
"Mascara!"
Elements of Catherine's Outfit
Skort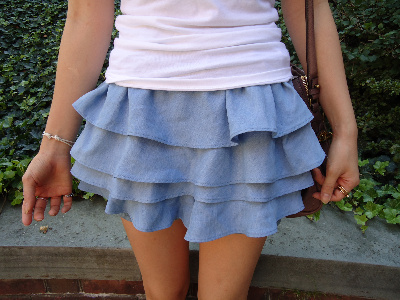 Skorts are the perfect way to mix skirts and shorts together, hence the name. They combine the practicality of a pair of shorts with the femininity of a skirt. This layered one is a perfect neutral blue and as such, can be paired with most outfits. Also, in windy Providence weather, it is a blessing to be able to wear a skirt and not worry about a wardrobe malfunction!
Super High Heels
It takes a load of confidence and a level of tolerance to wear high heels in college and kudos to Catherine for doing just that! These heels are gorgeous and they add a touch of class to her entire outfit and glamorize an otherwise-simple ensemble. P.S. Notice how her toenails match her skort – it's all in the details.
Slouchy Bag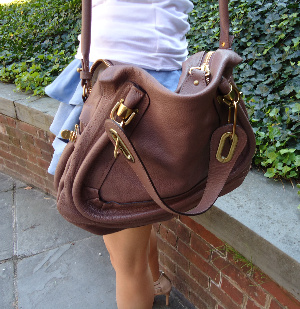 The neutral brown bag is both trendy and large enough to accommodate Catherine's books, without looking too academic or boring. I love the long, thin strap – it keeps your shoulders from being weighed down by your books and gives the bag a trendy look at the same time. Again, the bag's neutral color means it can be paired with most outfits.
Jewelry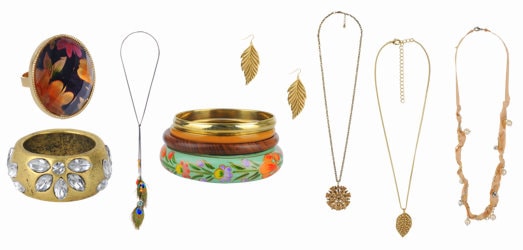 Since Catherine kept her outfit fairly simple, it makes sense to compensate for that with jewelry. She piled on multiple small rings and a bracelet to make her outfit more than just "average." Since since everything else in her outfit is minimal, her many pieces of jewelry don't overwhelm her attire.
Share Your Thoughts!
What do you think of Catherine's outfit? Do you think it's worth the pain to wear high heels in college (even though it makes your outfit that much more glamorous)? Share your thoughts on Brown University's first Looks on Campus post! I can't wait to hear from you guys!