This week, I ran into Caroline as she was getting ice cream on a rainy day! Not only was that unusual, but she was also wearing stripes with snake skin print leggings…gasp! I was so intrigued by her bold ensemble, how could I not ask her about her unique style?!
Who I Spotted: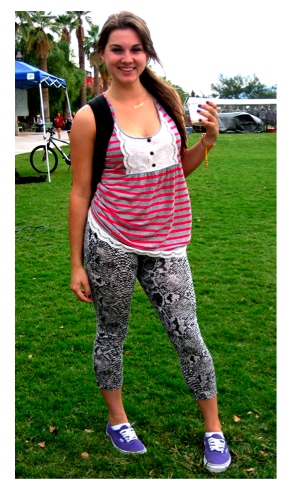 Name: Caroline
Hometown: Phoenix, Arizona*
Age: 17
Year in College: Freshman
Major: Journalism
Hobbies/Interests: "I love dancing, especially salsa and hip-hop. I also swim!"
Describe your style: "I'm urban, but casual, and occasionally, edgy."
Who or what inspires your style? "I love Rihanna's style! I also look for random patterns that will give me inspiration…once I find one I like I go off of that."
Where do you like to shop? "I go to Forever 21 a lot, but I also love finding random stores and boutiques that no one has heard of!"
Why did you choose this particular outfit? "I kind of threw it together, but I wanted to base it off of the color gray."
*I promise I'm trying to find more participants from places other than Arizona. Forgive me! =)
Elements of Caroline's Outfit:
1. Mixed Patterns and Colors!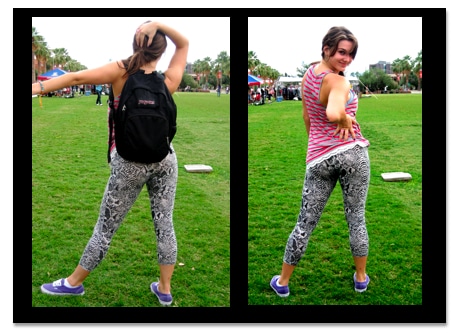 The most obvious element of Caroline's outfit is her mix of prints and colors. Not feeling as brave as Caroline? Try dresses that already have a pattern and color mixture, so you don't have to put one together on your own! See my favorite below, from Urban Outfitters!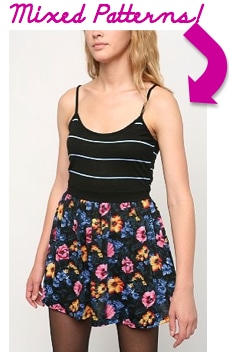 You can also take a number of combinations from Caroline's outfit for inspiration. Do you like Caroline's Juicy Couture Top? (Available at Bluefly.) Make an outfit inspirited by lace, pink, and stripes! Do you like Caroline's snake skin and purple mixture? Base an outfit off those two things for your next big night out! Here are some examples: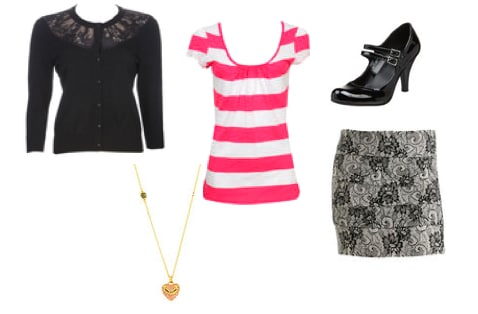 Product Information: Black Cardigan- Charlotte Russe, Striped T- Forever 21, Black Mary Janes- Endless.com, Lace Skirt- Arden B, Gold Necklace- Juicy Couture (at Shopbop)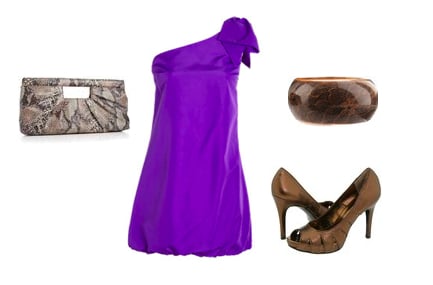 Product Information: Snake Skin Clutch- Macy's, Purple Dress- Delia's, Brown Bangle- Forever 21, Bronze Heels- Zappos
2) Bright Sneakers!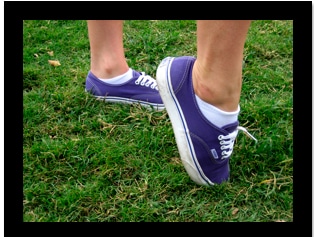 You may have read my post on colorful sneakers, but in case you haven't, I've been spotting these ALL over campus. I think they are such a fun way to add color and spunk to an outfit- and this is coming from someone who avoids sneakers like the plague.
3) Color, color, and more color!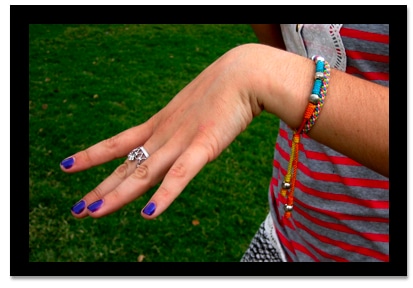 Caroline also had really bright nail polish on that almost matched the hue of her shoes! I love the idea of bright nail polish all year round!
Thin braided or woven bracelets can be a great way to add a bit of color to your outfit without being too overbearing, plus they are very youthful and quirky.
Another Look Inspired by Caroline: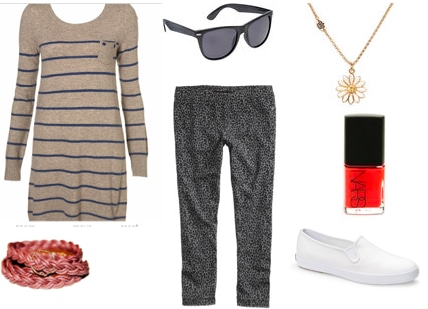 Product Information: Striped Tunic- TopShop, Sunglasses- Endless.com, Leopard Leggings- American Eagle, White Slip-ons- Keds (at Zappos), Daisy Necklace- Juicy Couture (at Shopbop), Braided Bracelet- Rumor, Nailpolish- Nars (color is Hunger)
Want your school featured in "Looks on Campus"?
So far we've only covered Arizona.. but we'd love to see submissions from other colleges across the country!
So take a picture of yourself in your favorite outfit or grab a camera and find a stylish college girl at your school to photograph and interview! Send your favorite looks to zephyr AT collegefashion DOT net with the subject line "Looks on Campus"! Who knows, you could be here next!
Can't wait to see what you guys come up with!