Stores are beginning to roll out their spring lines, magazines are running their spring spreads, and Pinterest is teeming with adorable looks for warmer days. It's easy to forget that winter is not quite over yet, which can make going to your closet in the morning kind of sad when all you want to do is reach for that easy-breezy sundress.
That being said, Caitlyn – with her infectiously spunky and carefree take on fashion – provided me with some much-needed inspiration for the winter-style rut I've found myself in. Read on to learn more about Caitlyn and her style!
Caitlyn 101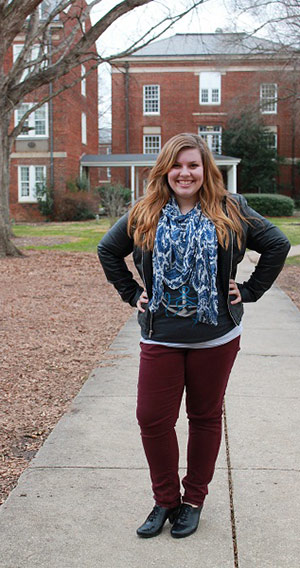 Name: Caitlyn
School: Meredith College
Year: Junior
Major: Interpersonal Communication
Hometown: Narvon, Pennsylvania
Let's Talk Fashion
Who or what inspires your style? "I'm inspired by colors, patterns, and looking at fun street style."
Where do you like to shop? "Clearance racks! Target, thrift shops, department stores – anywhere there's a sales rack – I'm in!"
How would you describe your sense of style? "All over the place! If I see something I like, I'll try to make it work."
Why did you choose this particular outfit? "I built from the ground-up today! I really wanted to wear these shoes, so I based my outfit around them. I like to wear different colors and mix them to keep it fun!"
What fashion advice would you give to other students looking to improve their style? "Make bold decisions and be confident! My fashion icons always have something bold going on and are taking risks."
What are your favorite trends right now? "They might not be 'cutting edge', but I love colored jeans and color blocking."
What do you do for fun – do you have any unique hobbies or interests? "I love spending time with friends, going shopping, getting good deals on clothes, singing, and just having fun!"
If you could raid anyone's closet, who would it be and why? "I would raid my sister's closet. She's super trendy and seventeen, so she'll buy what she wants because she doesn't have to pay for anything else! Plus, while we have similar style, she'll rock some things that I wouldn't think to wear."
Confession time. Have you ever committed a fashion faux pas? "I went through a stage in middle school when I would wear like five layers of brightly colored shirts. I also had these dangly rainbow hoop earrings that I must have thought were cool because I wore them all the time. They were terrible!"
Elements of Caitlyn's Outfit
1. Heeled Oxfords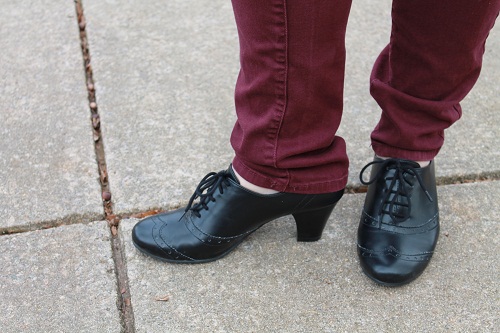 Basing a look around a single piece can simplify the process of creating an outfit. Caitlyn's oxford heels were her chosen inspiration for the day! On top of being super cute and classic, these shoes boast a sturdy heel, which makes them perfect for going to and from class.
2. Fun Printed Scarf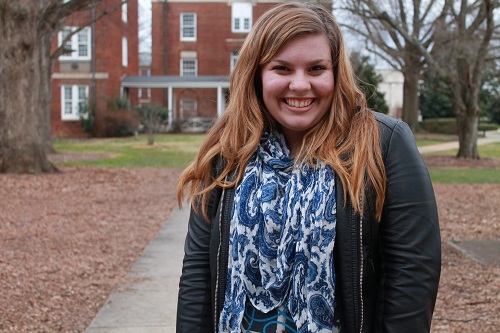 Clearly unafraid of colors, Caitlyn mixed her wine-colored jeans with a blue and white patterned scarf. This isn't a color combination I'd normally rock, and I'm loving it! Mixing colors that "go" rather than just those that "match" can bring a lot more visual interest to a look. (For more, see our guide on how to match colors in an outfit.)
3. Canvas Backpack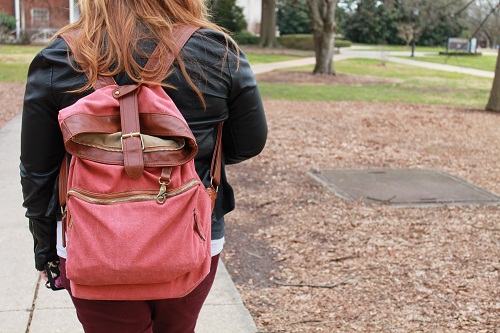 A more expressive take on the old classic, Caitlyn's backpack was too cute not to photograph! Not many of us will be carrying backpacks after college, so why not get a fun one while it's still needed?
What do you think?
Are you loving the blue and burgundy color combo as much as we are? What are your favorite color combos? Caitlyn built her outfit around her shoes – what do you like to base your outfits on? Let us know with a comment!