Weather in the Midwest is often unpredictable. In the spring and summer months, temperatures can vary 20 degrees from morning to afternoon. Layering is a must when walking to class during these times, and Caitlin did so flawlessly! There is much to be admired about her chic layered look.
Caitlin 101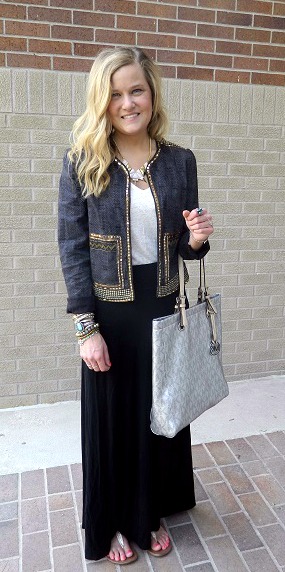 Name: Caitlin
Major: Marketing
Year: Senior
Let's Talk Fashion
Who or what inspires your style? "Everything in a way inspires my look. I love looking up pictures people post on Instagram, Pinterest, and online on blogs. I also like to get the latest fashion trends from InStyle magazine and People Style Watch magazine."
Where do you like to shop? "I shop just about anywhere I can get a great bargain. I love H&M, Forever 21, Urban Outfitters, and of course, T.J. Maxx. I love being able to get designer clothes for a great price there!"
How would you describe your sense of style? "My style is very random. I can be extremely preppy and dressy one day and very sporty or punk-ish the next. It honestly just depends on the mood I am in and if there was a particular outfit that I saw on someone else that I wanted to try. My go-to style is always just simplicity. I love just taking a blazer and adding a plain t-shirt and a scarf and call it a day."
Why did you choose this particular outfit? "I absolutely love maxi skirts, and today was the perfect day to wear one. I have had this blazer in my closet for two years now with the price tag still on it and was like 'I am wearing that today!'"
What fashion advice would you give to other students looking to improve their style? "My advice would be that fashion isn't about how much money you spend on clothing. It's about how you personalize it to make it your own and rock it. Don't be afraid to try new things. Fashion is being able to express yourself without having to say a word."
What are your favorite trends right now? "I am in love with anything fringe. It's like my go-to. I am also loving the maxi dresses and skirts."
Do you have any favorite fashion designers? If so, who? "I love just about all designers because without them I wouldn't have anything to wear."
What do you do for fun – do you have any unique hobbies or interests? "I love shopping. That about it! Any spare time I get I am at the mall or online shopping! I love playing soccer, too."
If you could raid anyone's closet, who would it be and why? "I would love to raid any of the Gossip Girl [characters'] closets or any of the Karadashians/Jenners!"
Elements of Catlin's Outfit
1. Anthropologie Blazer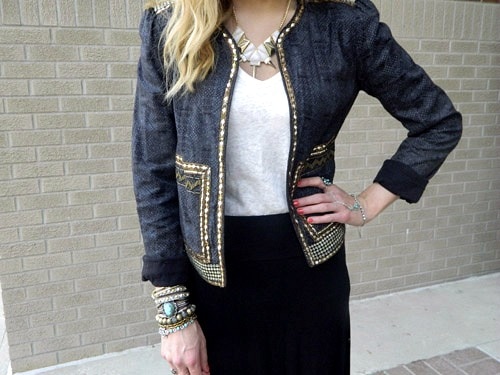 What's not to love about this Anthropologie blazer? It is the perfect layering piece to wear on chilly mornings, and can easily be shed when the temperature starts to rise. It's a piece that can be dressed up or down, and the gold embellishments add the perfect dose of glamor.
2. Michael Kors Bag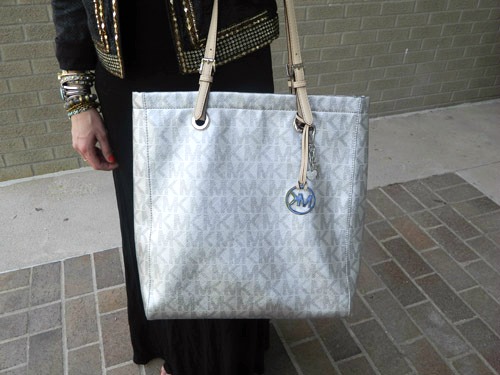 Not only is Caitlin's Michael Kors bag a trendy pick, but it's also the perfect size for toting books around campus. Its neutral color makes it a versatile accessory that can be worn with many outfits.
3. Layered Bracelets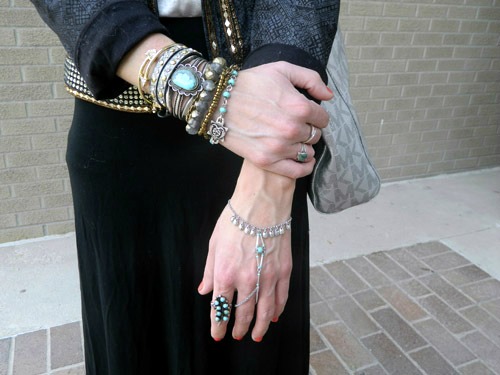 Caitlin's layered bracelets add the finishing touch to her ensemble. Her eclectic arm party incorporates mixed metals and turquoise accents, which lends a boho-chic vibe to her casual getup. We also love the fact that her gold accessories bring out the gold embellishments on her blazer – this outfit is all about the details!
Do you love Caitlin's weekday look?
What do you think of her detailed blazer? What about all of her layered jewelry? Are you as obsessed with her styling skills as we are? Let us know what you think in the comments below!