It's difficult to look stylish when the weather report claims that we're experiencing the hottest summer since 1936. That's why I was so impressed with Brooke'ssuper simple yet inspiring style on yet another one of those 100 degree days this summer. When it's this hot out, many of us turn to tank tops and messy ponytails and settle for comfort in the heat. Brooke took advantage of summer trends without overdoing it to achieve a look that is both practical and stylish.
Brooke 101

Name: Brooke
School: Southern Illinois University-Carbondale
Year: Junior
Major: Art History
Let's Talk Fashion
Who or what inspires your style? "My best friend, the 1950s, street style."
Where do you like to shop? "Thrift stores, Urban Outfitters, Topshop, Forever 21. I like little boutiques, too, although they tend to be expensive."
How would you describe your sense of style? "This is a tough one! My style tends to change with my mood. In general I would say classically feminine, with a tomboy kick."
What fashion advice would you give to other students looking to improve their style? "If you don't love it, don't wear it! Figure out what looks good on you, but don't force it if you don't feel good in it. And don't forget to have fun."
What are your favorite trends right now? "High waisted shorts for sure. Also, turbans."
What do you do for fun – do you have any unique hobbies or interests? "I like to paint, read, and play the ukulele. I also love soccer and running, as well as going to concerts!"
If you could raid anyone's closet, whose would it be and why? "Probably Kate Gabriel of Scathingly Brilliant, or my friend Kate's."
Elements of Brooke's Outfit
1. Colored Denim Shorts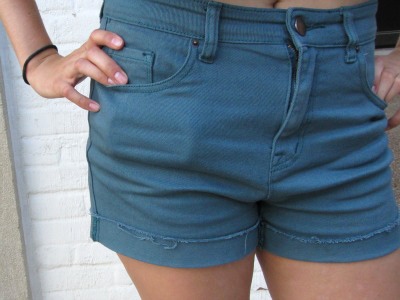 Colorful shorts are a cute alternative to regular denim shorts during summer's hottest moments. These cornflower blue shorts are polished and practical – their muted hue means they'll go with just about everything. In addition, their high waist makes them perfect for wearing with crop tops, like Brooke did here.
2. Classic Flats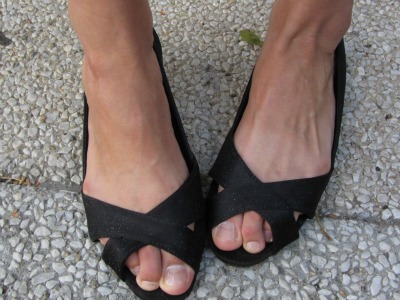 Brooke's classic black flats do a great job of tying her outfit together. It's easy to forget that comfortable flats are just as wearable during the summer as sandals are, especially if you opt for a peep-toe pair like Brooke did.
What do you think?
Do you like Brooke's simple take on the basic summer uniform? How do you avoid wearing denim shorts every day? Have you added a high-waisted item to your closet yet?Let us know in a comment!