We all know beauty vloggers are bound to have amazing senses of style and Brooke proves it! Between managing her own channel, a full-time course load, and being active in the Fashion Club here at IUP, Brooke manages to keep her style lovely.
It can be difficult to style a cute outfit during the colder months of the year, but even as Indiana transitions into winter wonderland, this fashionista hasn't lost her style to the cold. Ladies and gents, I present to you, Brooke.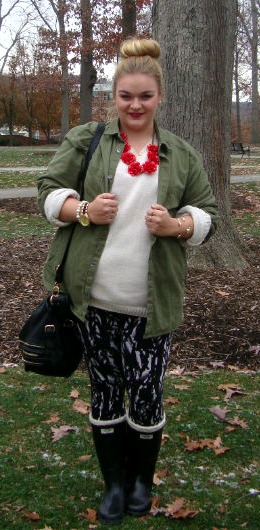 Brooke 101
Name: Brooke
College: Indiana University of PA
Hometown: Erie, PA
Major: Fashion Merchandising
Age: 18
Year: Freshman
Let's Talk Fashion
Who or what inspires your style? "YouTubers! I am a Seventeen Magazine partner on YouTube, so I end up watching a ton of YouTubers. Also Lo Bosworth from The Hills. I love her and Lauren Conrad, too. Basically anyone. I feel like as long as I like a person's outfit I'll try and inspire a look from them."
Who's your favorite YouTuber? "Oh, that's so hard to say! Right now probably Essie Button. She is so cute. She's from Canada, but living in London now, and it's just fun watching her style evolve because I've been watching her for four years now."
Where do you like to shop? "Anywhere. I love finding thrifty deals. The jacket I'm wearing I got from the H&M guys section for $7. So I love thrift shopping, but also going to Forever 21 [and] H&M."
How would you describe your sense of style? "Feminine, but I like to put something edgy in. Like today I have this sweater on and this statement necklace, so I threw in midi rings and all these bracelets to make it more edgy. I'd say I like to have a feminine look, but then throw in something that's different that you wouldn't expect."
Why did you choose this particular outfit? "Actually I pick out my outfits at the beginning of the week, so I had this picked out for today. Also, since I'm going on vacation soon to Hilton Head, South Carolina and already packed for vacation, I just tried to put together outfits with clothes that I didn't pack. So I kind of based this outfit around my leggings; picked them up and was like 'Okay, what can I wear with these?'"
What fashion advice would you give other college students? "Never be afraid to try new things. If you don't think something is going to look good on you, still try it out anyway because you have no idea. Which is why some students' style hasn't evolved much, so trying new things is always good!"
What are your favorite trends right now? "I really like the rain boot trend because I don't really like the way winter boots look, so I like pairing things with my rain boots. I really like midi rings and stackable bracelet trends, too."
Do you have any favorite designers? If so, who? "Right now I really like Vera Wang, especially her collection at Kohl's. I have a fur jacket from her that I just love. Lauren Conrad's at Kohl's. Basically anything Lauren Conrad."
What do you like to do for fun? "I have my own YouTube channel, I am also a Seventeen partner, and also I do freelance makeup and hair, which I've done for prom [and] weddings. I love doing that. Anything fashion or beauty related."
If you could raid anyone's closet who would it be and why? "Probably Lauren Conrad's, because who wouldn't like to see what her closet looks like? Also anyone who does a closet tour on YouTube [with] super-pretty walk-in closets because I'm jealous!"
Elements of Brooke's Outfit
1. Soft Smoky Eye & Berry Lips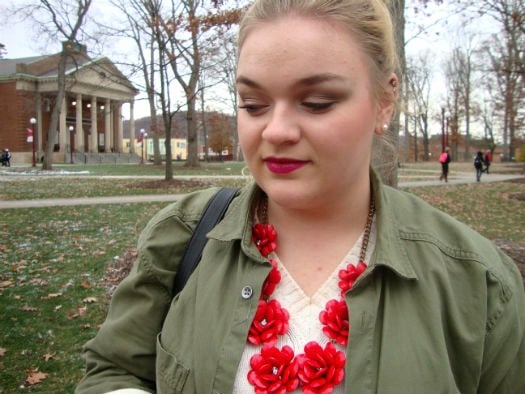 As Brooke mentioned, she places a lot of effort in doing her own makeup, and it shows. What I like most about this pairing of berry lips and a subtle smoky eye is the fact that it can be worn to class as well as for a night out. The bold lipstick is a classic look, but is not too overpowering. A little bit of blush tops this look off flawlessly.
2. Floral Necklace & Stacked Bracelets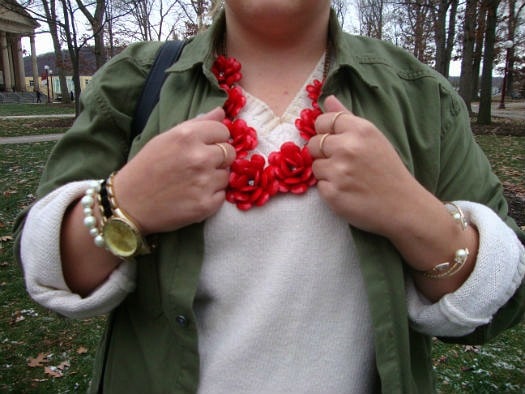 For this outfit, Brooke decided to pair her statement necklace with delicate jewelry; pearl bracelets, a black-and-gold watch, and dainty midi rings on both hands. Had she stacked several chunky pieces on her hand, it would have overwhelmed her already bold necklace and leggings. Brooke played her accessory game just right.
3. Printed Leggings, Zipper-Covered Purse, & Rain Boots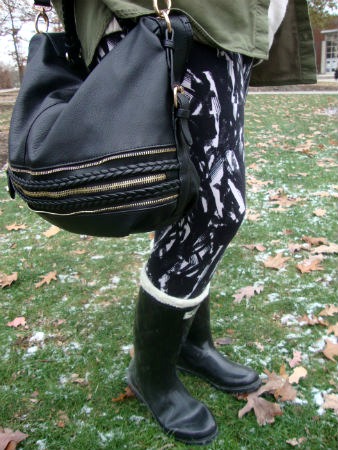 Both Brooke's bag and leggings add the edginess she talked about during her interview. This bag features three zippers as well as golden details, while her rain boots and cream-colored leg warmers are classic, practical picks that provide a strong contrast to her bold black-and-white leggings.
What do you think of Brooke's winter weather outfit?
Do you love her bold leggings? What do you think of her red necklace? Do you follow any beauty vloggers? Comment below and let us know what you think!